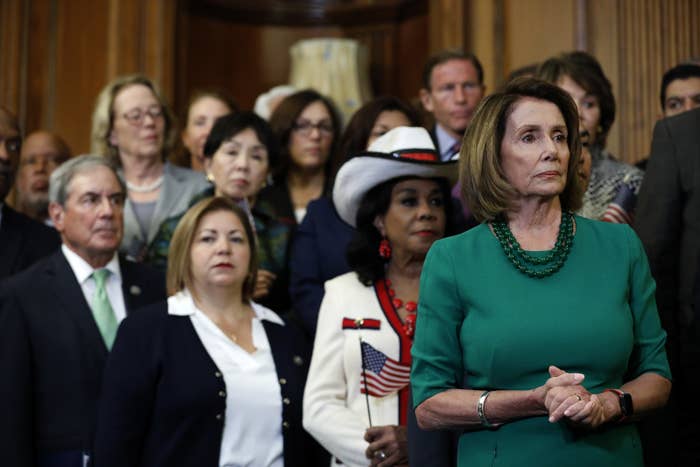 House Minority Leader Nancy Pelosi said President Donald Trump has indicated he would be willing to sign a version of the DREAM Act, legislation that would provide protections for undocumented immigrants who entered the United States as children, that could get Democratic support.
Her comments came during a Thursday press conference, after a morning phone call with the president and a day after a White House meeting with Trump and other congressional leaders resulted in a deal to avoid a government shutdown at the end of the month.
"The president both yesterday in the meeting and today made it very clear he wants Congress to act to get this done," Pelosi said. When she was initially asked whether she was just optimistic or whether Trump indicated he would sign the DREAM Act, Pelosi coyly answered, "the latter."
She later walked back the comment somewhat when asked to clarify whether the president said he would sign a stand-alone DREAM Act.
"I think he probably wants some border enforcement," Pelosi said. The minority leader, like others in Democratic leadership, has said she would be opposed to any deal that includes funding for a southern border wall, a Trump campaign promise.
On Tuesday, the Trump administration announced that it would end the Obama-era Deferred Action for Childhood Arrivals program that protected some young immigrants who came to the US as children from deportation. The administration set the program to terminate in six months, with the intention of giving Congress time to pass legislation that would address DREAMers.
After Trump's move, the White House indicated Trump would like to sign a broad immigration bill that includes several of his priorities, as opposed to something just centered around the aims of the DACA program.
"The president wants to see responsible immigration reform, and he wants that to be part of it," White House press secretary Sarah Huckabee Sanders said Tuesday. "Again, we can't take just a one-piece fix." A list of priorities sent out by the White House this week included, in addition to increased border funding, a border wall and a merit-based immigration system that would "prioritize immigrants based on skills."

In a statement Thursday, Sanders said Trump "is committed to working across the aisle and doing what is needed to best serve the American people," noting he's planning to have dinner Thursday night with House Speaker Paul Ryan.

Democrats on Wednesday had threatened to add a DREAM Act to other legislation if House Speaker Paul Ryan and Senate Majority Leader Mitch McConnell did not bring the matter to a vote before the end of the month.
Pelosi said that during Wednesday's meeting, she and Senate Minority Leader Chuck Schumer made it clear that passing the DREAM Act is a priority for their members. "The president said he supports that, he would sign it, but we have to get it passed."
Pelosi would not go into heavy detail about the reason the president called her Thursday morning, but she said she brought up a need to reassure people who had been covered by DACA. Soon after the phone call, the president tweeted that those affected by his decision to end DACA have "nothing to worry about" for the six months the administration said it would take to wind down the program.
Pelosi seemed to relish the moment. "This is what I asked the president to do and boom, boom, boom, the tweet appeared," she said during a news conference, relaying how she explained this conversation to her colleagues.