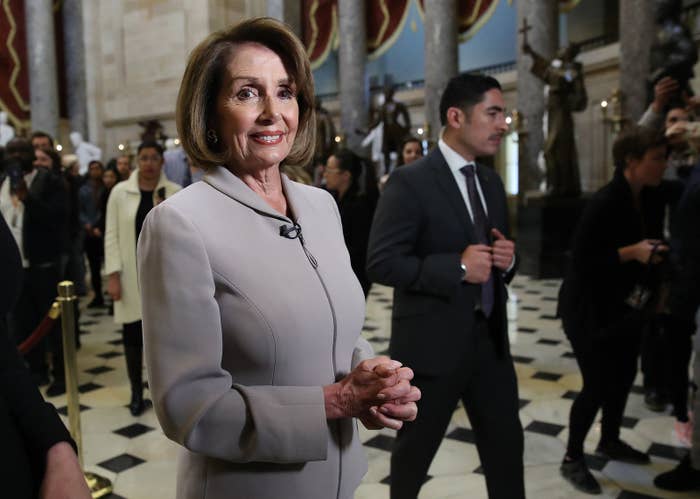 Nancy Pelosi is once again Speaker of the House of Representatives after earning a majority of votes from her colleagues on Thursday.
Pelosi, who has served as the top Democrat in the House since 2003 and became the first female Speaker ever in 2007, easily cleared the majority threshold she needed to retake the gavel. Pelosi received 220 votes, while 192 Republicans voted for House Minority Leader Kevin McCarthy. Eighteen members voted for another candidate for speaker, while 3 voted present.
This was the first vote the now Democrat-controlled House took in the new Congress, which convened for the first time Thursday. For Pelosi, it's an overwhelming vote of confidence from her caucus, after she made deals with some of her loudest Democratic critics to secure the votes she needed. Among the concessions was a promise to step down by 2022.

Pelosi, who received a standing ovation from Democrats and many Republicans, accepted the speaker's gavel from McCarthy. She was joined by members of the California delegation sang a few lines from "California, Here I Come."
"The country knows Nancy Pelosi as an experienced leader with three decades of service and fighter for her causes and true trailblazer," McCarthy said. "Even when we disagree with one another completely, it is important to remember that we are bounded together in a common cause, our love for America."
Pelosi thanked McCarthy and congratulated him, saying, "I look forward working with you in a bipartisan way."
Pelosi congratulated members on winning their elections, saying she is hopeful Congress will work together to pursue progress for all Americans. She also noted the historic moment for women in Congress. "I'm particularly proud to be women speaker of the House of this Congress, which marks the 100th year of women having the right to vote. And we all have the ability and the privilege to serve with over 100 women members of Congress, the largest number in history," she said.

As she prepared to take the oath of office, Pelosi called for her grandchildren and any other kids on the House floor who wanted to, to join her. Dozens of kids surrounded her as Pelosi swore the oath. "I now call the House to order on behalf of all America's children," she said.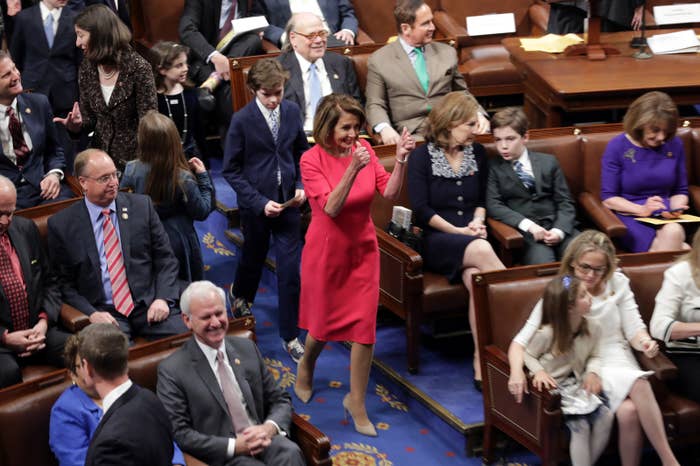 Pelosi was officially nominated for speaker by New York Rep. Hakeem Jeffries, who gave a rousing speech listing her accomplishments, including passing the Affordable Care Act and the auto industry bailout, saying she "has a track record of legislative success that is unparalleled in modern American history."

"But Nancy Pelosi is just getting started," Jeffries said. "Nancy Pelosi is a woman of faith. A loving wife. A mother of five. a grandmother of nine, a sophisticated strategist, a legendary legislator, a voice for the voiceless. A defender of the disenfranchised. … That's why we stand squarely behind her today."

Amid applause from House Democrats, Jeffries added, "Let me be clear, House Democrats are down with N.D.P., Nancy D'Alesandro Pelosi, the once and future Speaker of the United States House of Representatives. I proudly place her name in nomination."
Among those who voted against Pelosi for speaker were new Reps. Jason Crow, Anthony Brindisi, and Joe Cunningham, who voted for Sen. Tammy Duckworth, former vice president Joe Biden, and Rep. Cheri Bustos, respectively. (The speaker does not need to be a member of the US House). Crow, Brindisi, and Cunningham had all vowed on the campaign trail to oppose Pelosi. The rest of the no votes came from Republicans.

Pelosi was all smiles on the House floor Thursday as she greeted new and returning members and awaited her reelection as speaker. She was joined by her nine grandchildren on the floor of the House, while her children and other special guests — including Tim Gunn of Project Runway, singer Tony Bennett, and the Grateful Dead's Mickey Hart — sat in the House gallery above.
When it came time for Pelosi to vote for herself, one of her granddaughters lifted her hand in the air shouting, "Pelosi!" as she jumped up and down.
Pelosi enters her new tenure as Speaker during a partial government shutdown over funding for President Donald Trump's border wall, which the House will vote to end on Thursday night.
"We have no illusions that our work will be easy and that all of us in this chamber will always agree. But let us give a pledge that when we disagree we respect each other and we respect the truth," Pelosi told members of the House Thursday.
Alongside Senate Minority Leader Chuck Schumer, Pelosi will still have to contend with a Republican-controlled Senate and a Republican president to move legislation forward. She has suggested she is willing to work in a bipartisan fashion throughout the new Congress.
Pelosi's reelection as speaker also comes in the midst of calls for generational change within the Democratic party, which has long prioritized seniority.
Pelosi has cast herself as a transitional figure, with a legacy that includes getting the Affordable Care Act passed through the House, having a knack for fundraising, and, most recently, leading House Democrats back into the majority in the 2018 midterms. Republicans have long used her a foil on the campaign trail, but Democrats who support Pelosi argued that she is the only person experienced enough to go toe-to-toe with Trump and, on the Senate side, with Majority Leader Mitch McConnell.

This post is breaking and will be updated. Follow BuzzFeed News on Twitter for updates.