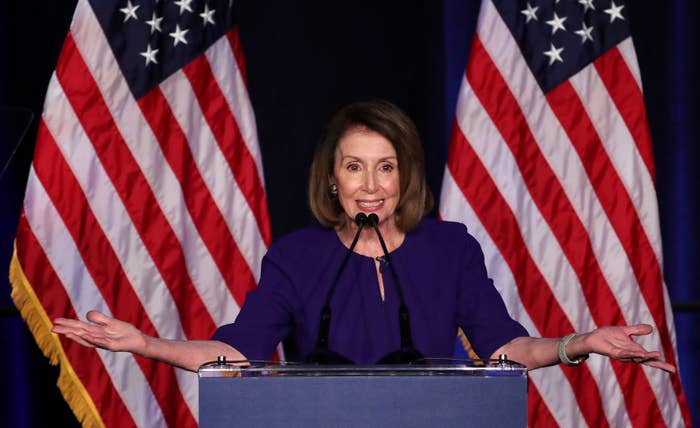 WASHINGTON — Democrats locked in a majority in the House of Representatives on Tuesday night, giving House Minority Leader Nancy Pelosi breathing room in her bid to return in the new Congress as speaker of the House.
With Tuesday's midterms out of the way, the focus for the next couple of weeks will be on how the new House majority sets itself up to take over in January. While Pelosi was always seen as the frontrunner for speaker if she wanted it, the Democrat has seen growing calls from her caucus to step aside for a new generation of leadership.
But as Democrats gained more seats and clinched the majority Tuesday night, a clearer image of her as the leader emerged.
"I think unless someone emerges to challenge her, and that someone is going to have to be pretty strong, I think she's the default speaker," Connecticut Rep. Jim Himes told BuzzFeed News on Tuesday night. "The attacks against her by the Republicans manifestly didn't work, and I think that's an argument that she's going to make."

"I also think she's going to point out that the legislating and the politicking in the two years prior to 2020 is going to be very, very complex. And there's no one in the caucus that has quite the experience that she does."
Pelosi told reporters Wednesday she feels confident she will hold the speaker's gavel again next January, saying that she is best-positioned to unify the new majority. Her deputies, Democratic Whip Steny Hoyer and Assistant Democratic Leader Jim Clyburn, also said they hope to move up in the ranks behind Pelosi to Majority Leader and Majority Whip, respectively, in the next Congress. "I think you'll see Nancy Pelosi remain No. 1, Steny No. 2, and hopefully I'll remain No. 3," Clyburn said Wednesday.
Since New York Rep. Joe Crowley lost his primary, there has been no clear heir apparent for Pelosi. After the 2016 election, Ohio Rep. Tim Ryan ran against her, but Pelosi won handily.
In a phone interview with BuzzFeed News shortly after midnight, Ryan said he had no "intention" of challenging her again, but added, "I do have intentions on being part of the conversations." (On BuzzFeed News' AM to DM Thursday morning, Ryan continued to argue Pelosi is unpopular in "many parts of the country.")
But Ryan was less willing than other Democrats to suggest that Pelosi had locked down the speakership when Democrats took the House. "I don't think any decision has been made yet," Ryan said, adding that new members would have to have a say in leadership.
Still, Democrats across the board acknowledged that there is not a strong challenger to take on Pelosi. "I still have not heard of any viable challenger who is waiting in the wings. And I think Pelosi acquitted herself strongly in this campaign. It would be a huge political surprise if we didn't get behind her for speaker," Maryland Rep. Jamie Raskin told BuzzFeed News on Wednesday morning.
As early as Wednesday morning, it was clear from President Donald Trump's tweets that he expects Pelosi to take over and that the relationship between Republicans and Democrats is likely to remain contentious in the new Congress. Trump even tweeted that Pelosi "deserves" to be speaker, and suggested he'd get Republicans to vote for her if she needed them, both on Twitter and in a press conference later.
"Nobody in the Democratic caucus is asking Donald Trump for any advice or involvement in our caucus," Raskin said.
Pelosi, who has been the top Democrat in the House since 2003, became the first woman speaker in 2007, a position she kept until Democrats lost the House in the 2010 elections. Pelosi, Hoyer, and Clyburn — all three of whom are in their late seventies — have been the top Democrats for more than a decade.
Pelosi is known for being a tactical legislator — and is credited in particular for helping shepherd the Affordable Care Act through the House — and for her fundraising prowess.
She is also a figure that Republicans have, for years, used to attack Democratic candidates. Pelosi brushed off questions about Democratic candidates who distanced themselves from her this cycle, saying that she didn't mind as long as they "just win, baby."
Kentucky Rep. John Yarmuth told BuzzFeed News that he supports Pelosi and also believes it's likely she'll become speaker again. "It seems that there is … a greater sense that it's probably going to happen that way, that nobody's really surfaced to challenge her, and doesn't look like anybody will," he said. "It seems like more of a probability [that Pelosi is speaker]."
But Yarmuth added that Pelosi may still have a "math problem" to reckon with. "If [the majority is] north of 230, she's in much better shape. If it's less than 230, she's in worse shape."
A dozen of the incoming House Democrats have made comments critical of Pelosi while campaigning, potentially complicating Pelosi's bid, given that Democrats will have a small majority.
"I think Nancy has a great case to make to the caucus, and I expect her to win," Rep. Ro Khanna told BuzzFeed News just after polls closed in California on Tuesday night.
He added that Democrats' performance on Tuesday would be "powerful" in making her case to the caucus.
"I think that she will be able to put forward a case that she provided leadership to get to that result," Illinois Rep. Raja Krishnamoorthi said of the Democrats' win in the House. "What I've been saying all along is whoever the person is who's going to be our speaker … has to show that we're going to be the party of governance, and we're not just going to be there to get in the way of Trump."
Pelosi has already suggested that Democrats are open to working with Republicans. At a press conference early Tuesday, Pelosi said that Democrats will "strive for bipartisanship."
Later in the day, she repeated the sentiment on PBS NewsHour, saying Democrats will be "trying to find bipartisanship where we can, stand our ground where we can't, but strive for the boldest common denominator." According to Pelosi's spokesperson, Trump even "acknowledged" her calls for bipartisanship when he called to congratulate her on winning the House.
Pelosi planned to retire if Hillary Clinton became president, but ended up staying on when Trump won the 2016 election. For years frustration has been building within the caucus with the calcified leadership team and the seniority system Democrats use, which gives top committee spots to more experienced lawmakers over younger members.
In an attempt to respond to those critiques, Pelosi has pitched herself as a "transitional leader" in recent weeks.
"I don't know exactly what that means, but ... if I were to interpret that, it's probably just to make sure that the next generation of leader[s] in our caucus — that she helps play a part is preparing our caucus for that," Rep. Cheri Bustos told BuzzFeed News in Illinois last week.
Texas Rep. Filemon Vela, a frequent Pelosi critic, was more skeptical: "The only reason she would suggest transitional leadership is because she would expect that certain members that are willing to go to the floor and vote against her would be willing to, you know, concede a short-term transitional period."
"We kind of have to wait until the dust settles," Vela said of Pelosi's prospects as leader when asked by BuzzFeed News on Tuesday night as results were still coming in. Vela said, in general, the more seats Democrats picked up the "more difficult" it would be to block Pelosi from being speaker.
"I think the bigger the margin, the more secure Nancy would be," Wisconsin Rep. Mark Pocan, the cochair of the Congressional Progressive Caucus, told BuzzFeed News on the phone from an election night party for Democrat Tony Evers, who defeated Wisconsin Gov. Scott Walker in a tight race Tuesday.
Asked whether Tuesday's outcome determined whether Pelosi would be speaker, Rep. Linda Sanchez, who serves in leadership and has already announced she'll run for Crowley's job as Democratic caucus chair, said, "I don't know. I think there are a lot of factors."
"Right now there isn't anyone else running to become speaker, but you know, anything can happen. Life is unpredictable."