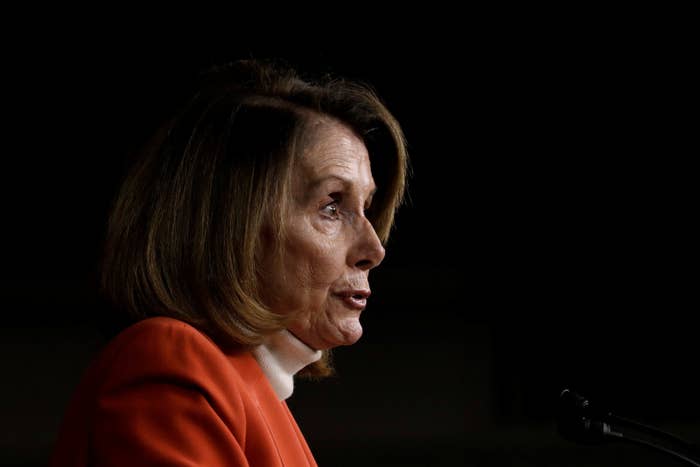 WASHINGTON — Sixteen Democrats sent a letter to their fellow Democratic lawmakers on Monday stating that they are "committed" to not voting for Nancy Pelosi to be the next speaker of the house.
If this voting bloc sticks together, Pelosi would have an extremely thin margin in regaining the speaker's gavel, despite her overwhelming support in the caucus. However, the list includes two Democrats whose races have not been called — Anthony Brindisi and Ben McAdams, the latter of whom may not join the House in January; McAdams is currently losing his race against Republican Rep. Mia Love.
"We promised to change the status quo, and we intend to deliver on that promise," the coalition wrote in the letter sent to House Democrats Monday. "Therefore, we are committed to voting for new leadership in both our Caucus meeting and on the House Floor."
But so far, Pelosi has no challenger. Ohio Rep. Marcia Fudge has floated a possible run for speaker and met with Pelosi for 45 minutes on Friday. But Fudge has not made an official announcement and reportedly said she would make a decision after Thanksgiving. She did not sign the letter.
In order to become speaker, Pelosi — the only official candidate for the job — has to get 218 votes on the House floor. Democrats secured at least 232 seats in the House following the midterm elections, leaving Pelosi little wiggle room to become the next speaker in the final floor vote in January. (Democrats will vote as a caucus on their new leadership on a secret ballot Nov. 28, when Pelosi will just need a majority and is expected to win the nomination for speaker easily.)
Eleven incumbent Democrats signed the letter, alongside three incoming members as well as Brindisi and McAdams. The new members all made a point of distancing themselves from Pelosi on the campaign trail. Pelosi long brushed off questions about their lack of support during the campaign, saying she didn't mind what they said as long as they "just win, baby." Pelosi's office did not immediately respond to a request for comment on the letter.
Several other Democrats running for House seats this year said during their campaigns they would not support Pelosi but did not sign the letter. Pennsylvania Rep. Conor Lamb, who originally won his seat in a special election earlier this year, has said several times he will not vote for Pelosi either in caucus or on the floor. His office confirmed to BuzzFeed News on Monday nothing had changed, despite his signature not being on the letter.

Incoming Virginia Rep. Abigail Spanberger's campaign also confirmed to BuzzFeed News on Monday that she will not support Pelosi on either vote, as did incoming Colorado Rep. Jason Crow's campaign.
In the days since the midterms, Pelosi has remained outwardly confident that she will be the next speaker, while Democrats opposing her have maintained they are positioned to block her on the floor, and no official challenger has emerged from the wings.
In fact, Pelosi is broadly seen as a "default speaker," and gained some breathing room from wider criticisms after she led Democrats to a victory in this year's midterms.
Pelosi is known for being a master legislator and prolific fundraiser, but in recent years, a vocal part of her caucus has taken up a cry for new leadership. Newer members, in particular, have grown frustrated with Democrats' tendency to yield influential positions to members who have seniority. And the anti-Pelosi sect of the caucus went as far as to set up a "support system" for members-elect who had vowed not to back Pelosi.
"My concern is, that it's 16 years of the same leadership," New York Rep. Brian Higgins, who signed the letter, told BuzzFeed News last week. "There's not a member of Congress that campaigned on a platform of keeping the status quo. Everybody campaigned on a platform of change. So I just think we have to fulfill that change."
Pelosi's office has been constantly rolling out endorsements, ranging from soon-to-be committee chairs to outside groups. She's been running a relentless campaign, despite the fact that no one has yet formally announced a bid against her.
"There's a big talking point out that you can't beat somebody with nobody. I mean I think that's just, exactly what I said, a talking point," New York Rep. Kathleen Rice, a longtime leadership critic who signed the letter, told reporters last week. The first thing is that we have to show that the leader cannot get to 218, which she won't be able to, and then I think you're going to see people emerge."
UPDATE
This story has been updated with comment from Conor Lamb's office and Abigail Spanberger and Jason Crow's campaigns.