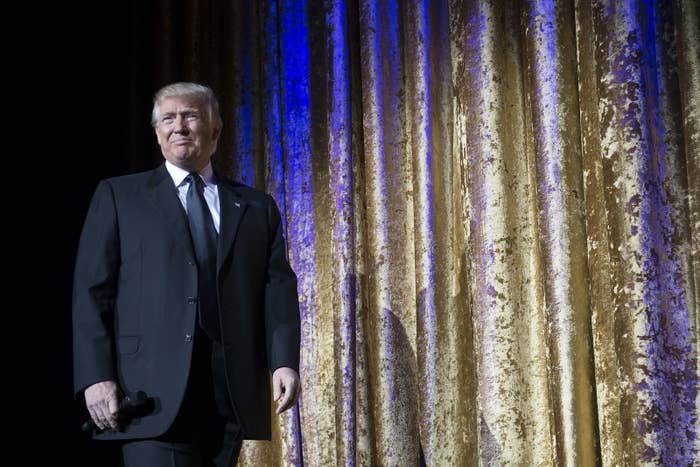 WASHINGTON — More than a hundred military veterans have signed a letter addressed to President-elect Donald Trump, calling him out for "attacking" the intelligence community.
The letter, obtained early by BuzzFeed News, is from VoteVets, a progressive veterans group founded in 2006. It carries 118 signatories from veterans of the US Air Force, Navy and Marine Corps, as well as former intelligence agents, who state that they are "appalled" by Trump's recent "smears" against the intelligence community. The letter, dated Wednesday, January 18, comes just days before Trump's inauguration on Friday.
"Let us be perfectly blunt with you, sir: Every single day, intelligence officers and officials put their lives on the line, and many lose their lives, to help protect your right to tweet smears against them. But just because you have that right, doesn't mean you should use it," the letter reads. "It is beneath the dignity of the office you are about to assume, to engage in the belittling of intelligence officials."
Trump has repeatedly been dismissive and critical of the intelligence community since the FBI announced that it had concluded that the Justice Department should not pursue charges against Hillary Clinton. The criticism has most often come over Twitter, but Trump has also laid into the intelligence community in person, including as recently as last week in his first press conference as president-elect.
In addition to the intelligence community, the letter also critiques Trump for "sliming prisoners of war [and] Gold Star families," implicit references to Trump's comments during the campaign that Sen. John McCain is "not a war hero" and criticisms of Khizr Khan, the father of Army Captain Humayun Khan, who was killed in the Iraq War. "Stop attacking the good men and women who risk a great deal to keep us safe," the letter concludes.
Scott Goldman, a US Army Veteran, who signed onto the letter told BuzzFeed New that "because of what they do [the intelligence community] can't defend themselves publicly."
"I got fed up with it," Goldman said.

The Army veteran added that he thinks the relationship between the White House and the intelligence community will be strained if Trump continues down the path he has gone down, but said that because of the intelligence community's professionalism, he does not think it will fall apart.
"Regardless of whether that person is friendly to them or likes them, they're going to do a good job," Goldman said. "They'll work through it, I just hope the president takes them as seriously as they deserve to be taken."
Despite the letter, VoteVets told BuzzFeed News the organization has no official plans to have a protest presence at the Capitol, alongside other liberal groups, this week.

UPDATE:
This post has been updated to include former intelligence agents, who also signed onto the VoteVets letter.