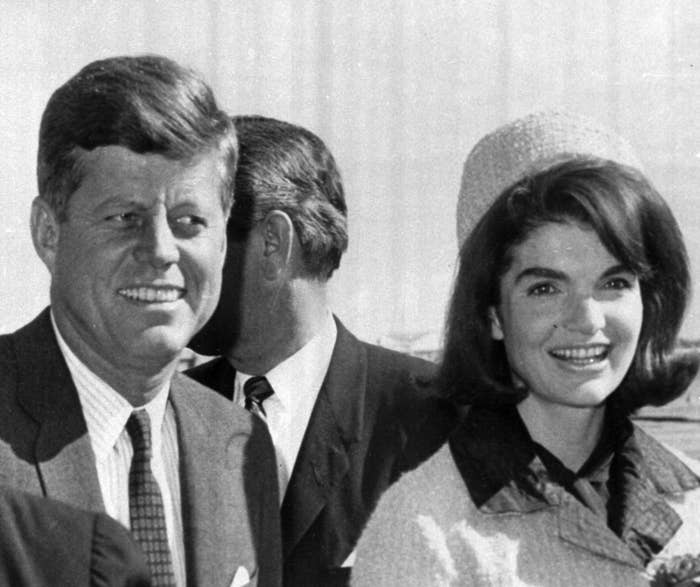 The National Archives released more than 2,800 highly anticipated files related to President John F. Kennedy's assassination on Thursday.
Thursday was the deadline for the records to be released under the President John F. Kennedy Assassination Records Collection Act of 1992 — 25 years after the bill became law.

The cache of documents, however, does not include all of the files pertaining to the 1963 assassination, senior administration officials said, after requests were made by multiple government agencies for redactions related to national security, law enforcement, and foreign affairs concerns, the officials said. The "vast majority" of redaction requests came from the FBI and CIA, they added.
President Donald Trump had accepted the redactions, despite his tweets that suggested all of them would be made public on Thursday.

The officials said the president has ordered a review of the redactions in the next 180 days to ensure that they are necessary.
"The President has demanded unprecedented transparency from the agencies and directed them to minimize redactions without delay," White House press secretary Sarah Huckabee Sanders said in a statement. "The National Archives will therefore release more records, with redactions only in the rarest of circumstances, by the deadline of April 26, 2018."
The president tweeted last weekend that he would allow the documents to become public, but he left himself wiggle room. "Subject to the receipt of further information, I will be allowing, as President, the long blocked and classified JFK FILES to be opened," Trump said at the time.
Members of Congress had been concerned that the release could be delayed, thanks to a provision of the law that allows the president to miss the deadline, if he certifies that doing so would cause "an identifiable harm to the military defense, intelligence operations, law enforcement, or conduct of foreign relations" that "outweighs the public interest in disclosure."
Members from both parties sponsored legislation in the House and Senate urging President Donald Trump not to exercise that power, and allow the documents to be made public, though it does not require Trump to do so. They argue, as Congress did 25 years ago, that the records should be made public to ensure government transparency and answer questions that have fueled conspiracy theories around Kennedy's death — some of which are shared by a lead sponsor on the bill.

After Trump's tweet last weekend, a White House official appeared to add a caveat, telling reporters, "The President believes that these documents should be made available in the interests of full transparency unless agencies provide a compelling and clear national security or law enforcement justification otherwise."

Then, on Saturday afternoon, the president suggested on Twitter even more files would be released surrounding Kennedy's death. Only those that didn't include names and addresses of people still living would be withheld, he tweeted Saturday.
North Carolina Rep. Walter Jones, who introduced the House version of the bill earlier this month, told BuzzFeed News he still has questions about what happened on Nov. 22, 1963.

"Obviously it's hard for me to believe that there wasn't a certain amount of complicity in all this development," Jones, a Republican, said of the assassination. "I don't know about the second shooter, I still have questions about whether there was a second shooter or not, I think maybe there could have been, I don't know. This might help me find out. But I do think there were people behind Oswald, I have no question about that."
Jones said that he reached out to Roger Stone, a longtime Trump ally who advocated for releasing the records, to recruit him in the effort.
Stone told BuzzFeed News that he urged Trump to make the documents public as well but that he did not know where the president stands on the issue. Stone gave no additional details about his conversation with the president, including when it took place.
Iowa Sen. Chuck Grassley, another Republican, filed identical legislation to Jones' in the Senate as a follow-through on his support of the original 1992 legislation, his office said.
"The assassination of President Kennedy occurred at a pivotal time for our nation, and nearly 54 years later, we are still learning the details of how our government responded and what it may have known beforehand," Grassley said in a statement. "Americans deserve a full picture of what happened that fateful day in November 1963."
Democratic Sen. Patrick Leahy, of Vermont, is cosponsoring Grassley's bill in the Senate and said in a statement that "Americans have the right to know what our government knows" about the assassination.
"Transparency is crucial for our country to fully reckon with this national tragedy, and that is the purpose of these resolutions," Leahy said. "Chairman Grassley and I both believe that a government of, by, and for the people simply cannot be one that needlessly hides information from them, and I look forward to continuing our efforts to make our democracy ever more transparent to the American people."
Massachusetts Rep. Joe Kennedy, the late president's great-nephew, did not respond to a request for comment.
Larry Sabato, the director of the University of Virginia Center for Politics and author of The Kennedy Half-Century — which Jones said sparked his interest in the documents — said that he hopes that releasing them will quell at least some of the conspiracy theories that continue to swirl around JFK's assassination.
"If they don't release the documents, it would fuel a new generation of conspiracy theories," Sabato told BuzzFeed News. "Almost everybody who's mentioned in these documents is dead."
Kennedy was assassinated in Dallas, Texas, in a motorcade winding its way through Dealey Plaza. Although Lee Harvey Oswald was arrested for the assassination — and the murder of a police officer afterward — questions around his motive and whether others were involved have lingered since. Oswald himself was killed during a jail transfer just two days after Kennedy was shot.
Trump has helped to spread at least one conspiracy about Kennedy's death. During an interview with Fox News on the day of the Indiana Republican primary, Trump linked Sen. Ted Cruz's father to Lee Harvey Oswald, saying that Rafael Cruz was with Oswald just before Kennedy was shot. Trump's insinuating comments on the campaign trail — which have no factual basis and have been denied repeatedly by both Sen. Cruz and his father — were based on a National Enquirer story earlier in the year in which a photo expert claimed that a man photographed with Oswald looked like the elder Cruz.
Cruz and Nebraska Sen. Ben Sasse recently joked on Twitter about the claims, after Sasse accidentally spilled a can of Dr. Pepper on Cruz during a hearing. (Cruz responded with a reference to the long-running internet joke that he is the Zodiac Killer.)
When asked if he thought the documents should be made public, considering the president's claims about his father, Cruz said he did. "I think of course we should release the documents of the JFK assassination, and history deserves to know all the evidence we have," Cruz said.
Asked if he hoped releasing the documents would put an end to conspiracy theories, Cruz demurred.
"I suspect that some conspiracy theories will live eternal."