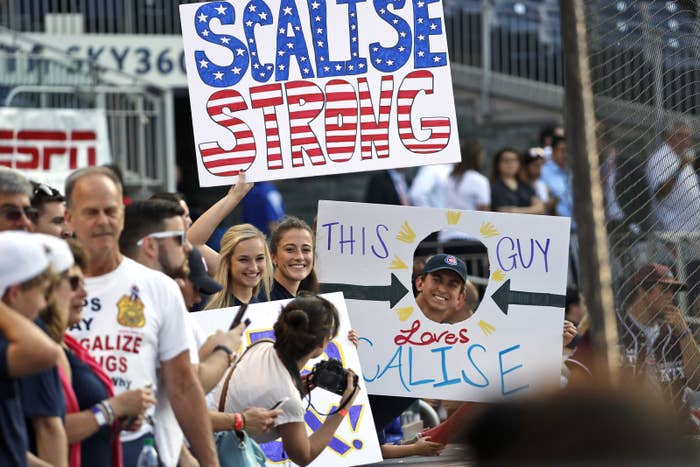 Democrats and Republicans faced off at the annual Congressional Baseball Game Thursday night, with the two parties on the field displaying a rare glimpse of unity that's recently been absent on the Hill.

The game went on just one day after a gunman opened fire at a practice for the GOP team, leaving several people injured, including Rep. Steve Scalise, who remained hospitalized Thursday night in critical condition.
The game drew a record attendance of 24,959 attendees, with proceeds from the tickets benefitting the US Capitol Police Memorial Fund after two of its officers were injured while protecting members of Congress during the shooting. In addition to other charities, organizers said Thursday they had raised more than $1 million.
Organizers decided to go on with the game Wednesday, hours after the shooting. Lawmakers, including many of those who were at the practice, praised the decision.

"We need to play. This is a game that's been going on for over a hundred years. It goes to charity, and we need to play this baseball game. And so I'm excited that we decided to do that," Texas Rep. Roger Williams, who sustained what he described as "an ankle/leg injury" while diving for cover during the shooting, told reporters Wednesday afternoon. One of William's staffers, Zack Barth, was shot in the leg, but was released from the hospital later that day.
"They win if we give in. America doesn't give out, America doesn't give in… if we don't play this baseball game and we go home, then they win," Williams said.

The game began with an emotional kneel and prayer by Republicans, followed by another prayer that included both parties at the second base position, the spot where Scalise was shot.

Former Yankees manager Joe Torre walked toward the mound in what everyone suspected would be the ceremonial first pitch. Instead, Torre handed the ball to Capitol Hill police officer David Bailey, who was injured during the shooting.

Several spectators wore politics-related attire supporting particular candidates and others carried signs in support of Scalise.

"It's a fun event, and especially after yesterday, it's great to see folks rally around America," David Mangone, 27, a lobbyist, told BuzzFeed News.
Since the shooting, members of Congress have struck a bipartisan tone and gone out of their way to show solidarity. Those actions have ranged from public gestures, like Speaker Paul Ryan and House Minority Leader Nancy Pelosi's message of unity in back-to-back speeches on the House floor Wednesday, and the latter's offer to pray for President Trump. Other under-the-radar acts of kindness included Rep. Joe Crowley's office delivering Potbelly's sandwiches to staffers in Scalise's office on the day of the shooting.
Notably, Trump was absent from the game. Press secretary Sean Spicer said "there is not enough time to follow Secret Service protocols" to ensure Trump's safety, but the president visited Scalise in the hospital on Wednesday.

Still, Trump kicked off the game with a recorded message to fans and the congressional players, encouraging unity between the two parties.
From the Democratic side of the stadium, there were boos.

Members of Congress have made a point of showing support for Scalise, who remains in the hospital Thursday night. His office has said that he is in "critical" condition, following the shooting.
"We're going to go to the game today, we're going to play our hardest to win, each team will. And throughout the whole game we will all be Team Scalise. And that camaraderie, I think, will be very positive as we go forward," Pelosi said at a press conference on Thursday.

In the end, Democrats beat Republicans with a score of 11-2.
Rep. Cedric Richmond, the Democrats' star player who hit a triple over the head of the right fielder in the 5th inning, said he planned to stop by the hospital to check on Scalise before the game. "I don't think anything's gotten worse, which is good news," Richmond told reporters Thursday afternoon, saying he had gotten updates from Scalise's staff.
Richmond compared Scalise to a "little Chihuahua" because he is "very persistent and strong," adding that he would miss the Republican's banter at the game.
"I think there is a sense of unity and bipartisanship," said Laurel Haxton, 22, who works in government relations and wore an Iowa Raygun shirt to not be political. "This is always a fun event to come to and see the members of congress show their talent on the field, but I really think this year is going to be special (...) to show members of congress can come together."

The crowd seemed to enjoy the game and sense of bipartisanship on the field, loudly cheering the players throughout the game.
Democrat players Linda Sanchez and Nannette Barragan, the only two women playing in the game, received a standing ovation from fans when they came up to bat.
Barragan got a second round of cheering when her single toward third base brought in the Democrats 11th run.
For some attendees, however, even this ball game was a work event.

Rep. Will Hurd told BuzzFeed News he brought his staff along with him, something he has previously done.

"We've got to carry this on just, you know, beyond today," Hurd said about the bipartisanship that has come up since the shooting.
Rep. Richard Hudson told BuzzFeed News that, "we've seen a lot of good come out of this."
The tradition of the congressional baseball game goes back to 1909 and is used as an opportunity to support philanthropic causes and promote bipartisan camaraderie. This year, proceeds will go to The Washington Literacy Center, The Boys and Girls Club of Greater Washington, and the Washington Nationals Dream Foundation. The Capitol Police Memorial Fund was added as a beneficiary after the shooting.

The Democrats' victory Thursday night was also a tie-breaker for the congressional baseball game's 108-game history, giving the Democrats their 40th win.
At the end of the game, however, Democrats announced they would be giving the trophy to their colleagues instead.
It should be kept, they said, Scalise's office.