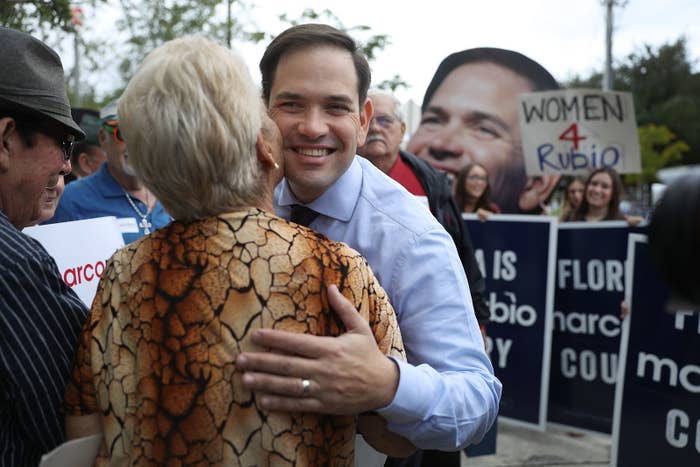 Florida Senator Marco Rubio has won re-election in Florida, the Associated Press has projected, beating Democratic Rep. Patrick Murphy.
When Rubio dropped out from the presidential race after losing his home state to Donald Trump, he said he wanted to be a private citizen when his term as senator ended.
But he had a change of heart in time to run for reelection, and the GOP aggressively attacked Murphy, whose resume was criticized for being exaggerated and was also criticized for his family business ties to Trump.
This year, Rubio's relationship with Trump was rocky. After a primary where punches were thrown left and right — Rubio implied Trump had a small penis, Trump repeatedly called Rubio "Little Marco" — Rubio went on to endorse Trump. And as Trump repeatedly got himself in hot water, Republicans looked to see how Rubio would respond. Even after Trump's 2005 tape having a lewd conversation came out, Rubio wouldn't withdraw his endorsement.

His support of Trump may have helped him with at least some Florida voters. Speaking to BuzzFeed News at the GOP party in Miami, Jose Edgar Guevara said Rubio's backing of the presidential nominee was a factor in his voting for the senator. "If he agrees with Donald Trump, I agree with him," Guevara said. "Marco Rubio accepted Donald Trump then I agree with him 100%."
Saul Escobar, 34, also said he supported Rubio because of his backing of Trump.
"These establishment people always tell us to get in line and now it was their turn to get in line and some of them did, others didn't," Escobar said. "I figured I would reward the ones who did."
As Election Day approached, Rubio's lead over Murphy widened. In October the Democratic Senatorial Campaign Committee pulled funding from Florida despite the race becoming closer.
Once dubbed Republicans' hope for a new face for the party, Rubio will likely continue to get questions about a future run for the White House.
Leticia Miranda contributed reporting from Miami.