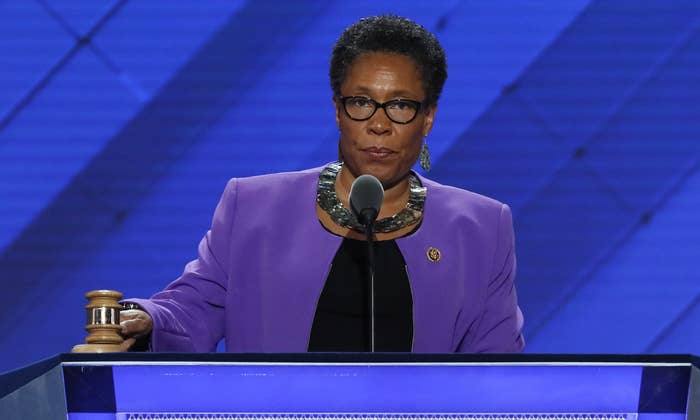 WASHINGTON — Ohio Rep. Marcia Fudge, the only Democrat publicly considering challenging Nancy Pelosi for speaker of the house, announced Tuesday she will endorse Pelosi after the leader gave her a plum committee spot.
Fudge's endorsement came immediately following an announcement from Pelosi that she intends to restore a subcommittee focused on elections and name Fudge as the chair in the new Congress, in an apparent attempt to stave off the potential challenge.
"I am now confident that we will move forward together and that the 117th Congress will be a Congress of which we can all be proud," Fudge said in a statement endorsing the current top three House Democrats, in which she stated that Pelosi had assured her black women would have a voice at the leadership table. "I now join my colleagues in support of the leadership team of Pelosi, [Steny] Hoyer, and [Jim] Clyburn."
Fudge will now chair the House Administration Subcommittee on Elections, which was eliminated in 2013, according to a release from Pelosi. Its role will be to "to combat brazenly partisan efforts to turn back the clock and erect barriers to voting for historically disenfranchised communities."
Fudge's announcement also came just hours after news outlets reported on a 2015 letter in support of then-Ohio judge Lance Mason during sentencing for beating his wife in 2014 to the point that she required reconstructive surgery. Mason reportedly spent nine months in prison for the beating and has now been named as a suspect in her death, according to Cleveland.com. The Washington Post reported Tuesday that Pelosi's allies had been "quietly" making reporters and Democrats aware of the letter before Fudge backed off her potential leadership bid.
Aisha Fraser was reportedly found stabbed to death on Saturday, and Mason was arrested after fleeing the scene and crashing into a police car; he has not been charged in Fraser's death. Fudge's office did not immediately respond to a request for comment, but she walked back her support of Mason in the wake of the killing on Tuesday, telling the Associated Press, "The person who committed these crimes is not the Lance Mason familiar to me. They were horrific crimes, and I condemn them."
Fudge's "decision to withdraw her candidacy had nothing to do with this tragedy," Bernadine Stallings, a spokesperson for Fudge, said in an email to BuzzFeed News. "It did not factor into her decision at all."
Pelosi and Fudge met for 45 minutes Friday while lawmakers were still in town ahead of Thanksgiving recess, where, according to Pelosi's spokesperson, they had a "candid and respectful conversation." That day, Fudge told reporters she would make her decision on running for speaker after Thanksgiving.
Pelosi is facing a complicated math problem in her bid to be speaker, as 16 Democrats signed a letter saying they would not support her in a floor vote, and at least three more have confirmed they will not vote for her. In order to be speaker of the house, Pelosi has to get at least 218 votes on the House floor and Democrats will have 232 seats, with another four midterm elections still too close to call.
A tactful politician known for her deal-making, Pelosi has been the top Democrat in the House since 2003. While revered for her leadership and fundraising abilities, she has seen growing calls to step aside for a new generation of leadership as newer Democrats grew frustrated with the prioritization of experience within the caucus.
But Pelosi remains the "default speaker," many Democrats say, especially since no challenger has emerged.
UPDATE
This story has been updated with comment from Rep. Marcia Fudge's spokesperson.