House Republicans Have Elected Kevin McCarthy To Take Over For Paul Ryan
McCarthy defeated Ohio Rep. Jim Jordan, a conservative, and will take over in January. He'll be joined by Whip Steve Scalise and Liz Cheney, who will take over as conference chair.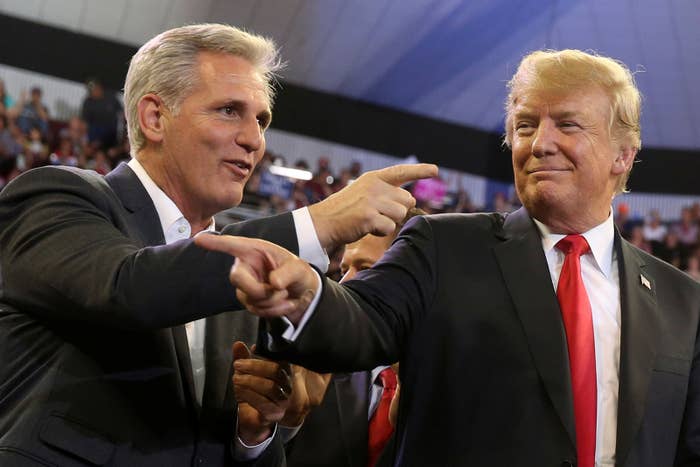 House Republicans elected Kevin McCarthy as the party's leader for the new Congress on Wednesday, following the GOP's House losses in the midterms.
McCarthy, who will take over as the top House Republican since current Speaker of the House Paul Ryan chose not to seek reelection, fended off a challenge from Ohio Rep. Jim Jordan by a vote of 159–43. McCarthy had served as Ryan's top deputy and was seen as a favorite for the position, and is a top ally of President Donald Trump's on Capitol Hill, but there was always a question of whether Jordan would have enough votes to deny him the spot.
Jordan is a founding member of the conservative House Freedom Caucus and has faced questions about how much he knew about a college wrestling sex abuse scandal when he was an assistant coach at Ohio State University. Jordan has also aggressively defended Trump in the House.
At a press conference after the elections, the focus for the newly elected Republican team was clearly on winning back the House. But they also went out of their way to check Democrats. "We will work with anybody across that aisle if they're there working for the American public. But let me be very clear," McCarthy said, "if their agenda is simply investigations, impeachment, and not focused on the American public, we'll be there to protect the American public."
Jordan congratulated McCarthy on his way out of the election. "Congratulations to Kevin and, you know, I'm looking forward to getting back to work and hopefully helping us get back in the majority," he said.
Members of the Freedom Caucus, which frequently spars with leadership, said Wednesday they hope to work with McCarthy over the next two years, despite Jordan's loss. "This is not his first rodeo so he'll be a good leader and he's gonna do his best to bring everybody together, and look forward to working with him to do just that," Rep. Mark Meadows, who chairs the Freedom Caucus, said. "Obviously we want to see an agenda that reflects what the American people want and certainly supportive of the president's priorities and I think we'll see that."
Jordan is reportedly eyeing a chairmanship of the powerful House Judiciary Committee but declined to comment on that bid. Meadows told reporters, "I think Jim has earned a ranking member position on the judiciary committee."
McCarthy will take control of the House Republican caucus in January in a much different Congress than the one he and Ryan ran. In addition to being smaller in number, Republicans will also be unable to control the agenda.
Democrats have signaled they are hoping to work in a bipartisan manner, so Republicans may have room for some across-the-aisle negotiations, especially given that anything that passes the House still has to pass a Republican-controlled Senate and be signed into law by a Republican president.
"We're still sort of licking our wounds to some degree, I think, but we're also starting to strategize and plan for the future, and part of that is picking our leadership and who we think is best positioned to make taking back the House next time around a viable thing," Ohio Rep. Steve Chabot said on his way into the elections Wednesday.
Oklahoma Rep. Tom Cole, a leadership ally, said that Republicans wouldn't just be an opposition party over the next two years, pointing out that they still have the Senate and White House and that Democrats don't have a huge margin in the House. "For us, [it's] a lot easier. I mean it's not fun, I'd rather be governing, but there's only one job for us, and that's to try and get the majority back. So there will be a lot more unity inside the Republican conference," Cole said. "I think you see that today with the election results and the rhetoric coming out of there."

Republicans also reelected Louisiana Rep. Steve Scalise, who was shot last year at a GOP baseball practice, as the House Republican Whip in an uncontested race. Had McCarthy not won enough of the conference's support, Scalise was seen as another top contender for minority leader.
Wyoming Rep. Liz Cheney was also unanimously elected as conference chair, the number three position in Republican leadership, and a job her father, former vice president Dick Cheney, had when he was in the House. Cheney will replace Cathy McMorris Rodgers as the only woman in Republican leadership. (McMorris Rodgers announced earlier this month she would not run for the position again, after coming out ahead in a competitive reelection race.)
Minnesota Rep. Tom Emmer will take over the National Republican Congressional Committee and work to elect more Republicans to the House in 2020. Emmer served as deputy chair of the NRCC this cycle, under Ohio Rep. Steve Stivers.
Democrats will hold their leadership elections later this month.

Nidhi Prakash contributed reporting to this story.