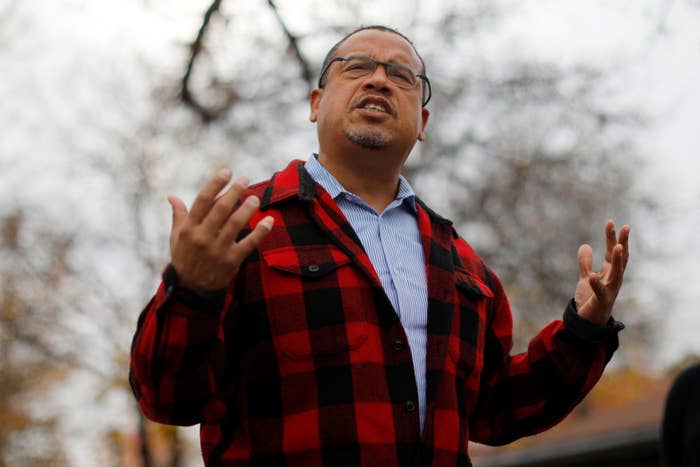 Democratic Rep. Keith Ellison was elected Minnesota's attorney general on Tuesday despite allegations of domestic abuse by a former girlfriend.

Ellison, a progressive member of Congress and the deputy chair of the Democratic National Committee, was accused in August by Karen Monahan, whom he dated in 2015 and 2016. Ellison consistently denied the allegations, which became a flashpoint in his race against Republican Doug Wardlow.
Ellison, who ran for chair of the Democratic National Committee but lost to Tom Perez, reportedly considered leaving his current spot as deputy chair of the DNC while he was campaigning for attorney general. It's unclear whether he'll remain in the post moving forward.
In addition to an investigation led by the Minnesota state Democratic Party, Ellison — who said he was "eager" to see the matter resolved — called for a House Ethics Committee investigation of himself. (The committee never announced an investigation into Ellison and would have lost jurisdiction over Ellison once his House term ended anyway.)

Monahan's son first posted on Facebook that he had seen video from 2016 on Monahan's computer of Ellison dragging her off of a bed while yelling profanities at her. Monahan also said this video existed but never made it public, at times saying she had lost the video and, at others, suggesting victims shouldn't have to show proof to be believed. She also alleged further emotional abuse at the hands of the lawmaker. At one point she tweeted a doctor's note that showed she told her doctor that Ellison caused her "emotional and physical abuse" before she spoke about it publicly. BuzzFeed News was unable to verify the document.
Largely due to the fact that Monahan never produced the video to investigators or media outlets, an investigator for the Minnesota Democratic-Farmer-Labor Party found Monahan's claim about Ellison trying to drag her off a bed "unsubstantiated" and referred the report to "local authorities."
But several law enforcement agencies declined to investigate that matter. Monahan has continued to be vocal on Twitter about her allegations.
Ellison spent the last weekend before Election Day campaigning with Democrats, even as Republicans used the abuse allegations against him as a rallying cry against the entire party. The chair of the DFL became emotional as he introduced Ellison to supporters at a field office in Eden Prairie, Minnesota, on Sunday, calling the lawmaker his "brother."