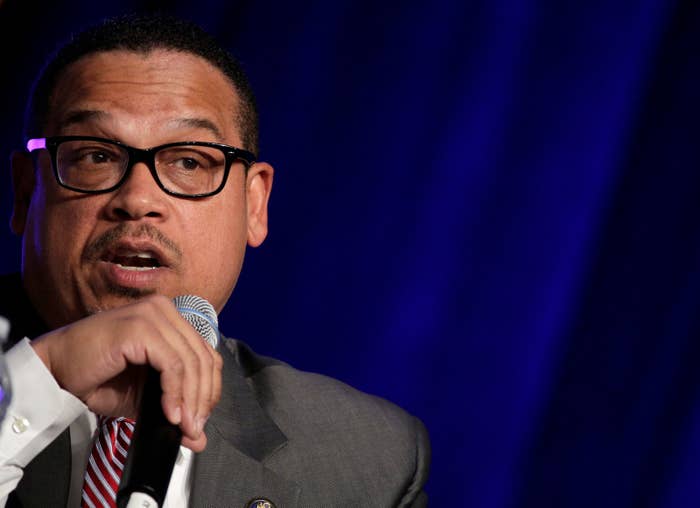 A growing number of Democrats say the domestic abuse allegations against Democratic Rep. Keith Ellison should be investigated, and now the House Democrat says he will request a House investigation himself.
Ellison, the deputy chair of the Democratic National Committee and a progressive member of Congress, was accused in August of domestic abuse by his former partner, Karen Monahan, whom he dated and lived with in 2015 and 2016. Ellison, who is currently running for attorney general in Minnesota, has repeatedly denied the allegations.
While he is campaigning in Minnesota, Ellison continues to serve in the House, which has so far not opened an ethics investigation or taken action against him. On Wednesday, in a statement exclusive to BuzzFeed News, Ellison said he will personally ask the House Ethics Committee to investigate the allegations.
"Today I am announcing that I will submit a request for a House Ethics Committee investigation into allegations against me raised by a former partner. I am taking this step now because I am innocent and eager to see this entire matter resolved," Ellison said. "In addition to any House Ethics investigation, an independent investigation has been conducted by an independent attorney. I have complied fully with that investigation, the results of which should be made public soon."
"These allegations have lingered in the public sphere, and remain unsubstantiated. I welcome an investigation by the House to allow us to move on," he added.
Before Ellison made that announcement Wednesday, California Rep. Jackie Speier, a Democrat who has been outspoken throughout the #MeToo movement, told BuzzFeed News that the Ethics Committee should investigate, but she also raised questions about how effective that probe could be.
"It probably should be [investigated], but you know, they won't get it started and then he will be gone," Speier said, referring to the fact that Ellison will leave the House in January whether he wins the attorney general race or not. "You know, it's going to be a gesture more than anything else. We've got to do something with the Ethics Committee generally because when members leave, you know, the investigation falls off."
In recent days, several of Ellison's colleagues in the House and Senate have said the allegations need to be investigated. On Sunday, Sen. Mazie Hirono, a Democrat from Hawaii, told CNN that there should be an investigation into Ellison's conduct.
"I have been very clear that I make no excuses for anybody who engages in this kind of behavior. And, as far as Keith Ellison, these allegations need to be investigated, and appropriate action taken," Hirono said.
Asked if he thought the allegations involving Ellison should be investigated, Virginia Sen. Tim Kaine told BuzzFeed News Tuesday, "Absolutely, sure."
A spokesperson for New York Sen. Kirsten Gillibrand, who has also been outspoken on allegations of abuse and sexual harassment, told BuzzFeed News in an email Gillibrand would also support an investigation.
The Minnesota Democratic Party and the Democratic National Committee have already said they are looking into the allegations, but some Democrats have said that the House Ethics Committee needs to open its own probe, prior to Ellison announcing his request Wednesday.
In a statement to BuzzFeed News, Rep. Tim Walz, who is running for governor in Minnesota, said he supports a House Ethics investigation, and that Ellison's decision to request one himself was the "appropriate" thing to do.
"My hope is that it will be conducted in an expeditious and transparent manner. I have consistently supported investigations into sexual harassment and abuse, and I will continue to do so," Walz said in the statement.
Other members of the Minnesota delegation also said the House Ethics Committee should conduct a review.
"The House Ethics Committee should conduct a comprehensive review of this matter, hearing from all parties, before Mr. Ellison retires from the House of Representatives," Minnesota Rep. Betty McCollum said in a statement to BuzzFeed News. "In the meantime, it will be up to millions of Minnesota voters to decide, based on the available information and Mr. Ellison's record of public service, who is best to serve as their Attorney General."
"The allegations made about Rep. Ellison are very serious," Sen. Tina Smith said in a statement to BuzzFeed News. "Rep. Ellison has denied them and continues to address them with the people of Minnesota. I have long supported the ongoing investigation being conducted by an outside law firm — which Rep. Ellison has cooperated with — and support the House Ethics Committee conducting an investigation as well."
Sen. Amy Klobuchar's office also indicated she would support such an investigation.
That's not to say that all Democratic members are on the same page on the issue.
"I haven't really thought about it," Rep. Collin Peterson told BuzzFeed News Tuesday night. Asked about the allegations themselves, he said, "They need to be resolved — what's going on? — like everything else. But whether, you know, how they deal with it — I'm not on that committee."
In a statement Wednesday afternoon, House Democratic Leader Nancy Pelosi said a House Ethics Committee investigation would be "appropriate."
"In August, when allegations surfaced against Congressman Ellison, he immediately called for an independent investigation," Pelosi said. "As that inquiry by an independent entity in Minnesota concludes, it is appropriate that the House Ethics Committee also conduct an expedited investigation of this matter, as Congressman Ellison has requested. It is essential that due process be respected and that all involved are given the opportunity to be heard."
Monahan's allegations first came to light in August, when her son posted on Facebook that he had seen a video on her computer showing Ellison shouting profanities at her while attempting to drag her off a bed in 2016. Monahan, who reportedly moved in with Ellison in 2015, came forward shortly thereafter, alleging emotional abuse as well.

"He kept trying to pull me and pull me and pull me," Monahan told the New York Times of the alleged physical abuse. "And I just laid dead. Because I was scared."
Monahan initially told CNN she had video of the incident, but also said she had misplaced it while moving. She also told Minnesota Public Radio that the video "sets the expectation for survivors of all kinds of forms of abuse … to have to be the ones, like I'm doing right now, to show and prove their stories." The video has not yet been made public. The New York Times also reported that Monahan filed a police report after her allegations were made public in which she alleged her computer had been hacked and conversations between her and Ellison had been deleted.
Last week, however, Monahan posted a doctor's note dated November 2017 on Twitter that shows she had told her doctor about "emotional and physical abuse" at the hands of the congressman long before she spoke about it publicly. The note names Ellison and says Monahan was "worried about retribution" if she identified him publicly.
BuzzFeed News reached out to the clinic identified on the document, but the clinic was unable to confirm the document's authenticity, citing patient privacy. BuzzFeed News contacted Monahan through Twitter last week to discuss the allegations and the doctor's record she posted. Monahan responded that she was "out of town for three weeks in the desert in New Mexico," and that she would have difficulty getting reception. She did not respond to follow-up requests to talk, but has been active on Twitter since then.

During a Minnesota attorney general debate on Friday, Ellison noted that the record was dated a year after they broke up, "at a time when she ... was essentially putting together the allegations she made two days before the" Minnesota primary.
Ellison continued to push back against the allegations at the debate on Friday and said they are untrue. Asked if he was confident that no other allegations would come up, Ellison responded that he didn't know what "somebody might cook up" in this "political environment."
"But I can tell you that there is absolutely nobody that I'm aware of who has any sort of — who's threatening, or suggesting or who's ever made a prior accusation," Ellison added.
The DNC said in August they were "reviewing" the allegations against Ellison, a process that is still underway.
"All allegations of domestic abuse are disturbing and should be taken seriously. We are working with the Minnesota state party to review these allegations," the DNC said in a statement to BuzzFeed News when asked for a progress report on the investigation.
The state party chair reportedly said Monday that he expected a report of the review would be issued soon. In a statement to BuzzFeed News, Ellison's campaign said he is "cooperating fully with the independent investigation."
But given that Monahan says this happened while Ellison was a member of congress and that he is still a member, the House Ethics Committee would also have jurisdiction to investigate.
Monahan also posted another medical record dated June 2017. It does not name Ellison, but states she told her doctor she had "[r]ecently got out of an emotionally abusive relationship."
Another woman, Amy Alexander, also accused Ellison of physical violence more than a decade ago and alleged she had an affair with Ellison, allegations he denied. A judge ruled in 2006 that she couldn't repeat her allegations and denied her attempt to get a restraining order against Ellison.
Ellison also addressed the Alexander case during Friday's debate, denying that there were "multiple" allegations against him.
"Let's talk about Amy Alexander. That was a case in 2005 when she was harassing me and my staff. I got [an] order for protection, to have her not do that anymore. The judge awarded that in 2006, when I was running for Congress. She filed a claim, it was denied by the judge, for [an] order protection, and then we went to a hearing. And the judge said she was ordered to stop making the falsehoods against me, and to not contact me at all. So this is not multiple cases," he said.
CORRECTION
Sen. Amy Klobuchar's name was misspelled in an earlier version of this story.