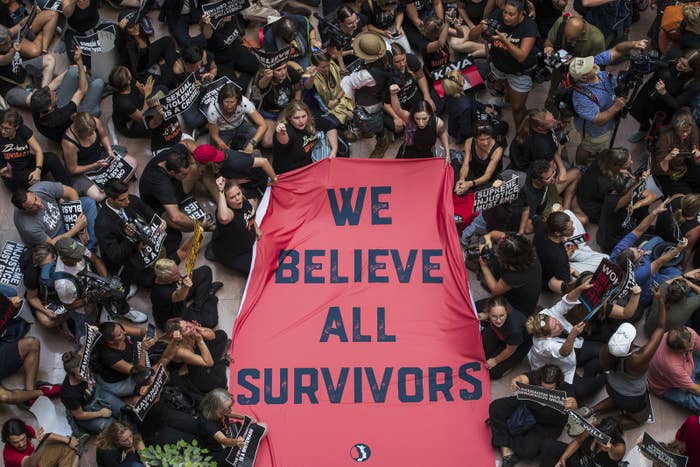 As the Senate moves forward with Brett Kavanaugh's nomination to the Supreme Court, the anger and energy on both sides on Capitol Hill has reached an unprecedented peak.
While Democrats and Republicans have strong disagreements on Kavanaugh's nomination, there is one thing they agree on: This moment is different.
"I've never seen anything like this, but I hope it never happens again," Senate Majority Whip John Cornyn told BuzzFeed News on Thursday.
In the days since Christine Blasey Ford — who accused Kavanaugh of sexually assaulting her in the early '80s — testified on the Hill, things have begun to feel different. Protesters have have been a constant presence, packing the hallways of the Senate and its office buildings for days. And the responding increased police presence on Capitol Hill has been palpable.
Some senators, including Judiciary Committee Chair Chuck Grassley and Susan Collins, who was seen as a critical swing vote, have been escorted almost everywhere by a security detail.
Senate offices have had a constant churn of visitors. On Friday, sexual assault survivors shared their stories in Collins' office, hoping to convince her to vote no on Kavanaugh's nomination. In a floor speech on Friday, Collins announced she would vote to support Kavanaugh, but not before protesters shouted "vote no" as she began her remarks.

Following Collins' announcement, Democratic Sen. Joe Manchin immediately also announced his support. TV networks broadcast protesters behind him chanting "shame!" as he spoke with reporters.
Several other senators also had powerful run-ins with protesters caught on camera, among them Sen. Jeff Flake. Flake, who last Friday announced he would vote in favor of Kavanaugh, was confronted in an elevator by sexual assault survivors shortly after. "Look at me when I'm talking to you," the woman said. "You're telling me that my assault doesn't matter."
Flake, a member of the Judiciary Committee, ended up agreeing to vote Kavanaugh out of committee on the condition that an additional FBI investigation take place.

Sen. Lindsey Graham was also confronted by a protester last week who identified herself as a rape survivor. Graham told her he was sorry and that she needed to "go to the cops" before leaving in an elevator.
And Sen. Orrin Hatch, also a member of the Judiciary Committee, dismissed women protesters who approached him on his way into an elevator, telling them to "grow up."
There was even a kegger-themed protest outside the home of Senate Majority Leader Mitch McConnell Friday morning, where protesters drank PBR and highlighted Kavanaugh's testimony that he loves beer.
A Republican who often accompanies their boss around the Hill said that every day that the Senate has been in session, the senator has had "at least two or three" interactions with protesters over Kavanaugh.

Republicans — including President Donald Trump — have argued, without evidence, that the protesters are being paid by Democratic groups. Cornyn said as much Thursday as he explained why this moment feels different than past flashpoints on Capitol Hill, including when Republicans tried (and failed) to repeal Obamacare last year.
"Health care to me was a debate about policy. This has gone way beyond that. This has been more like an orchestrated political campaign, with paid protesters and people getting arrested," Cornyn said. "So this has been much different in my view."
Adding to the tensions, a former congressional staffer doxxed multiple senators, posting their private home addresses and other information on Wikipedia during the Ford hearing last week.
Jackson Cosko, 27, allegedly broke into the office of his former boss, New Hampshire Sen. Maggie Hassan — who had fired him in May — to gain access to the information before posting it. Cosko, who had worked as a systems administrator for Hassan, was arrested on Wednesday, Capitol Police said, and faces both federal and local charges. Republican Sen. Ron Johnson called posting the senators' personal information "unconscionable."
The Senate voted Friday morning, largely along party lines, to advance to a final vote on Kavanaugh. That final vote is expected sometime Saturday, and the activity on the Hill, both pro- and anti-Kavanaugh, has not let up.
"I haven't yet seen crazy take a vacation," Sen. John Kennedy, who is serving his first term, said Thursday. "I can't say that I've really seen the dark side until now. Reasonable people disagree sometimes over issues — oftentimes. But in terms of smash-mouthed, no-holds-barred, hit-them-full-in-the-face, anybody-who-gets-in-the-way kind of behavior, this is the first time I've seen that."

It wasn't just on the Hill that chaos was unfolding: The president also contributed, from mocking Ford at a rally on Tuesday night to tweeting about the "elevator screamers" and their signs on Friday morning.
"It just feels terrible around here. That the president of the United States goes on TV and mocks this woman, who shows more courage in one hour than the president has shown in any year of his life. And it's pretty unsettling for a whole lot of women and pretty … morally outrageous for all of us that are part of this and see it," Ohio Sen. Sherrod Brown told BuzzFeed News.
Just like the first month of Trump's presidency, senators have been receiving a lot of calls on both sides of the nomination from their constituents as well as from out of state.
"I would definitely put [the energy] at the health care and immigration debate level," Oklahoma Sen. James Lankford said on Thursday. "A lot of folks that are calling in — our calls have been about half-and-half on it. A lot of calls from out of state; now that has been different. There have been so many out-of-state calls on this."
Thursday night, Kavanaugh attempted to do some damage control ahead of the Friday vote, writing in an unprecedented Wall Street Journal op-ed that he had "said a few things I should not have said" at last week's hearing.
"The emotions over Judge Kavanaugh's nomination are so raw and so deep, and the passions either on the part of those who feel he was inappropriately accused or on the part of those who think that credible allegations of assault came forward and that he showed a lack of judicial temperament in his conduct before the committee, that it's hard for me to see how we easily bridge that," said Sen. Chris Coons ahead of the vote Friday morning.
"I love the Senate and I've never been so appalled at this institution," Hawaii Sen. Brian Schatz told the Washington Examiner on Thursday. He declined to take questions on his way into the vote on Friday morning.