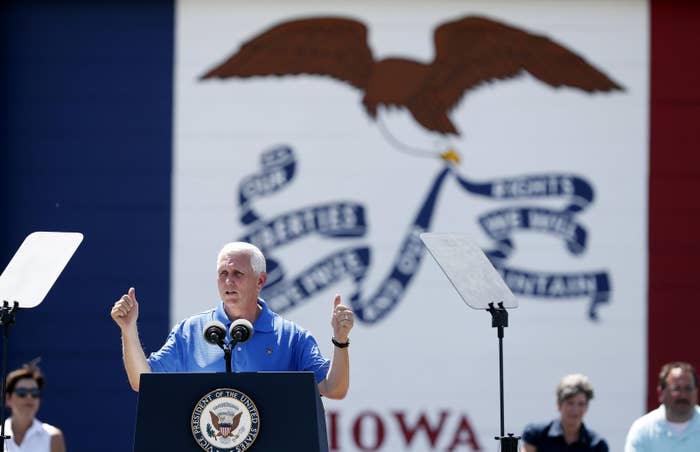 Speaking at a political event in Boone, Iowa on Saturday, Vice President Mike Pence praised the "strong support" both he and President Donald Trump have received from Congress — but some Iowans were not so confident that the administration is getting the support it needs to move forward with its agenda.
"In fact, thanks to President Trump's leadership, and the strong support we have from Iowa and Congress, over 600,000 new private sector jobs have been created this year, and unemployment is at its lowest level in 16 years," Pence said. He added later that he has "faith" in the Republican majority in Congress.
The remarks were made at Republican Sen. Joni Ernst's third annual Roast and Ride event in Central Iowa, where Pence pulled up on a Harley Davidson, part of a 500-strong parade motorcycle parade in honor of veterans. While the Republicans present were still overwhelmingly supportive of what Trump is doing in the White House, their generosity did not extend to the GOP lawmakers he has to work with in Congress.
"The Republicans need to pull together and get stuff done," said Russ Pfau, of Cedar Rapids, who attended the event. "Democrats did great, you know. We don't all agree on everything, but we're going to get our thing done, right? Republicans, Senate Republicans and House, have to pull it together that way."
"Republicans need to be not letting perfect get in the way of something a lot better," Pfau added.
The event took place on a hot day in an off-year for elections, but Ernst still managed to pull in Pence, as well as South Carolina Senator Tim Scott, as major speakers. The crowd was slow to arrive because it overwhelmed security.
But it was clear throughout the event, particularly during Pence's speech, that the Iowans present still believed in Trump's agenda, roaring with applause when the vice president reminded them of the administration's decision to pull out of the Paris Climate Accord.
"How great is it to have a president that's more concerned with Des Moines than Denmark?" Pence asked the crowd, playing off Trump's comment earlier this week about being elected to represent the people of Pittsburgh instead of Paris.
One attendee had specific members of Congress in mind when he placed blame on Republicans on the Hill for stalling Trump's agenda, including Sens. John McCain, Lindsey Graham, and Ben Sasse, all of whom have been critical of Trump.
"I think John McCain should go retire. He is the wrong voice for the wrong people. I think he has forgotten where his roots are," said Mark Akers, from Omaha, Nebraska.
"Republicans are letting him down," said Mike Sipple, of Ogden, Iowa. "They're liberal Republicans. They're fake Republicans."
"The news says that some of the Republicans are going with the Democrats, and that ain't right," Sipple added. "Anything that Trump wants to do, they're against it."
"I just wish the Congress would give him more support," said Grant Gardner of Cedar Rapids, adding he wished members of congress would get off their "hind-ends and do what they're supposed to do."
Several people pointed to the Republican majority in Congress as a reason that Trump's agenda should be further along than it is.
Rep. Steve King, who represents the Iowa district where Saturday's event was held and stuck around long after the program ended chatting with constituents, placed some of the blame on Democrats. But when asked about Republican congressional support for the Trump administration, he conceded that there are members of the party who haven't done enough to back the president.
"I think that there is a small segment among Congressional Republicans that are somewhat psychologically in the Never Trump Camp, so they want to protect themselves from, I'll just say it, in such a way that, the thought process I think for them is, if something happens… they don't want to be caught in the cross fire," King told BuzzFeed News. "And I think that's a lack of courage, and that's an element that detracts some from the support Republicans should be giving Trump."