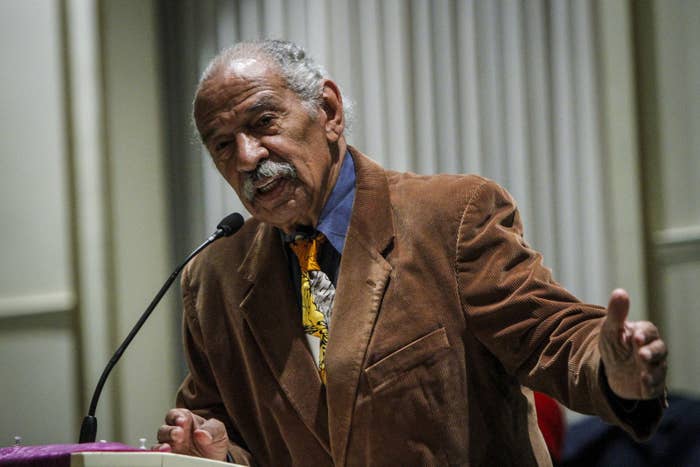 On John Conyers Jr. Boulevard in downtown Detroit, the eponymous street where one of the congressman's offices is located, few seem to know about — or really give much thought to — the sexual harassment allegations that have come out against Conyers, or the growing chorus of calls for him to resign.
Despite mounting pressure to resign from his own Democratic House colleagues —including House Minority Leader Nancy Pelosi — nearly a dozen people told BuzzFeed News they were not aware of any sexual harassment allegations against the congressman as they stood on or near the street that shares a name with him on Thursday. While the influential congressman is a towering figure in his hometown of Detroit, there were few signs in the city that a boiling political drama has been playing out.
There were no signs or protesters near Conyers' office, which is located inside a federal courthouse. A staffer in the office told BuzzFeed News everything was operating normally on Wednesday. When BuzzFeed News stopped by the quiet office, employees were present, to the surprise of one security guard.
"It's hard to look at any individual piece right now, but it's hopeful to see like just the amount of change that's happening, it's encouraging," said Patrick Mack, a Detroit resident, speaking to the "plethora" of sexual harassment allegations in the news right now. Mack also noted that he did not know who Conyers was.
"I haven't heard not one person at my job say anything," said Cassandra Rains, who works downtown. "Because a lot of people kind of like tend to shy away from that stuff."
Echoing a line that politicians have been using, several people said if the allegations are true, the congressman should resign.
"I have a tough time with that, I've been going back and forth about it. I think if they are true, yes [he should resign]," said David Bolton, a Detroit resident, as he sat inside the Cadillac Lodge, a pop-up holiday hangout where people play giant board games blocks away from Conyers' office. "You don't want to say that stuff is not true, but you just want to make sure, you know?"
But people struggled to describe who should determine whether the allegations are true and how.
"I'm giving people benefit of the doubt on both sides… That's a complicated thing, it's not easy," said David Brown, a Detroit resident, who wanted more time to review the situation. "I'm undecided."
The congressman had not been to his office after flying back to Detroit on Tuesday and was hospitalized late Wednesday evening.
Speaking to reporters gathered outside of Conyers' home, one of the few spots of activity where members of the media have lined the street for days, Conyers' attorney Arnold Reed said the congressman's symptoms included dizziness, light headedness, and shortness of breath. He fought back people who said Conyers should resign.
Some people said resigning at this point would be telling.
"If he got up and resigned, and said I'm resigning because of, you know, than it would probably be proof of guilt," said Leif Frevik, who lives in downtown Detroit.
"I guess if he resigns now, he's admitting that he did do it. Like to me, that's how it looks to me," Bolton said. "If it weren't true, you would stay and fight it, right?"
Other people, like Ed Olsen, who grew up in Detroit and returned for the holiday season, had doubts about the allegations, noting how many women are "crawling out of the woodwork" with sexual harassment allegations recently.
"Look at his age. There is no way that man, excuse my language but, can get it up let alone worry about it. If [the allegations are] true, should he resign? Absolutely. If he knows they're true, he should resign," Olsen said.
Conyers denies all of the allegations made against him, but there have been several. Marion Brown alleged years of sexual harassment in a 2015 wrongful dismissal complaint that BuzzFeed News first reported.
Another woman tried to file a suit alleging sexual harassment and a hostile work environment, but she dropped it when the motion to seal it was denied.
And a third woman, Deanna Maher, spoke on the record to The Detroit News alleging sexual harassment this week. In addition to Maher, Melanie Sloan, a high-profile Washington attorney, also spoke on the record to the Washington Post last week about mistreatment from the congressman.
Others were less torn about the reports.
"I think I agree with Nancy Pelosi's call that she just made that he should remove himself from Congress, I think that's pretty clear," said Drew Millitello, an attorney who works in downtown Detroit.
The calls for resignation continue to brew beyond Detroit, however.
One Michigan Democratic operative told BuzzFeed News he thought that state Democrats were moving in the "direction" of calling for Conyers to resign, pointing to Rep. Dan Kildee, another Michigan Democrat, who did so on Thursday.
"At this point he should [resign]," the Michigan Democratic operative said. "The allegations that I've seen are specific and credible."