Immigrants In This Florida Town Fear They Will Be Overlooked After Hurricane Irma
Immokalee, an agricultural hub in Southwest Florida, was devastated by the storm. Now residents wonder if anyone will help them rebuild.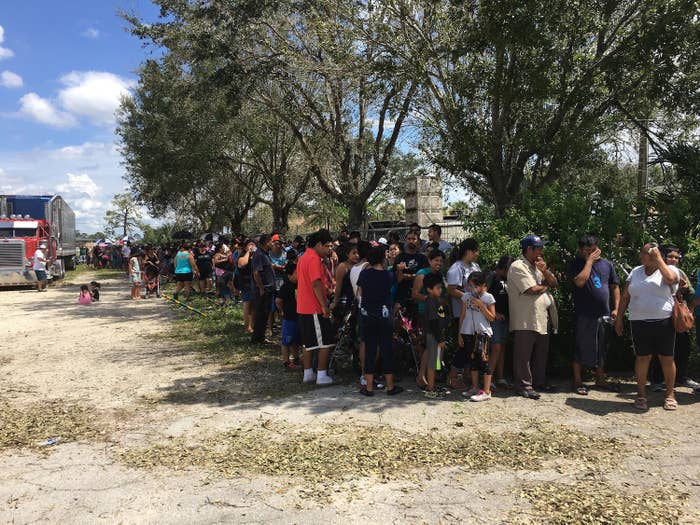 IMMOKALEE, Florida — Despite the 90-degree heat beating down on Southwest Florida Wednesday, more than 400 people were at a tomato packaging plant waiting for five-gallon buckets filled with water, personal hygiene items, and other basic necessities they still lack, three days after Hurricane Irma tore through the region.
While most of Florida suffered the effects of the storm, few places were hit harder than Immokalee, an impoverished, largely Latino farming community of about 24,000 people in Collier County that's sometimes referred to as "Naples' stepbrother."
"Nobody looks out for the little guys," said Julian Garcia, who grew up in the area. "There's a hell of a lot of resentment here."

The city, which has one of the highest poverty rates in the state, is about 75% Latino, with a large immigrant community made up in part of migrant farmworkers. And residents fear that they will be overlooked because of it.
"A lot of people said they were going to help, but they never mentioned Immokalee," said Omar Cruzes, who is still staying in a local shelter after the storm. Days after Irma passed through, he said, he still hasn't noticed an improvement. "Sincerely, I think it's because this town is more Hispanic."

Evidence of Irma was everywhere in Immokalee, which like Naples and other parts of Southwest Florida took an almost direct hit from the storm. Poles holding up power lines lay snapped in half, and lines of vehicles waiting for gas snaked down the streets. Cell phone reception was spotty in a lot of the town.

More than 470 people were still staying at the shelter set up in the town's high school Tuesday night, some of them to escape the stifling heat. Many people in Immokalee live in mobile home parks that were devastated, if not totally destroyed, in the storm.
"We don't have a voice," Rosa Pulido, an immigrant from Mexico, told BuzzFeed News. "We don't get the attention we're supposed to get."
On Wednesday, schools and businesses were still closed. Several families grilled outside, trying to use up perishable food before it spoiled, and kids played in pools to cool off, trying to make up for the lack of power — and air conditioning — that still plagues much of the region.
Eva Canales told BuzzFeed News she thought she had seen the community come together since Irma. But she added that there was a lot of resentment within the community among those who believe Immokalee has been overlooked because of its high immigrant population.
"It's just the simple fact that, you know, the people that really need help, sometimes they don't get the assistance," Canales said. "There's a lot of people who need help down here, but people don't really see that, you know, because of the immigrants and stuff here."
A spokesperson for Lipman Family Farms, a large employer in Immokalee, and which hosted the distribution center Wednesday, said it was a "misconception" that Immokalee gets less attention because of its majority-Latino population.
"I have heard personally from five different nonprofit leaders today that there's five different food distribution points here," community relations director Jaime Weisinger told BuzzFeed News. "I've talked to the high school principal who ran a shelter over there that they're going to feed people. I talked to the health care network, … who are going to give out free medical supplies tomorrow. I have talked to the Collier County folks who have 11 different spots today handing out water."
"Maybe they don't know where to go," she added. "But people know that Immokalee is in need right now, and they're all doing their best to get out here and get folks what they need."
Others in the region also disputed the idea that Immokalee is not getting the relief assistance or attention it needs, pointing out that Florida Gov. Rick Scott visited following the storm.
"It pisses me off when people talk about Immokalee like it's a third-world country," said Ema Barroso, a Naples resident. "Naples is going to get attention because Marco Island is underwater."