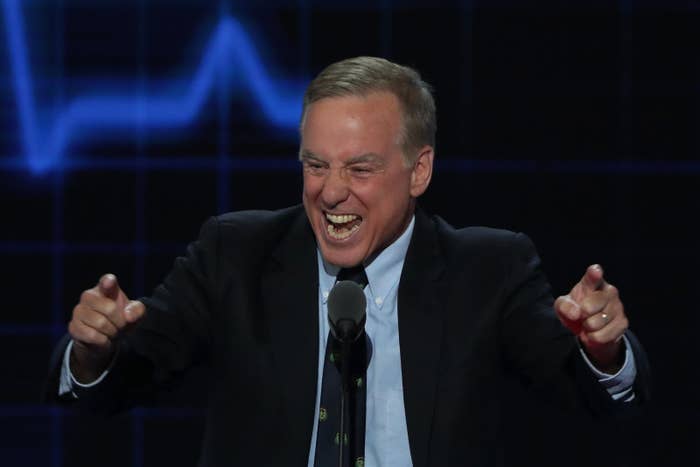 WASHINGTON — Former Gov. Howard Dean said he's not stressed about winning a bid to chair the Democratic National Committee, but he is worried about the race for the position creating a divide among Democrats.
"I do not want this to turn into a war between the Sanders people and the Hillary people, which it could," Dean, who supported Hillary Clinton, said in an interview with BuzzFeed News.
Dean, who announced he was interested in the position shortly after the election, faces stiff opposition. His staff confirmed that he was running for chair.
Up against Dean for the position is Rep. Keith Ellison, who Democrats say would be a fresh face for the party. Ellison also has the advantage of being backed by a lot of big names, including Senators Harry Reid, Bernie Sanders, Chuck Schumer, and Elizabeth Warren.

As Democrats are self-scrutinizing following the results of last week's election, Ellison may be part of the shake-up that comes as a result of the election that returned so little for Democrats. On the Hill, House Democrats opted to postpone their leadership elections to in order to "recalibrate."

For his part, Dean has been critical about anyone taking the DNC gig as a part-time job. And while Dean says he is "very good friends" with Ellison, since Ellison serves in Congress the criticism extends to him.
Recently, Dean left his position with Democracy for America (DFA), the progressive grassroots organization he founded after his failed bid for the presidency in 2004. DFA endorsed Sanders for president despite Dean pushing for Clinton.
DFA confirmed to BuzzFeed News that Dean's departure was long planned to happen after the election. The move leaves him open for the full-time job he's eyeing.
"I think I can win because I'm a known quantity," Dean said. "We had a fantastic record when I was there before."
Dean was chair of the DNC from 2005 to 2009. By the end of his tenure, Democrats took the White House with President Barack Obama as well as the House and Senate.
"The problem is if I win, the map is going to look like the Hillary versus Bernie primary contest, and that's not good," Dean said.