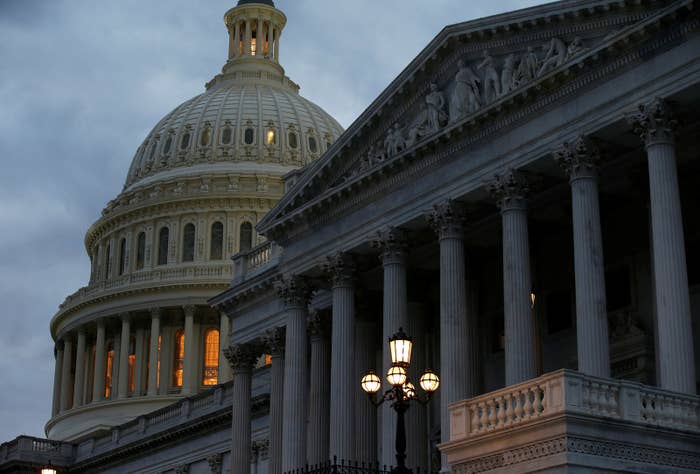 The House introduced a major bipartisan bill that would overhaul the way Congress deals with sexual harassment cases on Thursday.
The legislation is the result of months' work by members of both parties to improve transparency and reporting options for employees on Capitol Hill, in the wake of sexual harassment allegations against several members. Sen. Al Franken and Reps. John Conyers and Trent Franks resigned in the wake of recent allegations against them, while Reps. Ruben Kihuen and Blake Farenthold have announced they will not seek reelection.
Among other changes, the legislation, which is an amendment to the 1995 Congressional Accountability Act, would require members to reimburse any taxpayer money they paid as settlements for sexual harassment complaints against them personally to the US Treasury. Any taxpayer money used for settlements must be paid back within 90 days, or could result in withholding funds from a member's salary until the amount is paid off.
Taxpayer-funded settlements have become a major issue on Capitol Hill, after BuzzFeed News reported in November that Conyers had settled a sexual harassment claim using money from his office budget. Since then, the Office of Compliance, a secretive body that handles workplace complaints in Congress, has revealed that it paid out more than $700,000 in federal money to settle complaints against members and their staff since 2008.
"No way that taxpayers should be paying for this," Republican Rep. Gregg Harper, who chairs the House Administration Committee that wrote this bill, told BuzzFeed News last week.
Significantly, the bill would extend protections for congressional employees to unpaid staff, such as interns. And it would now require the OOC to release public reports on complaints it has handled twice per year.
And it would establish a new Office of Employee Advocacy, which would for the first time provide legal assistance and consultation for employees on Capitol Hill to help address complaints and explain the procedures Congress has to address them. The office could not, however, represent an employee should a complaint go to federal court.
One common criticism of the current complaint process was that employees did not have an advocate because the OOC ultimately works for the House of Representatives. While complainants had to pay for legal representation, members of Congress and their offices could be represented by the House counsel.
If passed, the legislation would dramatically shake up the OOC's process for handling complaints. Currently, employees who file a complaint are required to undergo mediation and a cooling-off period before a formal investigation begins. The new process would require an investigation into the incident to begin immediately, while mediation would still be available and optional. Further, the bill would get rid of OOC's requirement that complainants sign a confidentiality agreement in order to move forward with a complaint. While the proceedings would still be confidential, both the employee and the office accused would be allowed to discuss the claim.
The bill would also allow congressional employees who filed a complaint to work remotely while their case is pending. If an employee's work responsibilities cannot be completed remotely, "the employing office may grant paid leave of absence."

As part of the rebranding, the bill also renames the OOC. It would now be called the "Office of Congressional Workplace Rights."
The bill would create an anonymous "climate survey" for congressional offices to take every other year, which would include being surveyed on "attitudes regarding sexual harassment."

"This bipartisan proposal is the result of months listening and learning about how we can improve the process. These reforms focus on justice for the victim instead of protecting the offender and they are long overdue," Rep. Bob Brady, the top Democrat member on the House Administration Committee, said in a statement.
Brady said he gave "a lot of credit" to Harper and California Rep. Jackie Speier, a Democrat who has led many of the discussions around sexual harassment in the House and introduced the METOO Act last year. "It's not every day that a Mississippi Republican and a California Democrat can find common ground. I'm happy we were able to get this done," Brady said.
Members of the House Administration Committee and other cosponsors, including Speier and top members of the House Ethics Committee, issued a joint statement Thursday, saying the bill would bring "more transparency, accountability, and stronger protections for employees."
"Ultimately, these reforms will strengthen protections for individuals and needed accountability in the workplace. … We believe the proposed comprehensive reforms will pave the way for a safer and more productive congressional workplace," they said.
UPDATE
This story was updated with a new draft of the House Administration Committee's chart laying out how Congress's process of handling harassment and other complaints would change under the new bill. The new draft fixed an editing error that inadvertently flipped two of the steps.