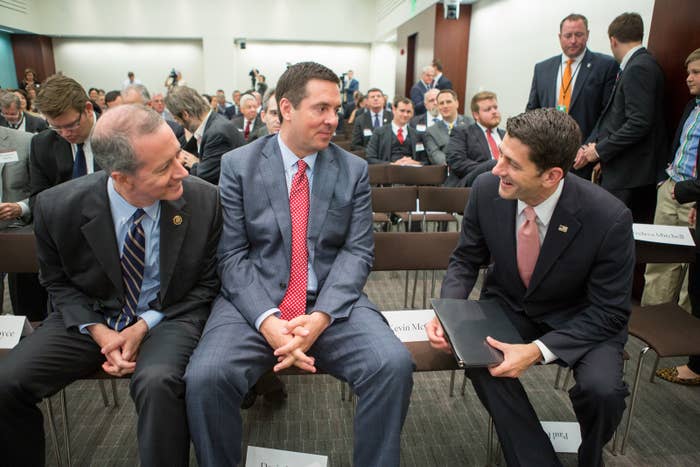 WASHINGTON — House Republicans will not commit to launching a new investigation into Russian interference in the election, even as their colleagues in the Senate said that they will work with Democrats to do just that.
Just hours after Senate Majority Leader Mitch McConnell called for a bipartisan investigation into the matter, Speaker Paul Ryan said in a statement that the U.S. should "push back forcefully" on cyber-attacks by foreign actors and pointed to pre-existing cyber-security studies by the House Intelligence Committee. But Ryan did not echo McConnell's call for new investigations into reports that Russian actors tried to swing the election for Donald Trump.
Rep. Devin Nunes, chairman of the House Permanent Select Committee on Intelligence, said Monday that he will not open a new investigation into the cyberattacks either.
"At this time I do not see any benefit in opening further investigations, which would duplicate current committee oversight efforts and Intelligence Community inquiries," Nunes said in a statement Monday.

Both Ryan and Nunes noted that the committee is already undergoing a broader study of cybersecurity against foreign threats. Neither would explicitly say the DNC email hack would be included in that study.
Nunes' comments are a sign that the Protecting Our Democracy Act, legislation introduced last week by two House Democrats calling for an independent, bipartisan investigation on "foreign interference" during the election, may struggle to gain traction in the lower chamber.
Rep. Eric Swalwell, who introduced the legislation last week, told BuzzFeed News that this only reinforces the need for an independent analysis.
"Both parties should have an interest," Swalwell said about investigating the role of foreign interference.
On the Senate side, Republicans are taking the opposite approach. McConnell said Monday morning that his party would work with incoming Democratic leader Chuck Schumer and other Democrats to investigate the hacking reports.
McConnell said he expects the Senate Intelligence Committee to investigate next year.
President-elect Donald Trump has said repeatedly since last week that he does not believe Russia interfered with the election and has dismissed the intelligence community's conclusions as politically driven.
UPDATE
On Monday night, Nunes released a letter he wrote to James Clapper, the Director of National Intelligence, requesting a briefing for members of the House Intelligence Committee by Friday, regarding media reports that the CIA and FBI "have developed conflicting intelligence assessments and delivered to Congress 'divergent messages' regarding the Russian government's alleged cyber attacks connected to the election."