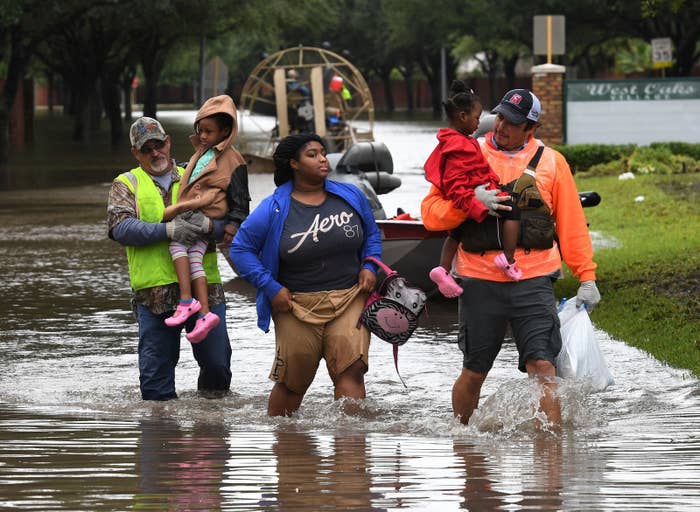 House Republicans are facing a fall full of drama, with contentious deadlines coming up on government spending and debt. But the conference, at least for this week, appears to have found a rare point of consensus: They think passing relief funding for victims of Hurricane Harvey will be relatively painless.
Several Republicans who spoke with BuzzFeed News say it's too early to know how drastically the storm will limit their ability to focus on any of the number of initiatives they're hoping to take up this fall. But they expect that a disaster relief bill for Harvey will not suffer from the same internal political dramas that hamstrung efforts to pass relief funding after Hurricane Sandy devastated New York and New Jersey in 2012.
The Republican-controlled House struggled to get a Sandy aid bill passed when conservatives dug their heels in against the $50 billion in funding unless it was offset elsewhere. Only 49 House Republicans ultimately voted for the funding bill. The fight leading up to the vote left Republican politicos from New Jersey and New York fuming at their colleagues. New Jersey Gov. Chris Christie said the struggle to pass the funding exemplified "why the American people hate Congress."
But this time around, conservatives appear to have little appetite for a fight over offsets for disaster relief funding.
"There's just a lot of emotion that goes with natural disasters. And so it's difficult to apply the brakes. People are like, 'We've got to do something about this,'" said South Carolina Rep. Mark Sanford, a member of the conservative Freedom Caucus. What's more, he noted, the size of the Texas delegation — whose members, including some from the Freedom Caucus, are all expected to vote for relief funding for their home states, even though many did not vote for Sandy aid — will give them quite a bit of leverage.
New York Republican Rep. Pete King pointedly said he would support financial aid for Texas now, despite what he saw from some of his Texan colleagues in 2013.
A Freedom Caucus source told BuzzFeed News that while the group generally felt that all spending should be offset, a disaster relief bill was not really where members were looking to have that fight in September. The group will push for the package to be very tightly focused on aid for people affected by Harvey, with no tangentially related add-ons that would make the bill more complicated. But assuming that's how the eventual bill will look, the source said, caucus members did not expect a major fight.

"My first impulse, maybe as a former pastor for nearly two decades, is to make sure we're doing everything we can to maintain human life," North Carolina Rep. Mark Walker, who chairs the Republican Study Committee, a larger conservative group within the House, told BuzzFeed News Monday. "To me, that overrides any other policy conversation."
That said, he admonished, "if we were being more fiscally responsible in other areas … we wouldn't have to be consumed with having offsets with these kinds of crises."
Republicans in Congress have a series of steps they need to take in the coming weeks to avoid other crises. The government is due to run out of funding at the end of September, and Congress will need to raise its borrowing limit this fall or risk defaulting on more than $19 trillion in federal debt. Treasury Secretary Steve Mnuchin has urged Congress to raise the debt ceiling by Sept. 29. It's unclear whether Republican leadership will opt for a "clean" increase, which Mnuchin supports, or one paired with spending cuts, as favored by fiscal hawks.
According to a Senate Republican aide familiar with talks, "Right now, members are continuing to work with the administration to determine how to raise the debt limit in time for the October deadline."
If Congress chooses to pass disaster relief as a standalone bill separate from September's must-pass legislation, conservatives would likely have little leverage to impact the vote, as many Republicans have already suggested they will support disaster relief funding, and they will almost certainly have the support of Democrats.
But that's not the only option for how to approach relief funding.
House Speaker Paul Ryan already indicated more time is needed to get through the appropriations process ahead of a shutdown deadline at the end of September, suggesting a resolution temporarily continuing funding at current levels is a likely outcome.
There's already talk on the Hill of tying Harvey relief funding to the potential continuing resolution. The option, Republicans say, would allow the House more time to consider a comprehensive funding bill with a full assessment of the damage caused by the storm, which would mean avoiding having to potentially revisit the issue later in the year.
One House GOP leadership aide, asked about possibly tying relief funding to a continuing resolution, said in an email that it's "too early to say which vehicle will be used."
"It's just too early to talk specifics of our legislative response and how that will impact the rest of the agenda," the House GOP leadership aide also said in an email. "However, Congress will fully support the needs of those impacted by the storm."
Oklahoma Rep. Tom Cole, who voted in favor of Sandy funding in 2013, told BuzzFeed News he doesn't think House Republicans will "have the partisan wrangling" over Harvey relief funding that they had over Sandy, saying he hoped his colleagues had "learned" from that experience. "I don't think this will be a big point of controversy."
Cole, who said Congress will "keep money moving to Texas during September" as needed, said it would be prudent to give time to fully understand the scope of the damage instead of acting immediately on larger relief funding efforts.
"It's hard to get a second bite at the apple," Cole said of the idea of Congress passing multiple major aid funding measures. "It's harder, and you just want to be sure that you get things right and there's sufficient funds."
The Senate is already weighing addressing at least one other fast approaching deadline with an add-on to a continuing resolution, aside from potentially dealing with Harvey. The Senate's Health, Education, Labor, and Pensions Committee is holding a series of health care hearings over the next few weeks with the goal of putting together a narrow, bipartisan bill by the end of the month, when insurances companies sign new contracts with the federal government. If Congress is unable to give insurers clarity on health subsidy payments by that point, premiums could spike to fend off potential losses.
A Senate GOP aide familiar with the HELP committee said "one route to a faster package would be attaching the package to must-pass legislation," like a continuing resolution. "Given the timeline, that's probably the most efficient way to go about this," the aide said.
Senate Republicans, though, have not yet said how they plan to address disaster relief amidst their already packed fall agenda. A spokesperson for Senate Majority Leader Mitch McConnell pointed to a statement the senator issued last week in which he said Republicans are working with the White House on their "shared goals," including funding the government past September, tax reform, health care, and more.
CORRECTION
There were 179 House Republicans who voted against the 2013 Sandy relief bill. A previous version of this story misstated that number.