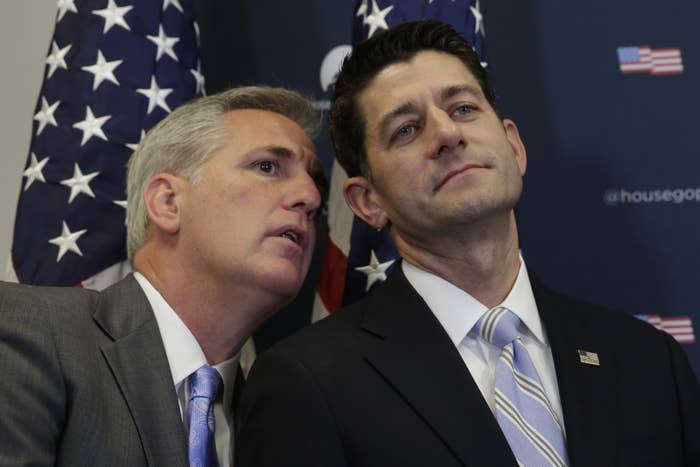 WASHINGTON — After a Republican conference meeting where members walked out wearing "Make America Great Again" hats given to them by Rep. Cathy McMorris Rodgers, House leadership told reporters they are in constant contact with President-elect Donald Trump and his transition team.
"We are on the same page with our president-elect," House Speaker Paul Ryan said. "I talk with Donald Trump virtually every single day. I spoke with Mike Pence this morning. We are on the same page, we are working hand-in-glove, and we're going to make sure this is a very successful administration."

None of the members of Republican leadership wore the hats to address the press, but Majority Whip Steve Scalise did hold his up to the reporters.

"We got these hats at conference today," Scalise said. "And it's not just a great slogan, but inside the tag you see 'made in the USA.' There are going to be a lot more things made in the USA when this new administration comes in."
By Tuesday afternoon, Ryan, Majority Leader Kevin McCarthy, Scalise, and McMorris Rodgers all held on to their leadership posts. The show of unity was not insignificant in a conference that has seen much internal strife over the last year.
"I think it's going to be a totally coordinated effort between the speaker and the president elect and Sen. Mitch McConnell." Rep. Pete King told reporters. He also added that he understands there is a lot of communication among House Republicans and the Trump team — the same message Ryan had used earlier in the day.

When BuzzFeed News asked Rep. Trent Franks whether he had any concerns about how the next Congress will be able to work with Trump, Franks said not any more so than with other presidents.
"I would tell you this," Franks said, "he would be a profound improvement over Barack Obama, so that is reason to celebrate all by itself, isn't it?"