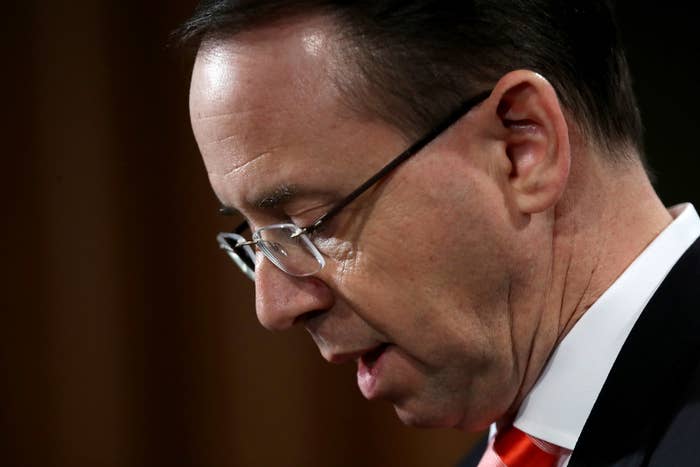 As the noise that President Trump might fire Deputy Attorney General Rod Rosenstein gets louder, House Republicans are atypically quiet on the subject, even as many in the party have forcefully backed and defended special counsel Robert Mueller.
Some have hinted that firing Rosenstein, the number two official at the Department of Justice, who oversees the Russia investigation, just wouldn't be as offensive as firing Mueller, in part due to complaints that he's slow-walked document production to critical Capitol Hill committees. A source inside the White House is already pointing to the document issue as a potential justification for firing, should Trump choose to do so.
"To me, he has the right to fire either one of them," said New York Rep. Peter King, a Republican member of the House Intelligence Committee, who said he hopes Trump doesn't fire Rosenstein. "And Rosenstein, I think, has been particularly uncooperative in dealing with House and Senate committees. Having said that, I just think politically it would be counterproductive."
Since news broke earlier this week that federal agents executed search warrants on Trump's longtime personal lawyer Michael Cohen, multiple news outlets have reported that Trump was considering firing Rosenstein. Rosenstein reportedly was involved in Mueller's referral of information about Cohen to federal prosecutors in Manhattan, who obtained the search warrants. With Attorney General Jeff Sessions recused, oversight of the special counsel's investigation has fallen to Rosenstein. NBC reported Friday that Rosenstein had told his colleagues he was prepared for Trump to fire him.
Both the House Judiciary and Intelligence committees have had conflict with Rosenstein for months. House Intelligence Committee chair Devin Nunes threatened to hold Rosenstein and FBI Director Christopher Wray in contempt — and even to launch impeachment proceedings — if members weren't given access to a document they wanted. And the House Judiciary Committee has had its own drama, with the Justice Department missing a subpoena deadline earlier this month.
"I know Rosenstein has not been as helpful from what we're doing to try to get our stuff done, but whether that rises to the level of if he should be fired, that's really a question for the president," Texas Rep. Mike Conaway, the Republican leader of the House Intelligence Committee's Russia investigation, said Thursday.
"I wouldn't have as much heartburn over Rosenstein, I'm just not sure how much you get with that," Iowa Rep. Steve King, a member of the House Judiciary Committee, said.
But despite the attention on DOJ, other Republican members of the House insist, like some of their Senate counterparts, that the president won't fire either Rosenstein or Mueller.
"I can't tell you what the response from Congress would be. I don't think he's going to do either one," South Carolina Rep. Trey Gowdy, who sits on both the intelligence and judiciary committees, said Thursday when asked if he thought the response from Congress would be more muted if Trump fired Rosenstein as opposed to the special counsel.
"It's not going to happen. I'm confident that he will come to his senses and not do that," Florida Rep. Ileana Ros-Lehtinen, a member of the intelligence committee, told BuzzFeed News when asked about the possibility of Trump firing Rosenstein or Mueller. "None of it is OK. Neither one of them. They don't deserve it, they've done nothing to merit firing. It would be two very bad decisions."
CNN reported this week that the White House was working on talking points to undermine Rosenstein's credibility, related to whether his involvement in the firing of former FBI director James Comey meant he was conflicted from overseeing the Russia investigation. On April 11, Trump tweeted that Rosenstein was even more conflicted than Mueller.
A White House official suggested that should Trump fire Rosenstein, another possible justification given would be the ongoing fight between congressional Republicans and the Justice Department over documents — and not Trump's outrage over the Cohen search warrants.

Asked if reports that Trump was considering firing Rosenstein were true, a White House official with knowledge of the situation, who was not authorized to speak publicly, referred to the long-simmering document disputes between Congress and the Justice Department.
White House officials don't believe anyone is likely to be fired, the official told BuzzFeed News. "On the other hand," the official continued, "there are persistent complaints about Rosenstein and the Justice Department's handling of information and related broken commitments that come across the president's desk every day."
Asked if the president was thinking about trying to remove Mueller, the official replied, "the White House has long been clear that it has no desire or intent to terminate Mueller, and the president's anger this week at the attack on his lawyer notwithstanding, that still appears to be the case."
A White House spokesperson did not return a request for comment.
But asked Friday if the president is going to fire Rosenstein, Sarah Huckabee Sanders, the White House press secretary, responded that she didn't have anything to announce at this point. "The president has voiced some frustrations, but beyond that, I don't have anything to add."

The rhetoric against Rosenstein on the Hill escalated after the Cohen search warrants were served, with Nunes threatening to move for contempt and impeachment against Rosenstein and Wray if he didn't get a document members wanted related to the Russia investigation.
Nunes had been after an unredacted version of a memo the FBI reportedly relied on in opening its investigation into whether there was collusion between the Russian government and the Trump campaign. On April 11, the day after Nunes told Fox News that he was prepared to move for contempt or impeachment, the Justice Department announced Nunes and the rest of the committee members would get access to the document, with some minor redactions.
That appeared to de-escalate the situation. Nunes issued a statement noting that the committee's August 2017 subpoena remained effect, but he thanked Rosenstein for his "cooperation."
The Justice Department and the FBI are also still working on document requests from the House Judiciary Committee related to the investigation into Hillary Clinton's use of a private email server while she was secretary of state and, more recently, the firing of former deputy FBI director Andrew McCabe. Committee chair Bob Goodlatte issued a subpoena in late March seeking to compel production of documents, an escalation from the more informal negotiations up to that point.
Wray responded by announcing that he was doubling the number of employees reviewing documents, and a Justice Department official wrote a letter to Goodlatte saying they were "expeditiously" reviewing documents; he noted that the request for documents about McCabe was new. On April 9, the Justice Department announced that Attorney General Jeff Sessions had asked the US attorney in Chicago, John Lausch, to oversee the document production.
The back and forth between Goodlatte and the FBI and the Justice Department has been on Trump's mind. In early April, he tweeted a few times about the issue, taking the committee's side. On April 7 — two days before news of the Cohen search warrants broke — he tweeted, "What does the Department of Justice and FBI have to hide? Why aren't they giving the strongly requested documents (unredacted) to the HOUSE JUDICIARY COMMITTEE? Stalling, but for what reason? Not looking good!"
Asked on Thursday whether it'd be any more OK if Trump were to fire Rosenstein rather than Mueller, Goodlatte said, "You can check with my press people because I'm not taking questions."