Rep. Devin Nunes, the chairman of the United States House Permanent Select Committee on Intelligence, said Wednesday "we don't have any evidence that took place" in regards to President Trump's claim that President Obama wiretapped him at Trump Tower during the election.
Nunes is a California Republican and a staunch supporter of Trump. His comments came at a news conference on Capitol Hill on Wednesday.

"I don't think there was an actual tap of Trump Tower," Nunes said.

Nunes added that if people choose to interpret the president's wire tapping tweets "literally," then the president is wrong.
"Now you have to decide, as I mentioned to you last week, are you going to take the tweets literally?" Nunes said. "And if you are, then clearly the president was wrong. But if you're not going to take the tweets literally and if there's a concern that the president has about other people, other surveillance activities looking at him or his associates, either appropriately or inappropriately, we want to find that out. I think it's all in the interpretation of what you believe."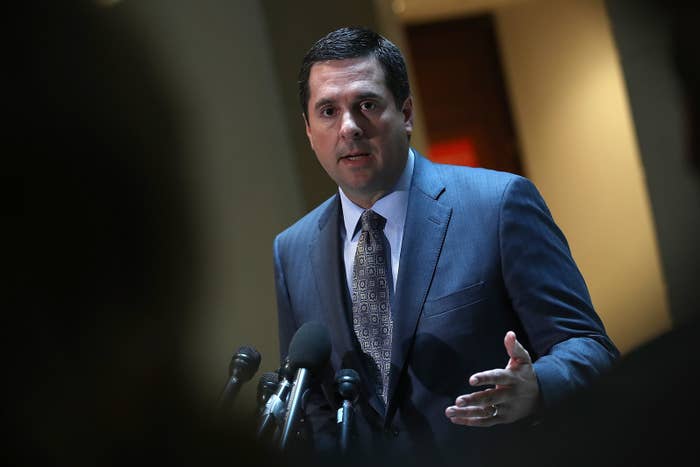 On March 4, Trump sent a series of early-morning tweets accusing Obama of spying on him. "Terrible! Just found out that Obama had my 'wires tapped' in Trump Tower just before the victory. Nothing found. This is McCarthyism!" he tweeted.
"Is it legal for a sitting President to be 'wire tapping' a race for president prior to an election? Turned down by court earlier. A NEW LOW!" he tweeted.
Nunes responded Wednesday, "I think you just have to be careful about how literally you take these comments."

Rep. Adam Schiff, the top Democrat on the same committee, said this about White House's position on Trump's wire tapping tweets: "They've been all over the map."
"I want to join in saying that to date I've seen no evidence that supports the claim that president Trump made that his predecessor had wiretapped him and his associates at Trump Tower," Schiff said. "Thus far we have seen no basis for that whatsoever."
Separately, during a press conference in Richmond, Attorney General Jeff Sessions said he never gave Trump a a reason to believe he was wiretapped by the previous administration.
"Um, look, um, answer's no," he said.

"I was active in the campaign, I held a role in the campaign," Sessions told reporters. "There's a code of federal regulations, rules, statutes really, that says if you're a Department of Justice employee in the campaign, you cannot investigate your own campaign — even though you may have had nothing whatsoever to do with anything improper."
Earlier this month, Sessions recused himself from any federal investigation into the 2016 US presidential election.
"I'm not talking to the president or the people who are investigating the case and am unable to comment on any of these details," Sessions said Wednesday.
Rep. Schiff said that despite having seen no evidence of the wiretap claims, he still wants the Department of Justice to respond to a request for information related to possible surveillance by March 20.
This is a developing story. Check back for updates and follow BuzzFeed News on Twitter.