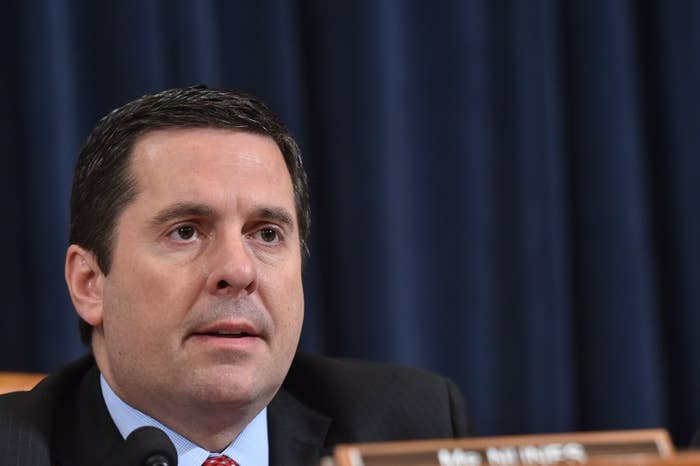 WASHINGTON — House intelligence committee chairman Devin Nunes said Wednesday that the Trump team was surveilled and it is "possible" President Donald Trump and his associates' personal information was picked up during incidental collection.
"This appears to be all legally collected, foreign intelligence under FISA where there was incidental collection but then ended up in reporting channels and was widely disseminated," Nunes said.
He said the information was given to him legally by sources who thought he should know it, and Nunes confirmed it is legitimate. He would not go into details where he got the information. The chairman also said the committee does not know yet whether the information was picked up at Trump Tower and said it was not part of a criminal investigation.
Nunes told reporters that most of the information he has seen was picked up in November, December and January when Trump's transition team was in place.
After his press conference announcing the findings Wednesday, traveled to the White House to brief the administration as well.
In February, Trump tweeted that former President Barack Obama had wire tapped Trump Tower, and the White House buckled down on his allegations by calling on Congressional intelligence committees to investigate.

Following the meeting with Nunes Wednesday, Trump said he felt "somewhat" vindicated by Nunes' report.
"I very much appreciated the fact that they found what they found," Trump added.

Both intelligence committees have stated they have no evidence to support Trump's claims that the Obama administration wire tapped him during the campaign. Even Nunes, a Trump supporter, had made clear the president was "wrong" if his tweets were interpreted to mean a physical wire tap. Nunes has left room for interpretation of Trump's tweets.

On Monday, FBI Director James Comey also told the House Intelligence Committee that he had no evidence to support those tweets.
Nunes made the comments on Wednesday during a press conference to give updates on the committee's Russia investigation, but Nunes said none of the surveillance he has seen was related to Russia. He added that does not mean that surveillance related to Russia does not exist.

Nunes said he had received the new information since the committee held its first open hearing on Monday, where Comey confirmed that the bureau is also doing an investigation into how Russia interfered in the election and whether the country coordinated with the Trump campaign.

Nunes said he had already briefed Speaker Paul Ryan on the situation. The committee's top Democrat, Rep. Adam Schiff, was not briefed on the incidental collection by Nunes before the press conference, his office confirmed to BuzzFeed News.
Schiff said in a statement that he spoke with Nunes later in the afternoon about the new information and told the chairman that he has "grave concerns" about the way it was handled, including the fact that Nunes briefed the speaker, the White House and the press before discussing the issue with committee members. Schiff also said that committee members still have not seen the documents that Nunes procured.
"Because the committee has still not been provided the intercepts in the possession of the Chairman, it is impossible to evaluate the Chairman's claims. It certainly does not suggest — in any way — that the President was wiretapped by his predecessor," Schiff said.
Nunes stressed throughout the briefing that the committee still needed more information. When asked if he was surprised by the information, he said yes.
"I'm actually alarmed by it. We went through this about a year and a half ago as it related to members of Congress. ... Then we had to have a whole series of hearings, then we had to have changes made to how Congress is informed of if members of Congress are picked up in surveillance." Nunes said. "This looks like — very similar to that. It reminds me of what happened about a year and a half ago."
"Clearly I thought it was important enough for me to at least tell all of you, inform the speaker, and then I'm going to go to the White House and at least let them know what I've seen because I think they need to see it," Nunes said.
When asked by reporters if he thought it was now time to have an independent commission investigate foreign interference in the election, Nunes said no.