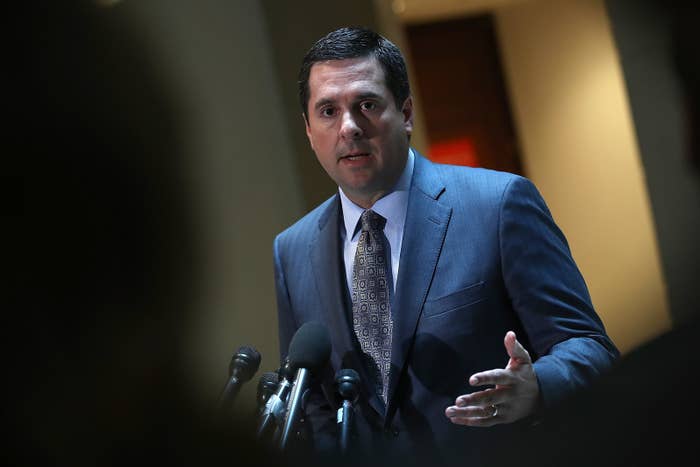 WASHINGTON — The chairman of the House intelligence committee said he does not mind that President Donald Trump is not all "lawyered up" when using Twitter, but he does wish the president was clearer when he tweets.
"I don't think we should attack the president for tweeting," Rep. Devin Nunes, the chairman, said. "I don't want him to be completely lawyered up, but at the same time... I want him to be clear in what he's asking and the assertions that he's making."

His comments came during his first press conference since the the White House demanded congressional intelligence committees investigate whether "executive branch investigative powers were abused in 2016." Trump had tweeted on Saturday morning that former President Barack Obama had wiretapped his phones, and the statement asking for Congress to investigate came the day after.
"As you all know, the president is a neophyte to politics. He's been doing this a little over a year. And I think a lot of the things that he says you guys sometimes take literally. Sometimes he doesn't have 27 lawyers and staff looking at what he does, which is, I think, at times refreshing and at times can also lead us to have to be sitting at a press conference like this answering questions that you guys are asking."

Nunes said he had not spoke to Trump about the tweets or been in touch with the White House.
Looking into whether Obama wiretapped Trump Tower would only be part of the broader investigation on Russia interference in the election that the intelligence committees are doing.
Nunes was also asked by reporters whether he had any evidence to support the president's claim that he was wiretapped by the previous president.

"I have not seen that evidence," Nunes said. "I think the bigger question that needs to be answered is whether or not Mr. Trump or any of his associates were in fact targeted by any of the intelligence agencies or law enforcement authorities."
He said at the end of the day, he thinks tweets are a "transparent" way for politicians to communicate with their constituents.
At the press conference, Nunes also announced his committee will have its first public hearing hearing later this month regarding its Russia investigation.
"I want to conduct as many of these hearings in open, in the public," Nunes said. "As you know, that's a little rare for the intelligence committees to do, but because of the seriousness of the accusations involved on all sides of this issue, I want to make sure that we hold as many of these hearings out in public so that the American people and all of you can attend and report on."

The public hearing will be held on Monday, March 20 and the initial list of people invited to attend includes FBI Director James Comey.
Others on the list are Mike Rogers, director of the National Security Agency, John Brennan, former director of the CIA, James Clapper, former director of national intelligence, Sally Yates, former acting attorney general, Dmitri Alperovich, co-founder of CrowdStrike and chief technology officer and Shawn Henry, CrowdStrike services president. Nunes emphasized that this was only an initial list that could expand.
The chairman said there were no plans to subpoena anyone who had been invited to the public hearing.