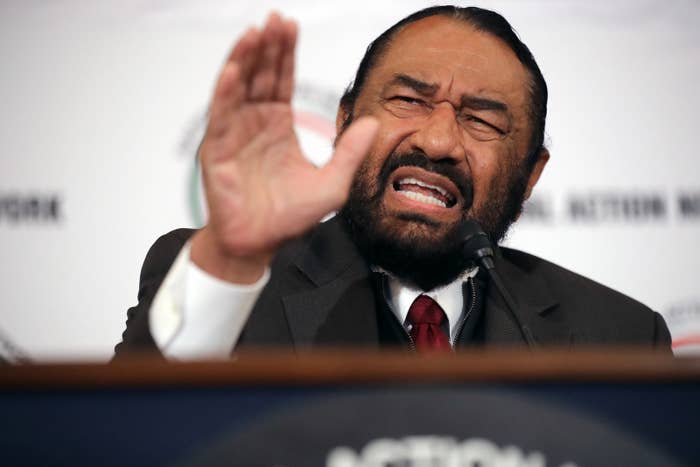 WASHINGTON — Nearly a year after Texas Rep. Al Green forced a floor vote to move toward impeaching President Trump, House Democrats who pushed for and supported impeachment now say they have other avenues to build a case against the president, and are backing off of their former initiatives now that they will be the majority party in January.
Tennessee Rep. Steve Cohen, who had introduced his own articles of impeachment last November, told BuzzFeed News on Thursday that he does "not presently" have plans to reintroduce them in the upcoming Congress.
"In the minority, you can message and get out what you believe. … but in the majority you can have the power of the gavel to have hearings to show that he's committed impeachable offenses," Cohen said. "I've considered it, and I've annotated [the legislation] to keep it up to date … but I think that the facts will bring more support for impeachment. We'll see where things go."
Cohen also pointed out that even if the House supported impeachment, it would not have sufficient support in the GOP-controlled Senate at this point. Impeachment would require two-thirds of the Senate to vote for it. The same was true when they introduced articles of impeachment last time.
So what changed? Cohen said "it was a serious gesture last time," but acknowledged "it's more political now."
Washington Rep. Pramila Jayapal, who was one of the nearly 60 House Democrats who voted to move forward with Green's resolution on the floor last December, made a similar case.
"I think at this point, we'll have the majority. We'll actually be able to build a case. At the time that I [voted to move forward], Republicans shut down every effort to try to actually get the real information out," Jayapal told BuzzFeed News on Thursday. "Those articles were important at the time, but this is a new day, we're in the majority. We've got subpoena power, we've got chairmanship, we can actually get the information."
California Rep. Ted Lieu, who like Jayapal also voted to move forward, said in a statement to BuzzFeed News that Democrats need to wait before pursuing the impeachment route, calling impeachment one of Congress's "most sobering responsibilities."
"I believe it should never be our first option," Lieu said. "We need to wait until the Mueller investigation concludes and until Congress can conduct adequate oversight of the Trump Administration before considering impeachment."
All along, Democratic leadership has pushed back on members who have supported impeachment, arguing that it's too early to discuss, as investigations — in particular, special counsel Robert Mueller's probe — into the president are ongoing.
But some Democrats were unable to resist at the urging of the progressive movement, where talk of impeachment first started making headway into the mainstream. In particular, California Rep. Maxine Waters used it as a rallying cry in speeches. Her office did not immediately respond to an inquiry Friday asking whether she would be interested in pursuing it at the start of the new Congress.
Members-elect Ilhan Omar and Alexandria Ocasio-Cortez, two high-profile progressives of the freshmen class, have also said they would support impeaching Trump. Ahead of the midterms, Republicans also talked about impeachment as a way to try to motivate their base, using Trump's fate to try to lure conservative voters to the polls.
Meanwhile, the Mueller investigation continues to make headway. Already, his investigation has resulted in Michael Cohen, the president's longtime lawyer, pleading guilty to lying to Congress, and Paul Manafort, Trump's former campaign chair, pleading guilty to tax and fraud charges unrelated to his campaign work but brought forward by Mueller's investigation.
For his part, Green is holding his cards close as to what he's going to do regarding his impeachment efforts.
"I've had that query presented to me many times, and I have indicated to others that I'll announce that to everyone at the same time," Green told BuzzFeed News when asked whether he had plans to reintroduce his articles of impeachment on Wednesday. Asked when he would make his announcement, Green said, "I don't know but … I'm giving it a lot of thought."
While Green was the one who forced the House vote last year, California Rep. Brad Sherman joined him in initially filing the articles of impeachment.
Sherman said he's going to take a look at what other members are doing and start making decisions about his path forward in December, but told BuzzFeed News on Wednesday he's currently "leaning toward simply reintroducing in their present form, but still deciding."
"Look, the Judiciary Committee is going to be moving at its own pace in its own way. How does this fit into that mix?" Sherman said. "Of all the things Donald Trump is worried about, whether my particular articles are reintroduced in their current or a different form is not one of the 10 things most likely to affect his continued occupancy of the White House."