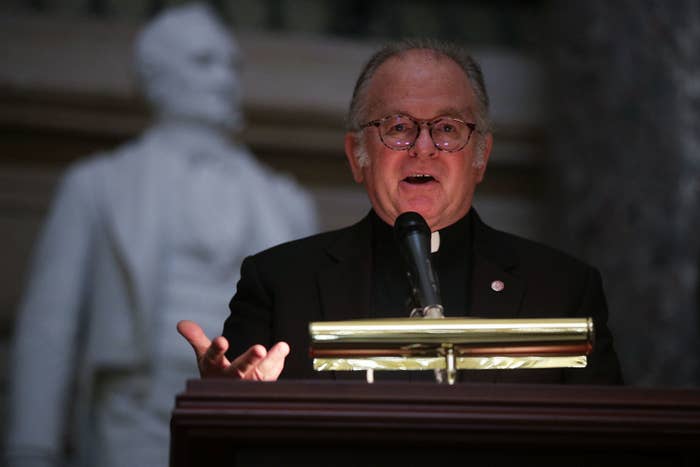 The House chaplain said Thursday he won't resign after all, amid controversy over House Speaker Paul Ryan's decision to push him out, and Ryan has accepted his decision.

In a letter to Ryan Thursday, Rev. Patrick J. Conroy accused Ryan's chief of staff, Jonathan Burks, of saying "something like 'maybe it's time that we had a Chaplain that wasn't a Catholic,'" when the chaplain asked him if he was being asked to resign "for cause." (Ryan is a devout Catholic and frequently discusses his faith publicly.)
Burks said he did not remember the conversation happening in the way Conroy described it.
"I strongly disagree with Father Conroy's recollection of our conversation," Burks said in a statement, "I am disappointed by the misunderstanding, but wish him the best as he continues to serve the House."
Conroy also wrote that he was never "disciplined" or "reprimanded" during his time as chaplain and that he never "heard a complaint" about his ministry. His letter said that he wanted to finish out his term unless Ryan decided to fire him outright — "if you have the authority to do so," he wrote to the speaker. The letter was first reported by the Washington Post.
In a statement soon after Conroy's letter was released, Ryan said, "I have accepted Father Conroy's letter and decided that he will remain in his position as Chaplain of the House."
"My original decision was made in what I believed to be the best interest of this institution," Ryan said. "To be clear, that decision was based on my duty to ensure that the House has the kind of pastoral services that it deserves. It is my job as speaker to do what is best for this body, and I know that this body is not well served by a protracted fight over such an important post. I intend to sit down with Father Conroy early next week so that we can move forward for the good of the whole House."

The circumstances around Ryan's decision to oust Conroy have raised questions among members of Congress. The Washington Post also reported that Ryan told House Republicans on Friday that he had gotten complaints about Conroy's "pastoral style," according to the paper. Ryan also reportedly told the Republican conference Conroy's dismissal had nothing to do with Conroy's political statements, specifically a November speech he gave on the House floor regarding the tax bill.

Conroy wrote in the letter Thursday that Burks also mentioned the November prayer when he asked for the chaplain to step down.
A bipartisan letter circulated Congress last week when the House was still in session asking Ryan for more information. And Friday, Democrats pushed a motion on the House floor to investigate the matter, but it was tabled when it failed to gather enough votes, which fell largely along party lines. Two Republicans voted with the Democrats, and three simply voted present.
Conroy has served as House chaplain for seven years, since former speaker John Boehner, also a Catholic, was at the helm.