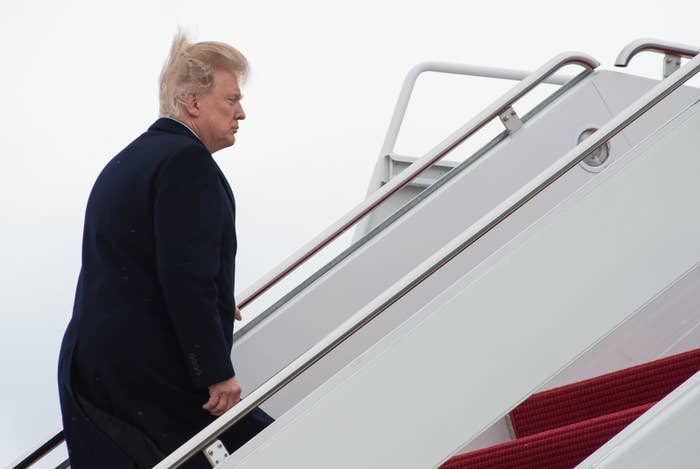 WASHINGTON — Hill Republicans responded cautiously to President Donald Trump's allegations that former president Barack Obama wiretapped his phones, with many noting they had not seen any evidence to support the claim. But quite a few, including the chair of the House intelligence committee, said they would investigate the matter.
After a day of silence from the White House following Trump's explosive claim, Trump's spokesman said the president wanted Congressional intelligence committees to investigate whether "executive branch investigative powers were abused in 2016."
House intelligence committee chair Devin Nunes said in a statement on Sunday broadly his committee would do just that.
"One of the focus points of the House Intelligence Committee's investigation is the U.S. government's response to actions taken by Russian intelligence agents during the presidential campaign," Nunes said. "As such, the Committee will make inquiries into whether the government was conducting surveillance activities on any political party's campaign officials or surrogates, and we will continue to investigate this issue if the evidence warrants it."

Several members said they were on board to investigate, but generally didn't know what specifically Trump was referring to when he tweeted that he "just found out that Obama had my 'wires tapped' in Trump Tower just before the victory" without offering any evidence.
"We are going to review allegations of any kind of improper contacts between Russian officials and campaign officials or other American citizens. I'm sure that we will be reviewing any allegations such as this," Sen. Tom Cotton said on Fox News Sunday. Cotton is a member of the Senate intelligence committee.
In an interview on State of the Union, Florida Sen. Marco Rubio also said he was unsure what the president was talking about.
"Perhaps the president has information that is not yet available to us or to the public," Rubio said. "And if it's true, obviously we're going to find out very quickly. And if it isn't, then obviously he'll have to explain what he meant by it."

One Republican member of Congress who did not want to be named said they were surprised by Trump's allegations but unlike some other tweets from the president, it was one they had to take seriously.
"The difference is on this tweet he's accusing a then-sitting president of committing a crime," the member said. "And regardless how far we've fallen in discourse, that's still a pretty big deal if true. It's also a big deal that will be forgotten in two weeks if it's not true."
Maine Sen. Susan Collins also went on Face the Nation on Sunday to say she had seen no evidence of Trump's allegations. The Republican senator also sits on the Senate intelligence committee.
"It would be more helpful if he turned over to the intelligence committee any evidence that he has. What we need to deal with is evidence, not just statements. At this point, I've seen no evidence of what he's alleged," Collins said. "But I've also not seen collaboration, as Director D.N.I. Clapper also said today that he had not seen evidence of collaboration. But we are in the very early stages of our investigation. And this is why it is so important that we do an in-depth, exhaustive, bipartisan, independent investigation."
Nebraska Sen. Ben Sasse was one of the first Republicans to comment on the matter on Saturday, after Trump's initial series of tweets about wiretapping came out.

"The President today made some very serious allegations, and the informed citizens that a republic requires deserve more information," Sasse said in a statement. He said that if it was not done with FISA Court authorization, "the President should explain what sort of wiretap it was and how he knows this."
At a town hall event on Saturday, South Carolina Sen. Lindsey Graham addressed the president's tweets.

"I'm very worried that our president is suggesting that the former president has done something illegally. I would be very worried if in fact the Obama administration was able to obtain a warrant lawfully about Trump campaign activity with foreign governments," Graham said. "It's my job as a United States senator to get to the bottom of this."
At least one House Republican was on the same page in calling for more information. Michigan Rep. Justin Amash tweeted on Saturday that Trump's tweets had "serious implications" and called for him to provide more information to Congress.
BuzzFeed News reached out to several other Republican members of Congress but did not get a response. A spokesperson for Speaker Paul Ryan referred BuzzFeed News back to the intelligence committee statement.

In the meantime, Democrats have been more vocal about the matter.
"I think many House Democrats are either perplexed or very concerned. Perplexed in the sense that it's not clear where Donald Trump is getting this information from, regarding wiretaps, if he's just making it up, or we're very concerned because if he's not making it up, what that would mean is an independent FISA court judge sat there, reviewed evidence, and concluded there was probable cause there were agents of a foreign power at Trump tower," California Rep. Ted Lieu told BuzzFeed News. "That is unbelievably serious."
"I would bet anyone a good bottle of California wine that the president won't be able to hold on to the White House statement's last line that says they won't talk about this anymore," Lieu said. "I'll bet he's going to talk about it some more."
Emma Loop and Kate Nocera contributed to this report.