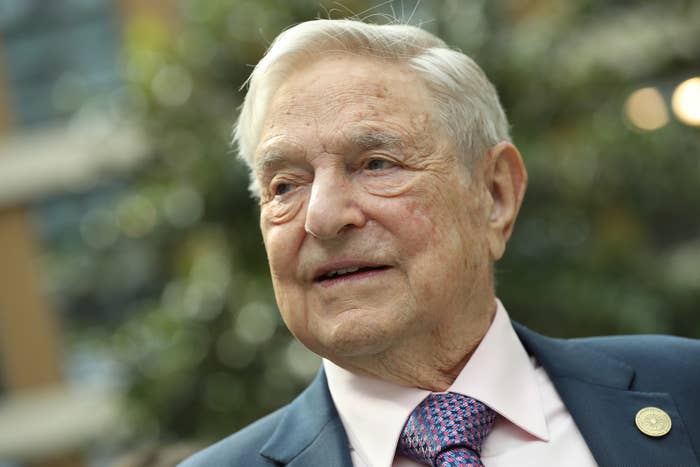 George Soros — the Jewish philanthropist, liberal megadonor, and focus of far-right conspiracy theories — was sent a pipe bomb this week. Days later, a man who has spread Soros-related conspiracy theories online was named as the suspect in a shooting at a Jewish synagogue that left 11 people dead.
Republican lawmakers who have frequently attacked Soros in recent weeks and occasionally waded into those conspiracy theories are now staying silent about their rhetoric.
Soros, whose Open Society group blamed "hateful rhetoric" after an explosive device was found in a mailbox at Soros's home on Monday, has long been the target of anti-Semitic attacks and right-wing claims that he controls global politics. But Republicans have been ramping up the rhetoric against him in recent weeks as the midterms approach.
"We cannot allow Soros, Steyer and Bloomberg to BUY this election!" House Majority Leader Kevin McCarthy tweeted on Tuesday, along with a video of an ad. The tweet was deleted on Wednesday.
A McCarthy spokesperson sent BuzzFeed News on Saturday a statement from earlier in the week in response to questions about why attention was called to Soros specifically and whether there was concern about the language after this week's violence.
"McCarthy has and will always condemn in the strongest possible way violence or any acts of attempted violence. The video simply points out the enormous financial contributions a select few have made in this year's midterm campaigns. Any suggestion that content condones or incites violence is wrong," said the statement. "Understanding the particular sensitivity of the past 24 hours in the political climate today that has led to specific threats on both sides of the aisle, we will redouble our focus on our agenda of results."
BuzzFeed News did not receive a response to follow-up questions asking whether McCarthy regretted the language or why he deleted the tweet.
Earlier in October, Rep. Matt Gaetz, a Florida Republican, tweeted about the caravan of migrants heading north from Honduras and suggested without evidence that Soros was behind it. His office did not respond to questions about whether the lawmaker had regrets about the language in light of the bomb and shooting attacks this week.
"BREAKING: Footage in Honduras giving cash 2 women & children 2 join the caravan & storm the US border @ election time. Soros? US-backed NGOs? Time to investigate the source!" he tweeted. (The video was not from Honduras.)
That Soros is behind the caravan has been a widespread conspiracy theory, spread on Twitter even by a Campbell Soup lobbyist who soon after reportedly left the company earlier than planned. McCarthy has also suggested it "could be" politically motivated in an effort to affect the election.
Robert Bowers, the suspect in the Saturday Pittsburgh synagogue shooting that left 11 dead and four injured, blamed Jews for helping members of the caravan and had a history of anti-Semitic rhetoric. He also raised Soros on his Facebook page in just the last week. Cesar Altieri Sayoc, the suspect accused of sending at least 13 pipe bomb packages to prominent Democrats and Trump critics across the country, also had a history of posting conspiracy theories online, including several regarding Soros.
McCarthy is one of the highest-ranking Republican members of Congress to embrace rhetoric about Soros, but he has plenty of company, from fellow lawmakers and Trump and his allies.
Republican lawmakers have also raised Soros after an American Bridge employee was fired after he allegedly grabbed a campaign official's arm in Nevada.
In a Fox News op-ed, Majority Whip Steve Scalise — who himself was a victim of a shooting last year — characterized American Bridge as a "George Soros-backed campaign group," and House Intelligence Committee Chair Devin Nunes tweeted that the American Bridge employee was a "Soros funded hack." According to Open Secrets, Soros has made significant contributions to American Bridge, but Republicans pulled him specifically from a long list of donors.
Scalise's office did not respond to an inquiry from BuzzFeed News.
Jack Langer, a spokesperson for Nunes, told BuzzFeed News in an email Saturday night that since the American Bridge employee "harassed" Nunes and his staff, and that he was "in fact, an operative for a Soros-funded group, you'd be better served directing your ridiculous insinuations at him." Langer did not respond to a follow-up question about why Soros was noteworthy in a long list of donors to American Bridge.
Earlier this month, during the protests against now–Supreme Court Justice Brett Kavanaugh, who was accused of sexual misconduct, Trump tweeted without evidence that the people protesting Kavanaugh were paid "for by Soros and others."
Vice President Mike Pence on Saturday defended the president's language more generally. "Everyone has their own style, and frankly, people on both sides of the aisle use strong language about our political differences," Pence told NBC News. "But I just don't think you can connect it to acts or threats of violence."
Rudy Giuliani, Trump's lawyer and a former New York City mayor, also retweeted a tweet that referred to Soros as "the anti-Christ" in a conspiracy that suggested Soros was paying the Kavanaugh protesters.

"I tend to believe it," Senate Judiciary Chair Chuck Grassley said earlier this month when asked if he believed Soros was paying the Kavanaugh protesters. "I believe it fits into his attack mode that he has and how he uses his billions and billions of resources."

A spokesperson for the senator, asked about the comment and conspiracies around Soros, pointed BuzzFeed News to the senator's statement after Saturday's shooting: "There can be no place for intolerance, bigotry or violence in our society. America is built on a foundation of tolerance, community and religious freedom. We must continue to be guided by these principles, especially in the face of hate."
Another Iowa lawmaker, Rep. Steve King, who has frequently made racist remarks, is considered to be on the fringes of his party. He has endorsed neo-Nazis and has also spread conspiracies about Soros on social media.
Texas Rep. Louie Gohmert also suggested Soros is controlling Democratic politics, saying in one Fox News appearance, "They might as well raise their forearm and raise their hands and yell 'heil Soros.'" Gohmert's office also did not respond to a request for comment.
Arizona Rep. Paul Gosar suggested in a Vice News interview that Soros was possibly behind the white nationalist rally in Charlottesville, Virginia, in August 2017. "Wouldn't it be interesting to find out," he said when asked if he thought Soros funded the neo-Nazis that marched in Charlottesville. Gosar's office did not respond to a request for comment on Saturday.
Democrats have condemned the rhetoric.
"Access to online cesspools of racial and religious hatred comes too easily today, and too often, political leaders are trading in the kind [of] divisive rhetoric that caused people to fear those that look, or worship differently than them, and then act on those fears," Connecticut Sen. Chris Murphy said in a statement after Saturday's shooting in Pittsburgh.
"The president and leaders in Congress have an opportunity to change the conversation and save lives. They could expel from their base those who seek to win elections by fomenting outrage and fear with racist attacks on immigrants, or anti-Semitic 'globalist' conspiracy theories. They could demand their supporters cool down the rhetoric and stop demonizing and dehumanizing journalists or political opponents," Murphy added.
Paul McLeod contributed reporting to this story.