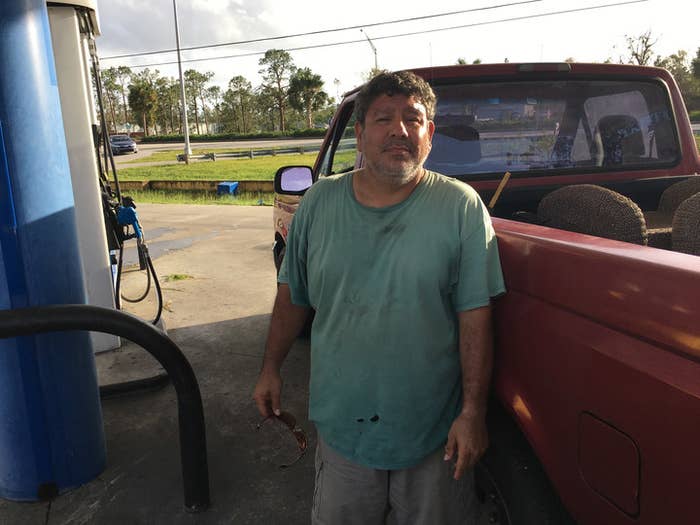 NAPLES, Florida — Isidro Lozano Jr. is a Naples, Florida, resident going nowhere fast.

He was sitting in the back of his pickup, in a line of at least 25 vehicles at the Marathon Gas station on Tamiami Trail East. He was going on hour three.
Lozano chatted with people to pass the time. Others played rap music. At the center of the winding queue was debris from the gas station's metal canopy, thrown to the ground by Irma's hurricane-force winds on Sunday.
"Patience, it's always got to take patience. A lot of people don't have it, but you have to have patience," Lozano explained.
"If it was just me, nah… to hell with it, you know, I would have just stayed at home and everything and just relaxed a little bit till this is over, but for [my mother]" — he was waiting to fill several gas containers — "I have to have those cans full. And that's the only reason I'm here."
Naples took a direct hit from Hurricane Irma on Sunday, and there was a run on fuel in the days-long buildup to the storm, with Florida officials pleading with coastal communities to the east — then west — to pack up and go.
Then the storm hit, and brought with it power outages to millions of people and businesses. At the Marathon Gas station — where a gallon of unleaded was going for $2.76 — people were waiting in line for the generator to be fixed so the attendant could actually pump the gas.
Kerry Carelli waited more than three hours in the hot, humid, sunny weather at her spot at the front of the line. She described the pastime as "a pain in the ass."
"We've seen it all in the last three hours," said Greg Saunders, Carelli's husband.
They described a fight breaking out and police stopping by to see when gas would be available.
"But overall, everybody's making the best of it," Saunders said. "What else are you going to do? We're all in this together, right?"
Muhammad Sajjad, the gas station's manager, told BuzzFeed News the electrician to fix the generator was supposed to come from Fort Myers, but it was unclear how long the wait would be.
"I had the gas come in before the hurricane. It was the last delivery," Sajjad explained.
One man said he had evacuated the area to Georgia on Friday morning before sunrise, and returned now to drop off his family — but needed to refill his tank. "I just made it," he said in Spanish.
Others gave up. One teenage girl went to search for gas elsewhere but returned within the hour, despondent. Another man, fed up with the wait, drove away and shouted, "we need gas!" out his window.
"People have been honking the horn, I don't know why," Lozano said. "Especially after what we've gone through, you have to have patience now."
BuzzFeed News drove from Miami to Naples earlier in the day to report on the conditions there. With only a half-tank left, the reporters waited for 2.5 hours until a store employee explained the power wouldn't be back for another five hours.
The line cleared out shortly after.
Danny Menendez contributed reporting.