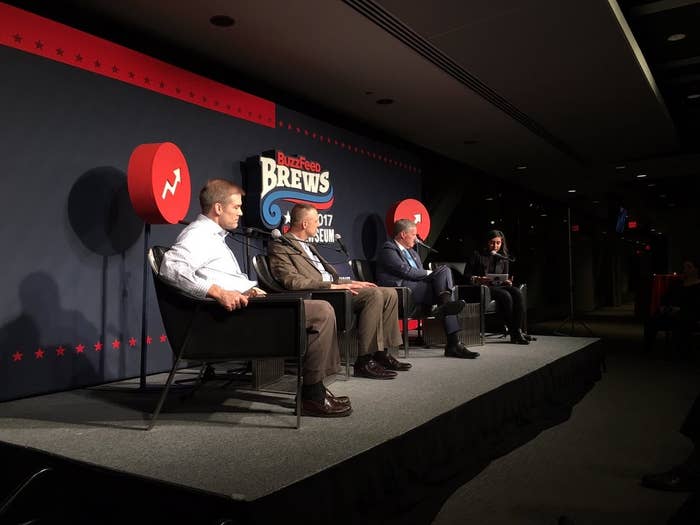 WASHINGTON — Rep. Jim Jordan said he is "open" to a select committee investigating Russian hacking of the US election.
Republican members of the House have been reluctant to pursue further investigations into foreign interference on the election, leaving any look into alleged Russian interference to the intelligence committees. Their message has been that further investigation outside of those committees would be redundant.
"I'm for getting to the bottom of both sides of the story, the leak and General [Mike] Flynn, but I think we should go in a deliberative process," Jordan said at a BuzzFeed Brews event at the Newseum on Thursday night. "Start with the intel committees, let them get to the facts, if it warrants further investigation from the House Oversight committee, which Mark and I sit on, then we'll do that as well, and if there's need be at some point for a select committee, I'm open to that as well."
House Republicans have not supported legislation introduced by Democrats to create either a select committee on the issue or open an outside, independent probe.
Jordan was joined at the BuzzFeed Brews event by Pennsylvania Rep. Scott Perry and the chairman of the House Freedom Caucus, North Carolina Rep. Mark Meadows.
Jordan, Perry and Meadows also said Thursday night that they are satisfied with the direction of President Donald Trump's administration and all three affirmed that he is a conservative, despite early concerns from some Republicans during the campaign about his ideology.
"Yes, I think the president is a conservative with a populist tone to it," Jordan, a founding member of the Freedom Caucus, said. Jordan went as far as to say Trump is in the vein of President Ronald Reagan.

The Freedom Caucus member who showed the most hesitation was Perry.
"Yes, so far," Perry answered, adding that the "jury is still out."
The House Freedom Caucus was founded in 2015 with the goal of pressuring the House Republican conference to adhere to conservative principles. Its members are among the most conservative voting blocs in the House and played a large role in the ultimate demise of former Speaker John Boehner.