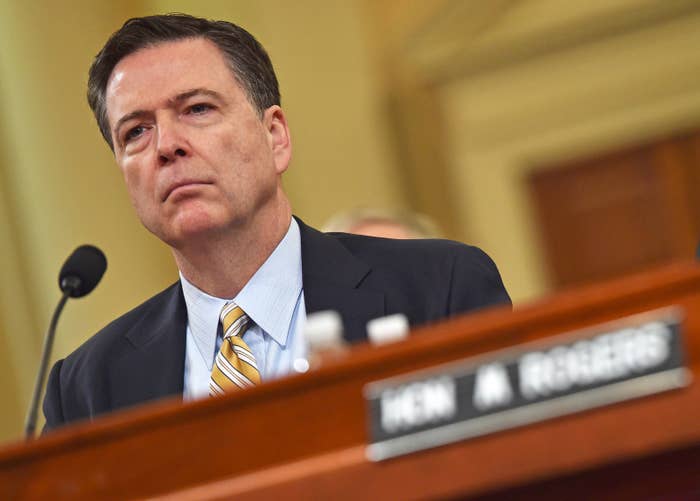 FBI Director James Comey confirmed Monday that his agency is investigating whether there was coordination between Donald Trump's campaign and the Russian government during the presidential election, adding that the probe began in late July 2016 — about three months before voters went to the polls.
"I have been authorized by the Department of Justice to confirm that the FBI as part of our counterintelligence mission is investigating the Russian government's efforts to interfere in the 2016 presidential election," Comey said during widely anticipated testimony before the House Intelligence Committee. "And that includes investigating the nature of any links between individuals associated with the Trump campaign and the Russian government and whether there was any coordination between the campaign and Russia's efforts."
Comey's statement was extraordinary because the FBI does not typically confirm the existence of ongoing investigations. But, he said, "in unusual circumstances, where it is in the public interest, it may be appropriate to do so."
Comey also publicly rebuked Trump's allegations that former President Obama wiretapped him at Trump Tower during the 2016 campaign. Comey said there is "no information that supports" the president's claims, which came in a series of three tweets on March 4.
"I have no information that supports those tweets," Comey said. "And we have looked carefully inside the FBI. The Department of Justice has asked me to share with you that the answer is the same for the Department of Justice and all its components."
Comey added that "no individual in the United States can direct electronic surveillance of anyone" — including a sitting president. There's an "application process, ask a judge, the judge can then make the order."
NSA Director Admiral Michael Rogers said he denied having any knowledge of Obama — or anyone else — asking British intelligence to wiretap Trump. "I've seen nothing on the NSA side that we engaged in such activity, nor that anyone engaged in such activity," Rodgers said, refuting a questionable report from a Fox News commentator.
During his daily briefing, White House Press Secretary Sean Spicer tried to diminish Comey and Roders testimony. "At this point, we are at the beginning phases of this, and there are a ways to go," he said, regarding an investigation into wiretapping claims.
The committee's chairman, Rep. Devin Nunes, and Rep. Trey Gowdy, both Republicans, grilled Comey on Monday about members of the intelligence community leaking information to the press, one of the key narratives conservatives are pushing.

"Numerous current and former officials have leaked purportedly classified information in connection to these questions," Nunes said. "We aim to determine who has leaked or facilitated leaks of classified information so that these individuals can be brought to justice."
The FBI director said that leaks of classified information, "simply cannot be tolerated."

Not long after, investigative journalist Carl Bernstein tweeted that many of the members of Congress up in arms about leaks has leaked classified information themselves.
Trump spent a portion of the morning — and time during the hearing — sending some defensive tweets. The early tweets suggested the Russian narrative was made up by the Democrats to deflect from their running a terrible campaign. He also called the whole thing "fake news."
"The real story that Congress, the FBI and all others should be looking into is the leaking of Classified information. Must find leaker now!" he also tweeted.

"What about all of the contact with the Clinton campaign and the Russians? Also, is it true that the DNC would not let the FBI in to look?" Trump tweeted.
Comey testified that the FBI came to believe that Russia was using "active measures" to hurt the Clinton campaign and help the Trump campaign.
"They wanted to hurt our democracy, hurt her and help him," Comey said. "Putin hated Secretary Clinton so much that the flip side of that coin was that he had a clear preference for the person running against the person he hated so much."

When Adam Schiff later asked Comey why Putin would prefer Trump over Clinton, the FBI director said the Russian leader "would like people who like him."
Trump later tweeted from the POTUS account that "the NSA and FBI tell Congress that Russia did not influence electoral process."
But that tweet — and the video clip included with it — is misleading. It's a selective portion of the hearing where Nunes was asking Admiral Rogers if he had evidence Russia changed vote tallies in specific states.
Comey was asked about the tweet later in the hearing, and whether "the assertion that you have told the Congress that there was no influence on the electoral process," is accurate or not.
"It certainly wasn't our intention to say that today because we don't have any information that subject and that's not something that we looked at," Comey responded.
Comey suggested that there will be future election interventions from Russia and said it was possible they interpreted the 2016 election as success.

"They'll be back," Comey said, adding he believed the US needed to operate under that assumption.
Following the hearing, Rep. Eric Swalwell said he believes that by confirming the FBI investigation, Comey "validates that we are pursuing credible evidence."
Nunes, who said after the hearing that he only recently learned that Trump and his associates were under investigation, said, he wanted Comey to answer more questions during his testimony. Comey refused to comment on many questions, especially those pertaining to individuals.
"If there is evidence about anyone that's working in the administration, that they have ties to Russian intelligence service, than I think you should be able to answer that," Nunes said.

"I think today you saw our committee members lay out the deep, personal, political, financial ties between Trump, his team and Russia," he said. "We laid it out in a pretty, I think, pretty detailed way that shows you know the chances of these being coincidences is very unlikely."
Just last week, Nunes, a California Republican and Trump supporter, came out and said there was no evidence the wiretapping took place and that if you were taking the president's tweets literally "then clearly the president was wrong."
In an interview with Fox News' Tucker Carlson last Wednesday, Trump walked back his claim, saying that his use of quotation marks around wiretapping was meant to "cover surveillance and many other things."
"When I say wiretapping, those words were in quotes," he said. "That really covers, because wiretapping is pretty old-fashioned stuff. But that really covers surveillance and many other things. And nobody ever talks about the fact that it was in quotes, but that's a very important thing."
Following the hearing, Schiff said he hopes that Comey saying there is no evidence to support Trump's wire tapping tweets, "puts this matter to rest."
"Enough is enough," Schiff said. "Let's just say this is done. There's no evidence, there's not going to be any evidence."
"I hope that will put this matter to rest. Enough is enough... let's just say this is done. There's no evidence, there's not going to be any evidence."
The president did not respond to a questions about "wiretaps," during a meeting with Iraqi Prime Minister Haider al-Abadi.

The prime minister grabbed the president's arm and jokingly said, "We had nothing to do with the wiretap."
Outside Your Bubble is a BuzzFeed News effort to bring you a diversity of thought and opinion from around the internet. If you don't see your viewpoint represented, contact the curator at bubble@buzzfeed.com. Click here for more on Outside Your Bubble.