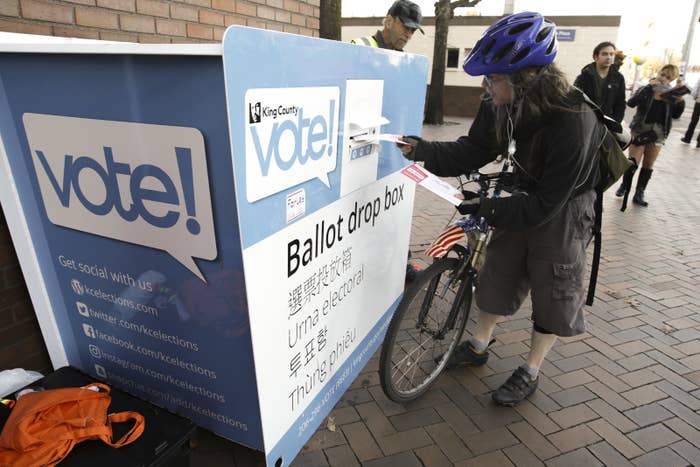 A controversial ballot initiative that would have imposed a tax on coal, natural gas, and oil-based fuels in Washington failed to pass on Election Day.
Washington would have been the first state to institute a carbon tax — a proposal that had little chance of passing on the federal level even before the election of Donald Trump. But the Washington initiative's failure showed the path to state carbon taxes can be just as resistant, dividing a state beyond just party lines and creating factions among environment groups.
"People interested in the environment ended up split on whether they liked this proposal or not, and what that really highlights is that politically for any carbon tax proposal, you have to give a lot of thought to how the revenue is going to be used," Donald Marron, director of economic policy initiatives at the Urban Institute, told BuzzFeed News. "In this case, the way they were using the revenue seemed not to have been sufficient to build the political coalition necessary."
The initiative proposed that every metric ton of carbon dioxide sold or consumed in Washington would be taxed by the state. It would happen gradually, starting at $15 per metric ton, and then rise over time.
Initiative 732 failed with only 42 percent of the state's voters in support of it and only one county voting to support it, according to The Seattle Times.

The proposed carbon tax in Washington was marketed by its advocates as revenue neutral, meaning that the carbon tax would be offset by a reduction in sales tax and not affect state government revenue.
"What the policy will do is put a tax on the carbon content of fossil fuels and use the revenue to cut the state sales tax by a full point. So most households will end up paying a few hundred dollars a year more for fossil fuels and a few hundred dollars a year less for everything else," said Yoram Bauman, founder and cochair of Carbon Washington, in an interview with BuzzFeed News before the vote.
But a state analysis challenged that it would not be so simple, predicting instead that the carbon tax would result in a revenue loss for the state, at least at first. While advocates for the carbon tax disputed the finding, overall revenue cuts were not palatable for voters in a state with other demands.
That was partly why I-732 failed to get support from some environmental groups, like the Sierra Club, who criticized it for not going far enough. Another of the organization's listed concerns was that I-732 fell short by failing to raise money to put toward greener initiatives like jobs and renewable energy infrastructure.

And it was not just some environment groups that opposed it. It was a motley crew on both the yes and no sides of the proposal, with Republicans and Democrats coming out on both sides of it. The conservative Koch brothers were just some of the ones who opposed it.
Washington was a unique state in that it is a leader when it comes to climate change because it has so many natural resources. Camille St. Onge, Washington's Department of Ecology climate communication manager, told BuzzFeed News other initiatives, like the Washington Clean Air Rule, are already in place. But the state is have a public debate about how to head off the effects of climate change, some of which the state already feels the effects of.
While other states could have completely different political climates, Washington's carbon proposal was seen as having the potential to be a model for others.
Supporters of the carbon tax say they haven't totally given up hope they'll be able to implement climate change initiatives in the future..
"We're disappointed in the outcome, but we'll be there for the next initiative that reduces carbon emissions," said Nicolas Gonzalez, spokesperson for the National Audubon Society. "This was the best available way forward on climate change, and that's why we supported it. We want to take steps on climate change sooner rather than later."