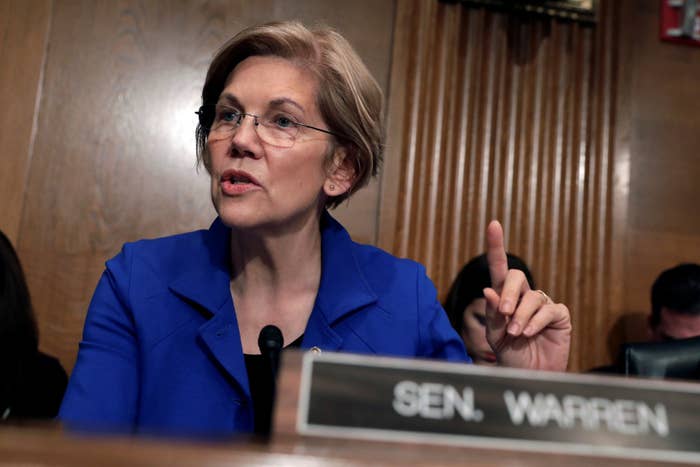 Massachusetts Sen. Elizabeth Warren and Nevada Rep. Jacky Rosen introduced legislation Tuesday that would require public companies to publicly report allegations of sexual harassment and other types of harassment in the workplace.
The Democrats argue investors are entitled to know the specifics of harassment allegations — and any settlements public companies have made. The legislation, called the "Sunlight in Workplace Harassment Act," was first reviewed by BuzzFeed News before its introduction.
If passed, Warren and Rosen's legislation would require public companies to annually report the number of settlements they entered related to sexual harassment and the total amount of money spent on them. It would also require reports on settlements made based on complaints related to race, religion, sex, gender identity, genetic information, sexual orientation, national origin, disability, service-member status, or age discrimination.
The bill would also require the companies to report the "average length of time" for an employer to resolve a complaint regarding sexual harassment. But the bill specifically prohibits the disclosure of the names of employees involved in the settlements.
"What the #MeToo movement has taught us is that we're not going to change the culture where this misconduct is brushed aside or openly tolerated in workplaces across America without more transparency on how these issues are being handled," Rosen said in a statement to BuzzFeed News.

The legislation's future is unclear; so far only Democrats have signed onto it — Sens. Ed Markey, Jeff Merkley, Dianne Feinstein, Dick Durbin, Richard Blumenthal, and Kirsten Gillibrand.

"I've spoken to some of my Republican colleagues about this legislation, and several have expressed interest in learning more about the bill," Rosen said, noting that workplace harassment shouldn't be a partisan issue. "It's my hope that we can bring Republicans on board in the House and Senate to move this plan forward."
The legislation would cover contractors as well as other employees under the supervision of the public companies and include settlements made involving "the behavior of an employee … toward another such employee, without regard to whether that behavior occurred in the workplace."
It would also require them to report the total number of complaints related to discrimination and harassment that are in the process of being resolved through internal processes or litigation.
Finally, the companies would be required to include a "description of the measures taken" to prevent employees from "committing or engaging" in abuse, harassment, or discrimination.
"As #MeToo has reminded us, sexual harassment occurs in all workplaces — from factory floors to corporate boardrooms. Our bill will help systemically expose workplace harassment and push employers across the country to aggressively prevent it. I'm working to make sure Congress prevents workplace harassment both within its walls and outside of them," Warren said in a statement to BuzzFeed News.
The bill comes amid a flurry of legislation in Congress to tackle sexual harassment and misconduct, in the wake of the #MeToo movement. The House passed a bill earlier this month to overhaul the way sexual harassment is handled in Congress. And while the Senate has yet to take up any similar legislation, many members have said they should work on legislation that addresses sexual harassment beyond Capitol Hill next.
Republican Rep. Barbara Comstock introduced a bill in the House that would prohibit companies from getting tax deductions for settlements paid involving nondisclosure agreements. That bill was included in the massive tax bill that Congress passed at the end of last year. A bipartisan group of lawmakers in both the Senate and the House has introduced legislation that would get rid of "forced arbitration" clauses for sexual harassment in some employment contracts that require employees to settle those complaints in private, prohibiting them from taking their cases to the courts.
UPDATE
This story was updated to include the fact that Comstock's bill prohibiting companies from getting tax deductions related to sexual harassment settlements was a part of the tax bill that passed Congress in December.