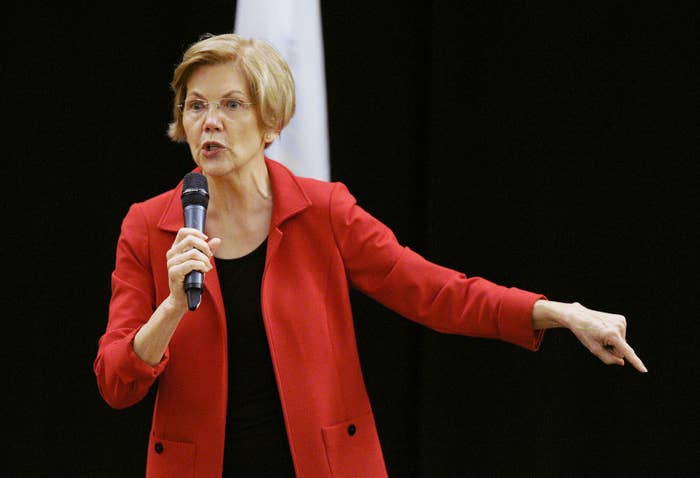 WASHINGTON — Democratic Sen. Elizabeth Warren is demanding that the Trump administration investigate whether former American service members violated US law in acting as mercenaries to carry out a monthslong, for-profit targeted assassination program in Yemen.
The senator's request comes after BuzzFeed News revealed that the United Arab Emirates, a Middle Eastern monarchy, hired a private American company, Spear Operations Group, to carry out targeted assassinations beginning in December 2015. Spear, in turn, hired former US special operations soldiers to conduct the campaign.
In a letter sent to Attorney General Jeff Sessions on Monday, which was obtained by BuzzFeed News, Warren demanded an investigation to see whether the former service members involved had violated US law in connection to their activities as mercenaries on behalf of the UAE.
"If the report that these Americans coordinated as paid mercenaries to kill individuals abroad is accurate, it raises questions about potential criminal liability for the participants — and for any U.S. government official who may have been aware of or endorsed these activities," Warren wrote in the letter.
In a separate letter to Secretary of State Mike Pompeo, Warren sought clarification on whether any State Department official was aware of the "direct participation" of Americans in the assassination campaign.
"I am seeking information on the nature of the State Department's awareness of, or involvement in, these Americans' targeted lethal activities — particularly whether they were directly or indirectly licensed or otherwise authorized by the State Department at any time," Warren wrote in the letter to Pompeo.
One of the targets for the operation was Anssaf Ali Mayo, a local leader of the Islamist political party Al-Islah, whom the American mercenaries targeted in a botched assassination mission. It remains unclear how many targets the mercenary group assassinated. While Abraham Golan, the founder of Spear Operations Group, told BuzzFeed New that his team was responsible for a number of high-profile assassinations during the mercenaries' time in Yemen, he declined to specify how many or which ones.
As BuzzFeed News reported, it is surprisingly unclear whether the mercenary operation violated US law. While US law makes it illegal to "conspire to kill, kidnap," or "maim" someone in another country, the United States doesn't ban mercenaries.
The assassination campaign was reported based on drone surveillance video and on-the-record interviews with two of the participants.
"There was a targeted assassination program in Yemen," Golan told BuzzFeed News. "I was running it. We did it. It was sanctioned by the UAE within the coalition."
The operation included mostly US veterans, but sources identified one of the mercenaries as Daniel Corbett, a SEAL Team 6 veteran who was still in the reserves, meaning that even as he worked with Spear Operations Group in Yemen, the US military could have called him to duty and deployed him. It's unclear whether he was personally involved in missions to assassinate anyone, and he and his lawyer did not respond to requests for comment. Corbett is currently in prison in Serbia.