It Will Be A While Before Republicans Move To Privatize Parts Of Medicare
Though Donald Trump and GOP leaders have opposing views on the issue that they'll need to settle, big changes to entitlement programs are taking a backseat to repealing Obamacare for now.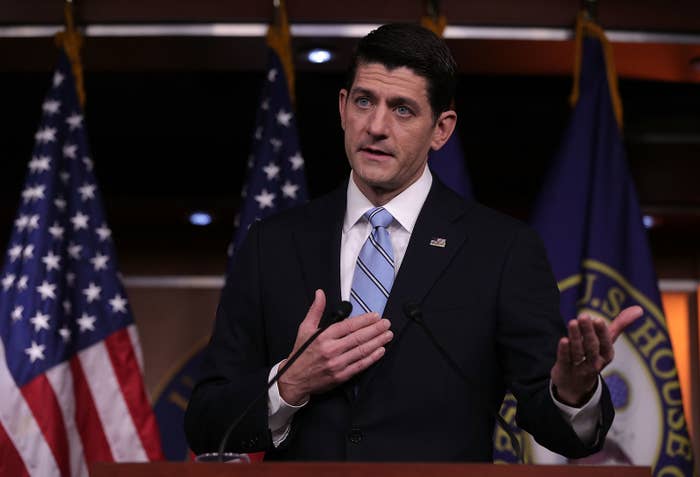 WASHINGTON — Speaker Paul Ryan says he has not spoken to President-elect Donald Trump about making major changes to Medicare, as Republicans appear to be pushing the hot-button issue to the back burner for now.
During the campaign, Trump promised to preserve Medicare as-is, even though Republicans on Capitol Hill have long said they would like to see changes made to the program.
"I'm not going to cut Social Security like every other Republican and I'm not going to cut Medicare or Medicaid," Trump told The Daily Signal last May. "Every other Republican is going to cut, and even if they wouldn't, they don't know what to do because they don't know where the money is. I do."

Trump repeated that pledge on the campaign trail.
Ryan, meanwhile, has been a loud advocate for privatizing Medicare and repeated his commitment to that plan on Thursday. Ryan's plan, essentially, is to give seniors federal dollars, which they could use to pay for private insurance or Medicare, rather than having the government pay physicians for procedures directly. Ryan has said, and reiterated Thursday, that his plan would not affect current seniors or those who are near 65 years of age.

But as Ann Coulter argued on Twitter, the mandate voters gave to Republicans by electing Trump to the White House wasn't about entitlement reform, an issue he rarely discussed on the campaign trail.
Eventually Ryan's and Trump's opposing views will come to a head. But in the meantime Republicans are taking another tact — focusing on repealing the Affordable Care Act, President Barack Obama's signature health care legislature.

"I think that repeal and replace of Obamacare is going to take up almost all of the attention that we have for a period of time because it's going to take a while to unravel it," said Arizona Sen. John McCain.
Ryan told reporters Thursday that he has not spoken with the Trump administration about Medicare reform yet and he gave no comment about a timeline for when it may happen. Several congressional Republicans are saying that Medicare takes a backseat to repealing the Affordable Care Act, but the two could end up being linked.
"My guess is we'll have our hands full doing what we need to do with Obamacare, and that discussion will eventually lead to the damage Obamacare has done to Medicare," said Missouri Sen. Roy Blunt.
On the Democratic side, Trump choice of Georgia Rep. Tom Price to be the secretary of Health and Human Services is cause for concern. Price has called for major overhauls to Medicare beginning next year, and eventually he and Trump will have to reconcile their positions.

"One of the reasons why I've opposed Congressman Price's nomination is because of his position on the Affordable Care Act, his goal of, in effect, privatizing Medicare," said Democratic Sen. Richard Blumenthal. "I think it's very likely to be on next year's agenda."
Democrats are gearing up for the Medicare debate whenever it hits. On Wednesday Senate Minority Leader Chuck Schumer outright dared Republicans to pick the fight, saying "make our day."
Democrats are accusing Republicans of "plotting a war on seniors" and promising pitched resistance to any move to strip Social Security benefits.
Ryan, meanwhile, cited current estimates Thursday that the Medicare trust fund will run out of money in 2028 if Congress does nothing.
House Republicans said Thursday there have been no serious talks recently about Medicare reform, however. Iowa Rep. Steve King said repealing Obamacare must be separate from other healthcare changes.
"We have to repeal Obamacare in its entirety, rip it out by the roots as if it had never been enacted, and then, when that is accomplished, and it's clear to Barack Obama that his signature bill has reached its complete demise, then we can start the process of reconstructing the health care system in America," said King.
Trump's spokesperson and Price's office did not respond to BuzzFeed News for comment.