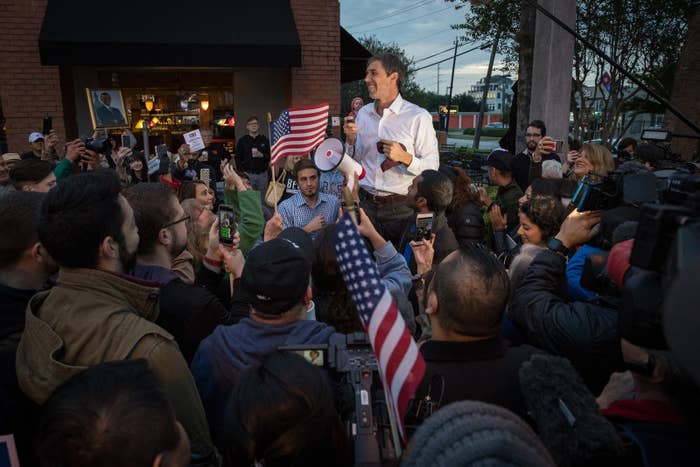 One day late last January, Beto O'Rourke was hosting a town hall in Sugar Land, Texas, and Sarah DeMerchant, a candidate for a Texas state House seat, was worried she wouldn't be able to make it because of a prior, black-tie engagement.

So she showed up to shake hands at the O'Rourke event — in a gold sequined evening gown. DeMerchant said O'Rourke even asked her if he had underdressed. "It was absolutely hilarious, but it had to be done," she told BuzzFeed News.
O'Rourke is the type of high-excitement candidate the likes of which Texas Democrats haven't seen in a long, long time. Getting a chance to be seen with a candidate who can draw thousands to his rallies and is raising money from all over the country is invaluable for lesser-known Texas Democrats running in local races across the state.
A slew of Democrats — the kind that, the party hopes, could eventually turn Texas blue — are hoping to ride on the enthusiasm O'Rourke has built. Even if he loses big statewide, local Democratic candidates have embraced him, and say that the energy generated by his well-traveled campaign may have a long-term legacy for the party in Texas.
Diane Trautman, who is running against an incumbent Republican for county clerk in Harris County, told BuzzFeed News she's made sure to be at events where O'Rourke is, describing them as the "perfect place to campaign" because of the large crowds he draws out. "Most events I go to, a hundred would be a big crowd."

"My race of course is at the bottom of a very long ballot, so this excitement that he generates … is turning into voter engagement. And that has resulted in more people being interested in all levels of government," Trautman said.
Asked if she thought it would be harder to run as a Democrat in Texas this year if O'Rourke wasn't at the top of the ticket, Trautman said, "Probably. You need a high-excitement candidate somewhere up at the top."
The comparison most Democrats reach for, if any, when asked if they've ever seen a candidate like O'Rourke is Barack Obama, during his first run for president.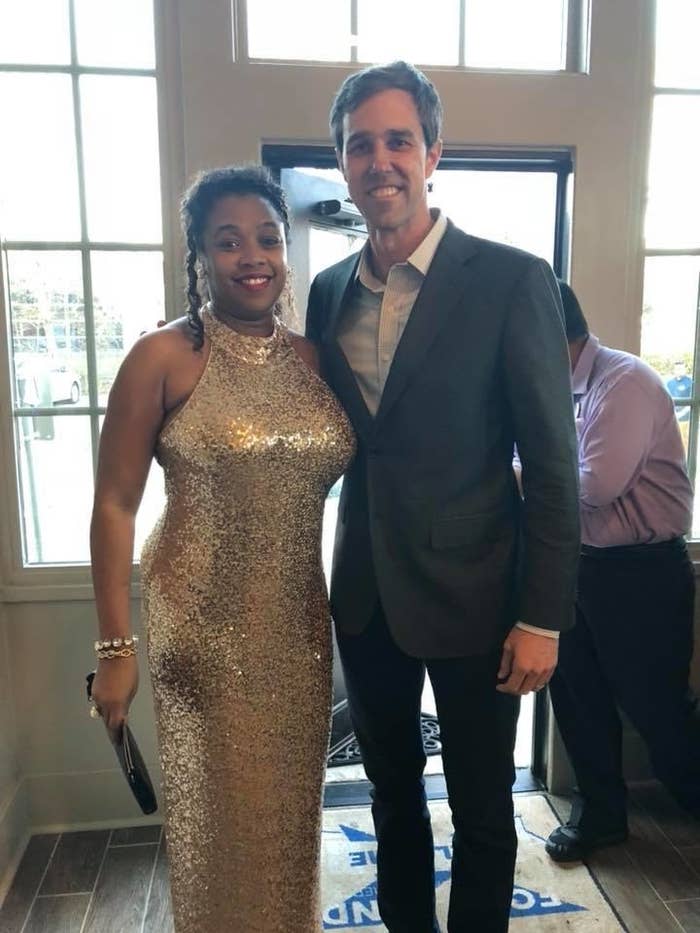 "I like to say … that [O'Rourke] has the 'It Factor.' Now don't ask me what the It Factor is, but whatever it is, he's got it," Cynthia Ginyard, the chair of Fort Bend County Democrats, told BuzzFeed News, laughing. "He's got it. And that is not something that you buy."
O'Rourke's still the underdog in a closely watched Senate race against Sen. Ted Cruz, the one-time presidential candidate. But the fact that it's closely watched says something: Maybe, just maybe, this is the year Democrats have a chance at winning a statewide seat for the first time since 1994. And that hope, however slim, has impacts all down the ballot.
In past years, "by this time in the election, everybody knew that we weren't going to win a statewide race," said Matt Angle, the founder of Lone Star Project, a Democratic communications PAC. "The fact that Beto has run a good campaign, he's remained competitive, and he's communicated through the end, that has helped all Democrats."
Even absent a Senate win, straight-ticket voting in Texas means some O'Rourke voters could be a deciding factor in closer, lower-level races. (This is the last year Texas will offer straight-ticket voting.)
Texas Lt. Gov. Dan Patrick, a Republican, has reportedly expressed concern over down-ballot candidates riding an O'Rourke wave thanks to straight-ticket voting. "I feel very good about our top of the ticket statewide. But I'm very concerned about our down-ballot judges, our county clerks … our district clerks, anyone who's down ballot: our House members and our congressmen," Patrick said, according to the Houston Chronicle.
Several candidates who spoke to BuzzFeed News credited O'Rourke's campaign with reaching out and allowing down-ballot candidates to get involved in his events.

"They've been very gracious about sharing the stage with ... people who get little to no exposure," said Sharon Hirsch, who is running for a state house seat against Matt Shaheen, a Republican incumbent.
Since she spoke at an O'Rourke event, Hirsch said she's had voters tell her they saw her speak there. "You can't not know about him, where it's harder for the rest of us to get that," she said.
Brian Middleton, who is running for district attorney in Fort Bend County, said he tries to "follow Beto everywhere he goes," trying to reach his base. He spends time campaigning there and takes his information to voters, even if he isn't necessarily speaking at the event. Democrats are, he said, coordinating events and "trying to help each other and ride the popularity of Beto," he said.
And it's not just tagging along to O'Rourke's events. Mark Phariss, who is running for a Texas state senate seat, told BuzzFeed News he changed his personal Facebook profile picture to one of him with O'Rourke. He's also bought digital ads that feature the Senate candidate. "They do very well," Phariss said. "And they click right through [to] my website."
"Of course I believe that Beto's campaign, with the enthusiasm that it has, has helped my campaign. There's no doubt about it," said Phariss, who would be the first openly gay member of the Texas state Senate.
But several candidates noted that while the excitement around O'Rourke has helped them, they still have to run their own campaigns. "I'll be honest with you, I'm not necessarily counting on that," said Julie Luton, a candidate running for a state house seat. "We can't all rely on one candidate, no matter how wonderful he is."
But yes, they admit, O'Rourke has been a help, and they point to the fact that Texas is historically a low–voter turnout state. This year, more early voters have already cast their ballots than in the last midterm election in 2014, something Democrats credit at least in part to O'Rourke. Some candidates, including Phariss, argued that their efforts locally are helping O'Rourke as well.
For years now, Democrats have been saying they'll one day turn Texas blue, pointing to the changing demographics in the state. But even if the wave doesn't come to Texas this year, eyes are on the lasting effects of O'Rourke's campaign.
"It's never been my goal for him to win. I would love for him to win," Colin Strother, an Austin-based Texas Democratic consultant, told BuzzFeed News. Instead, Strother said, he wants O'Rourke to help get Democrats on base rather than just try to score a home run. "What it will do is it will illustrate firmly that a grassroots, progressive campaign that's adequately funded with a good candidate can move the needle in Texas."
While Hirsch noted that Wendy Davis, who ran unsuccessfully for governor in 2014, did some events in her area and with other down-ballot candidates, O'Rourke is different. "This is just something that hasn't happened before. We haven't had statewide candidates in our community," she said.
Asked if she'd ever seen a candidate like O'Rourke, Hirsch laughed. "In Texas, no."