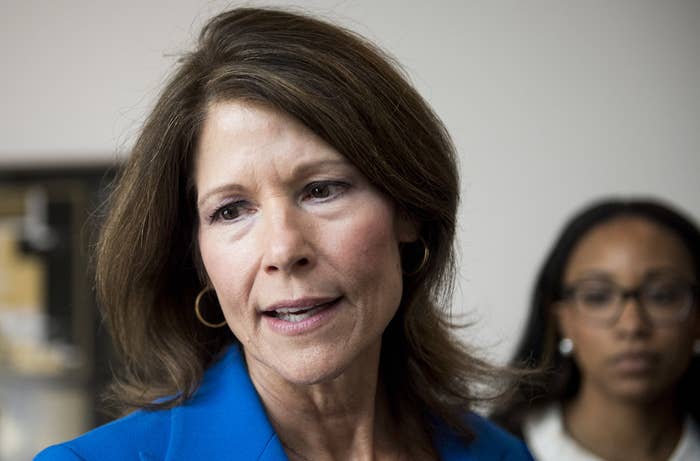 ROCKFORD, Illinois — If Democrats win back the House on Tuesday, it'll be a result of the resistance movement that has grown up in complete opposition to President Donald Trump, and the focus will be on the new, progressive candidates who have managed to capture and embody that energy in 2018.
But, at a small coffee shop in Rockford, Illinois, on Thursday, moderate Democratic Rep. Cheri Bustos, who plans to run for a top leadership position if Democrats win the majority, is thinking about what happens after Election Day. With Democrats fighting over their leadership and what the future of their party should look like, Bustos has been crafting a centrist strategy for Democrats, designed not to oppose Trump and his party, but to work with them.
That strategy is based on the increasingly likely scenario that Democrats take the House, but Republicans hold on to the Senate. That outcome would leave House Democrats with a tough political reality: In order to get something accomplished, they'd have to figure out how to work with Republican lawmakers and get legislation signed by Trump.
"How are we going to actually get something done?" Bustos wondered aloud while drinking an iced coffee with BuzzFeed News on Thursday. "I don't just want to pass things in the House and then have no chance of anything in the Senate happening and then we don't end up, you know, at the end of two years actually having any legislation passed."
Even in her sprawling, rural Northwest Illinois district, which Trump won in the 2016 election, Bustos says she hears the same frustrations that all of her colleagues do. Yes, there's concern about rising health care costs, crumbling roads, the "cesspool in Washington," and the political fires ignited every night on the news. But more than anything, there's a concern that she and her colleagues, both Republican and Democrat, just aren't doing anything.
"The most common thing I hear these days is, can you just get something done? And that can be a reflection of a lot of different things, right? But it's probably just how people express it," Bustos said. "But there's a real frustration with this distraction of the day that comes out, that there's always some kind of drama that's happening, nearly every single day. I do think there's a growing fatigue with it."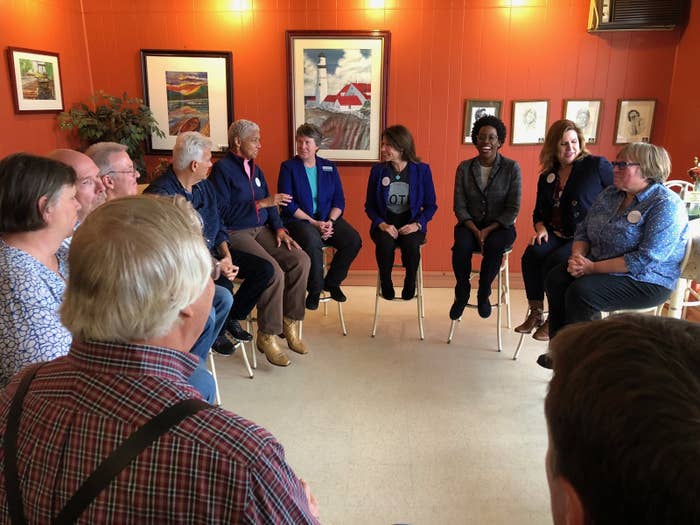 At a bipartisan discussion of about a dozen people at Shawn's Coffee Shop in Sycamore, Illinois, on Thursday, that featured both Bustos and Democratic congressional candidate Lauren Underwood, people were frustrated that nothing was happening in Washington. They just wished that compromise was a possibility.
In closing, Bustos told a story about the day after she was first elected, when she said she stopped by coffee shops to thank people. She went up to one table, she recalled to the group, and a man said, "I didn't vote for you."
"And I said, 'that's OK, I'll be representing you now,'" Bustos said.
Such is the political reputation Bustos has crafted for herself. Bustos — who has not been in Congress long enough to know what being in the majority is like — is an increasingly rare breed of politician in a party where progressives in deep-blue districts are champing at the bit at the idea of having subpoena power to push back at Trump if they win the House.
But that could change Tuesday. In order to recapture the House, Democrats will have to win Republican-leaning districts like Bustos has. If they do, Bustos and a new guard of more moderate members are poised to play a key role. If Democrats are going to pass anything over the next two years, they'll have to work with Republicans where they can, and that means relying on moderates like Bustos, especially if the party wants to do more than just pass messaging legislation.
"I think the next two years will be very, very important for us. I think we have a lot to prove to the American public. … We've lost that faith, to the point where we've been in the minority for, what is it, eight years now," Bustos said. "I want to make sure that we can show them that we can get some hard work done. And I think we have two years, that's a very short timeline, to show them that we can get this done, that we can be good legislators."
Democrats have pointed to several issues they would like to work on if they win the House, including infrastructure and lowering prescription drug prices, both areas where they think they can find common ground with Republicans.
And yes, Bustos is even willing to work with Trump himself. "He wants to run for reelection in two years. He has to have something to show for it," Bustos said. "If he wants something to show for it, then we're saying sure, we'll work with you on these issues that Americans care about."
But beyond just working with Republicans, Democrats will also have to figure out how to remain united. The reality is that as soon as 2018 is over, more than a dozen Democrats will be jockeying to run for president and, in the process, almost inevitably there will be an intra-party fight over the best way to beat Trump in 2020. Not to mention that if Democrats win the House, the caucus will just be plain bigger, adding more potential for disagreement.
To hear Bustos describe what the caucus will be like if they win, it will be more diverse, feature more inexperienced members, and it will be full of members from competitive districts. But it will also, Bustos says, be united. Because the way she sees it, there's more overlap among Democrats than division.
"I think what we all get is that what plays in a very strongly held Democratic district also plays in more of a moderate district. And I just think that there's so much overlap in what the issues are, no matter what kind of district you come from. I just— I think how we talk about it might be slightly different, but the issues are the same," Bustos said.
Bustos is hopeful that the caucus will be able to work together.
"I think there will be a lot of teachable moments," Bustos said. "I think there will be a lot of learnable moments. You know, I want to learn from people who come from very different districts, and I hope that they'll understand that we have— the politics around here are somewhat different too. And I just hope we have a mutual understanding and a willingness to work together."
For now, Bustos is focused on helping her party win not just in liberal areas, but in more rural and Republican-leaning districts like hers, something she hopes to continue in a leadership position next year. If you drive through her district in the final days before the election, you might hear her on the radio endorsing a local politician, where she introduces herself as someone who reaches across the aisle in Washington.
"I hope that my colleagues see me as someone who's a uniter. I try very hard to be a uniter. Even the questions about progressives and moderates, I would choose not to even talk about it in those terms, I would choose more to talk about it in terms of, let's think about what brings us together, and let's find a starting point."