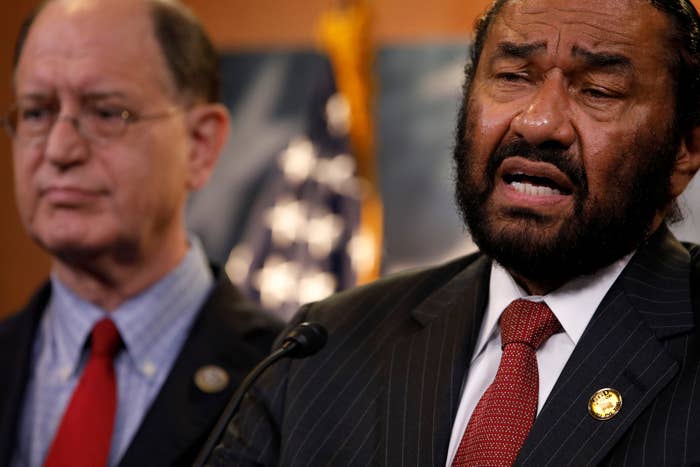 Two Democratic members of the House of Representatives filed articles of impeachment on Wednesday, the first formal action in an attempt to remove President Donald Trump from office.
The Democrats, Reps. Brad Sherman of California and Al Green of Texas, are two of the few vocal proponents in Congress for impeaching Trump.
It is a first step in the sense that they introduced a resolution with a specific issue in mind: That Trump sought to cause "hindrance or termination" of investigations involving his campaign's possible collusion with Russia based on FBI Director James Comey's testimony to Congress.

"Donald John Trump sought to use his authority to hinder and cause the termination of such investigation(s) including through threatening and then terminating, James Comey, who was until such termination the Director of the Federal Bureau of Investigation," the resolution states.
But even if every single House Democrat signed on — which is unlikely at this point — the reality is that Democrats alone can't get impeachment done.
Even if the House got to the point where it voted to impeach, a conviction would face major hurdles in the Senate because it required two-thirds of the members. That's all unlikely considering Republicans control the House and the Senate, and the circumstances would have to dramatically change for them to want to impeach a president from their own party.
Since the week of Comey's testimony, Sherman said there was enough evidence to accuse Trump of obstruction of justice.
"It was premature until [Comey's statement was released]. I don't know if it's premature now, when we have sworn testimony by Director Comey," Sherman told BuzzFeed News in June about discussing impeachment.
Other Democrats are unlikely to be thrilled by this resolution. Most are keeping their powder dry when it comes to calling for impeachment and leadership continues to have reservations about discussing the topic.

When Sherman first circulated an impeachment resolution draft seeking feedback from House colleagues last month, Massachusetts Rep. Mike Capuano spoke out against it in a meeting of House Democrats, Politico first reported. One Democratic member told BuzzFeed News that Capuano raised concerns about how it would reflect on the rest of the Democratic caucus.
No president in the history of the United States has been removed from office through impeachment, but it will likely continue to be a popular topic in liberal sects of the party, and it's possible others will give it a shot.

When BuzzFeed News asked Green in June how his articles of impeachment would differ from Sherman's, Green said he was "vetting" and consulting before actually presenting any.
"And I may have some other articles as well, other than obstruction."