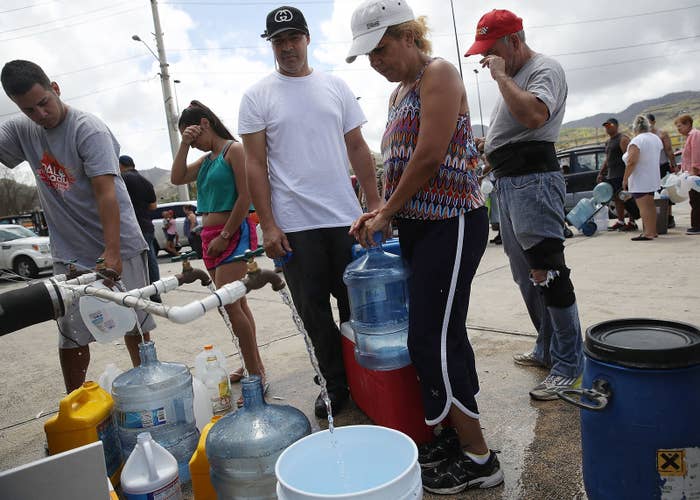 As Puerto Rico struggles in the aftermath of Hurricane Maria, which left much of the island without power and 95% of its cellular sites out of service, some members of Congress are working to address the crisis and are worried it isn't getting the attention it deserves.

Members of Congress returned to Washington Monday after several days' worth of devastating stories from the island, following the Category 4 storm. But after Congress raced to pass additional funding to deal with Hurricanes Harvey and Irma, which caused severe damage in Texas, Louisiana, Florida, and Georgia — as well as Puerto Rico — some members of Congress worry that this new storm isn't being met with the same urgency.
"I have a concern that given the priorities that we have that this doesn't rank in terms of the issues that we need to address," New York Rep. Nydia Velázquez, a Democrat whose district has a large Puerto Rican population, told BuzzFeed News. "People are talking about tax reform and how much that will cost, debt ceiling, and the budget. So there are many conflicting issues right now."
"This is why we need to use every tool at our disposal to raise the profile of this issue."
Multiple congressional staffers told BuzzFeed News that Congress doesn't expect a new funding request from the administration until mid-October. In the meantime, relief efforts will operate on hurricane aid funding Congress passed earlier this month after Democrats made a deal with President Donald Trump.
FEMA administrator Brock Long and Homeland Security senior adviser Tom Bossert are both on the ground in Puerto Rico, along with more than 10,000 federal government staff spread across both Puerto Rico and the US Virgin Islands to help deal with the aftermath of both Hurricane Irma and now Maria.
Florida Sen. Marco Rubio, whose state is also home to a significant Puerto Rican population, has been working to raise the profile of the crisis there as well. He arrived on the island for a brief trip Monday afternoon with the US Coast Guard to tour the damage and offer assistance.

Congress has been in recess since Maria devastated Puerto Rico on Wednesday. Both chambers returned Monday, and House Speaker Paul Ryan addressed the crisis in a statement that morning, saying leadership is working with the White House on a response.

"The stories and images coming out of Puerto Rico are devastating. Congress is working with the administration to ensure necessary resources get to the US territory," Ryan said. "Our fellow citizens in Puerto Rico remain in our prayers as we make sure they have what they need."
At a press conference in Florida on Wednesday — where Ryan, Rubio, and other members toured damage from Hurricane Irma last week — Ryan indicated he was to wait to hear more from the Trump administration and for further analysis of hurricane damage before proceeding to consider more aid funding. The press conference came the same day Hurricane Maria made landfall in Puerto Rico, and both Republicans made comments acknowledging the disaster the island was facing.
A spokesperson for Senate Majority Leader Mitch McConnell told BuzzFeed News Monday it was "putting the cart before the horse" when asked about the politics regarding Puerto Rico aid in Congress because the administration hasn't made a request for more relief money.
McConnell released a statement on the crisis on Tuesday morning, saying: "We want the people of Puerto Rico and the islands to know that we are thinking of them and — more importantly — we want them to know that we will continue to work with FEMA, the Department of Defense, and the rest of the administration to help in the recovery."

However, McConnell added that "the recovery effort will not be easy. It's not going to be quick. But we're here to do our part."
White House press secretary Sarah Huckabee Sanders said Monday that the administration is "supplying federal assistance as quickly as possible," noting that FEMA and Homeland Security officials are assessing the damage.
Adding to the island's troubles in securing assistance is the fact Puerto Rico, as a US territory does not have voting representatives in Congress, forcing the island to rely heavily on other members of Congress to stand up for its needs. The territory's resident commissioner, Jenniffer González-Colón, serves in the House and on several congressional committees, but does not have the full voting power of other members.
"The devastation in Puerto Rico has set us back nearly 20 to 30 years," González-Colón said, according to the Associated Press. "I can't deny that the Puerto Rico of now is different from that of a week ago. The destruction of properties, of flattened structures, of families without homes, of debris everywhere. The island's greenery is gone."
González-Colón did not immediately respond to a request for comment from BuzzFeed News.
On Friday, González-Colón and a bipartisan group of eight other House members, wrote a letter to Trump, asking for continued attention on Puerto Rico and the US Virgin Islands.
Their request followed two other letters that Rubio and fellow Florida Sen. Bill Nelson, a Democrat, sent to Trump and Attorney General Jeff Sessions last Wednesday, asking the administration to prepare to address needs quickly in the wake of Hurricane Maria.
House Minority Leader Nancy Pelosi released a statement Monday urging the Trump administration to act "immediately" to provide assistance for "search-and-rescue operations, law enforcement and transportation needs." Pelosi also called on Republicans and Democrats to work together to "swiftly" pass a "robust" relief package addressing immediate and long-term needs.

Senate Minority Leader Chuck Schumer said on the floor on Monday Democrats would insist that any relief funding for Hurricanes Harvey and Irma would also include aid for Puerto Rico and the US Virgin Island, as well as western states affected by forest fires.
"The situation is desperate. Puerto Rico has taken a serious punch to the gut. They need our help, they need it now," Schumer said.
In the meantime, advocates in Congress are working on shorter-term proposals to provide relief for Puerto Rico. Velázquez told BuzzFeed News she and other members are asking the administration to give Puerto Rico a waiver from the Jones Act, which requires cargo shipments to the island to travel on American ships. A waiver, Velázquez said, would allow "more flexibility" for the island to get necessities like oil, as people on the island struggle to find gasoline and fuel for generators.
In the middle of all this, Republicans are still hoping to repeal the Affordable Care Act before a major deadline at the end of this week and then turn to tax reform.
Another Democrat expressed frustration that Trump was seemingly distracted by other unrelated matters.
"It is disappointing that President Trump spent the weekend attacking the NFL and top players of the NBA, and that he could not bother to lend a miniscule amount of support for Puerto Rico, the Dominican Republic, the island of Dominica, the Virgin Islands, or any other nation affected by Hurricane Maria," Rep. Adriano Espaillat said in a statement on Sunday.
Sanders told reporters Monday that Trump — who has not tweeted about Puerto Rico since Wednesday, even as he dedicated several tweets over the weekend to athletes who have knelt during the national anthem — "is very capable of doing more than one thing at a time and more than one thing in a day."
"I certainly don't think that talking about the American flag is a distraction for the president of the United States," she said.
CORRECTION
Jenniffer González-Colón's name was misspelled in a previous version of this post.