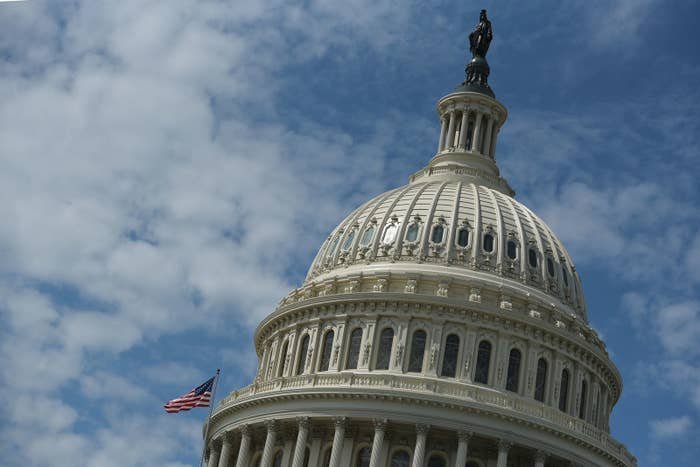 Rep. Jackie Speier, a Democratic member of the House Intelligence Committee, said Tuesday there are two current members of Congress who have been involved in sexual harassment.
"There are two members of Congress, Republican and Democrat, right now who serve who have been subject to review or not been subject to review that have engaged in sexual harassment," Speier told the Committee on House Administration.
The committee held a hearing Tuesday on preventing sexual harassment in the Congressional workplace, where Speier served as one the witnesses.
Asked after her testimony what should happen next to the two members she alluded to, Speier told reporters, "I'm really not at liberty to talk about those cases because they're on non-disclosure agreements."
Speier faulted the current system in Congress for dealing with sexual harassment. "The present system protects the harasser, it provides little benefit to the victim, and as I said, it might have been a process that was effective in the Dark Ages, it's not appropriate for the 21st century. We are way behind the times in terms of providing effective protection to victims," she told reporters.
She highlighted concerns including that the counsel provided by the Office of Compliance represents the employing office and complaints can take 90 days to process.
"Interns and fellows aren't even eligible for this process," Speier told reporters. In her testimony, she also raised concerns about employees having to pay for legal representation while the office of the harasser is represented for free by the House's counsel.
Rep. Barbara Comstock, a Virginia Republican who serves on the committee, also told a story she said she heard about a young woman staffer who was asked to go to a current member of Congress' residence to drop off some "materials." The staffer was greeted by the member wearing a towel and invited in.
"At that point, he decided to expose himself. She left and then she quit her job," Comstock said.
Comstock recommended Congress institute guidelines spelling out what relationships are not appropriate in Congressional offices, such as whether it's appropriate for a member to have sexual relations with a 19-year-old intern.
"I think that's something we do need to make clear from the member on down," Comstock said.

Referencing "Seinfeld," Comstock told a story about a character being fired from his job for having sex on a desk in the office because he didn't know it was inappropriate.

Rep. Rodney Davis, a Republican from Illinois and the committee's vice chairman, raised another concern. In talking with his "female-led staff" about sexual harassment issues, he said they told him they're "concerned" that some congressional offices "may just take a shortcut and not hire women as a way to avoid these issues."
"Obviously that's not the right approach," he added.
Speier launched a #MeTooCongress campaign last month by sharing her own story of being harassed as a congressional staffer, and earlier this month she introduced a bipartisan resolution requiring members and staff to undergo annual sexual harassment training. She alleged the chief of staff she was working under held her face, kissed her, and "stuck his tongue in my mouth."
Since sharing her story, she said in her opening testimony Tuesday, her office has been "inundated with calls" from current and past Hill staffers telling their stories.
"From comments like 'Are you going to be a good girl?,' to harassers exposing their genitals, to victims having their private parts grabbed on the House floor, women and men have trusted me with their stories," Speier said in her testimony.
Speier told reporters after the hearing that she is optimistic that changes will come to the way Congress handles these issues.
"This hearing is a good indication that members are swiftly going to move forward on mandatory sexual harassment training, I believe, for both members and staff. You know, the real test will be whether we're going to reform the Office of Compliance, which is not a victim-friendly office."