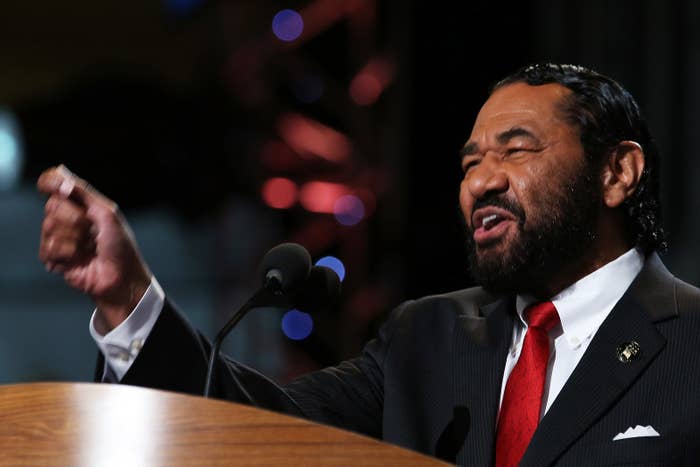 Democratic Rep. Al Green of Texas called for the impeachment of President Donald Trump on Monday, marking the most explicit call yet by a member of Congress to start the process of ousting the president.

In a statement, Green cited Trump's "obstruction" in the investigation of whether his campaign coordinated with Russia during the 2016 election. Green pointed specifically to Trump's decision to fire FBI Director James Comey last week, as well as Trump's tweet stating that Comey "better hope that there are no 'tapes' of our conversations" and that Trump "acknowledged he considered the investigation when he fired" Comey.
"These acts, when combined, amount to intimidation and obstruction," Green said in the statement.
"President Trump is not above the law. He has committed an impeachable act and must be charged. To do otherwise would cause some Americans to lose respect for, and obedience to, our societal norms," Green said in the statement.
Green told BuzzFeed News he did not discuss his decision to call for impeachment with other Democrats.
"This is something I thought I should do as a matter of conscience," Green said. "I'll know that I've done the right thing."
"Whether anything else happens or not, even if the Russia circumstance is not found to be something that we can go forward with, the obstruction of justice can still be an act that would allow for impeachment."
Green also noted that impeachment does not necessarily signify guilt. The process would begin in the House, with members impeaching — or charging — the president. The question of conviction would be left up to the Senate, which would then try the president and decide on a verdict of whether or not to remove him from office.
While Democrats have not had issues opposing Trump and his agenda, members have previously said they were not ready to call for impeachment yet. At least two other House Democrats have said they would be willing to consider pursuing impeachment if the situation warrants it in the future.
Reps. Maxine Waters and Joaquin Castro have previously been among the most vocal on the possibility of pursuing impeachment.
California Rep. Waters said on Twitter in April she would "fight everyday until he is impeached," but later clarified to MSNBC that she wasn't specifically calling for impeachment yet, just for further investigation.
"I have not called for impeachment. ... Here's what I've said. I've said that we need the information, we need to connect the dots, we need the facts in order to do the impeachment," Waters told MSNBC at the time. She told BuzzFeed News something similar in February: "You don't impeach people for no reason. … The facts have to be there."
Castro, of Texas, also fired a warning shot when he called for an investigation led by the Justice Department to determine if the administration violated court orders related to its controversial travel ban, one of the Trump administration's first initiatives.
"If it's determined that the president directed the federal agencies to disobey the judiciary, then I will file a resolution of censure. If the president does it again on that issue or another issue, then we will seek to remove him from office," Castro told BuzzFeed News in February.
"My suspicion is that the public will have the last word in terms of what we'll all do. But it is the right thing to do," Green told BuzzFeed News. "I think this is one of those moments in time [when] you have to take a stand. So I'm taking a stand."

Pursuing impeachment would be difficult for Democrats alone since the Republican Party currently controls Congress. But on Monday Green urged Americans to put pressure on the GOP majority to support impeachment efforts.
"[T]his can happen with a Republican-controlled House and Senate if the public weighs in by demanding that the Republican President be charged by way of impeachment," Green said in the statement.
He added, "Our mantra should be 'I. T. N. – Impeach Trump Now.'"

Outside Your Bubble is a BuzzFeed News effort to bring you a diversity of thought and opinion from around the internet. If you don't see your viewpoint represented, contact the curator at bubble@buzzfeed.com. Click here for more on Outside Your Bubble.