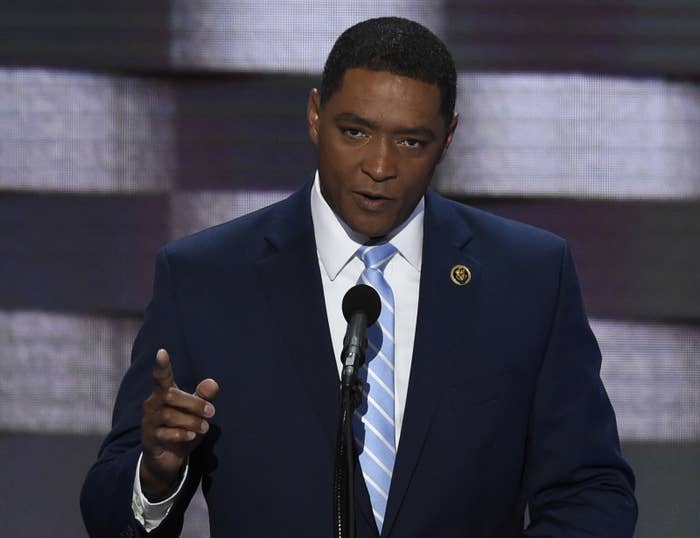 WASHINGTON — Four days after a congressional dinner where Louisiana Rep. Cedric Richmond made a controversial joke about White House senior adviser Kellyanne Conway, the chairman of the Congressional Black Caucus has apologized for his comments.
"After a discussion with people I know and trust I understand the way my remarks have been received by many," Richmond said in a statement on Sunday evening. "I have consistently been a champion for women and women's issues, and because of that the last thing I would want to ever do is utter words that would hurt or demean them. I apologize to Kellyanne Conway and everyone who has found my comments to be offensive."
Richmond was one of the keynote speakers at the dinner last Wednesday alongside Sen. Tim Scott, where lawmakers roast one another, the news of the day, and the press. Scott had made a joke about pictures snapped of Conway with her feet on a sofa in the Oval Office. Scott, a Republican, had said that "a whole lot worse" had happened on the couch in reference to the 90's.
Richmond went further, making a crude joke about Conway's posture on the couch, that was met by groans in the room and later, bipartisan criticism of Richmond.
"I really just want to know what was going on there because, you know, I won't tell anybody, and you can just explain to me that circumstance," Richmond said. "Because she really looked kind of familiar in that position there. But don't answer, and I don't want you to refer back to the 90's."
His comment only gained more attention with time. On Thursday, Richmond released a statement that attempted to clarify his comments.
"Since some people have interpreted my joke to mean something that it didn't I think it is important to clarify what I meant," the initial statement from Richmond's office said. "Last night was night of levity. Where I grew up saying that someone is looking or acting 'familiar' simply means that they are behaving too comfortably."
But it was far from the end of the saga. Even Chelsea Clinton called for Richmond to apologize after he released his initial statement, which fell short of an apology.
"Despicable. I hope @KellyannePolls receives the apology she deserves-certainly never thought I'd write that & I mean every word," Clinton tweeted.
Conway responded to Clinton by thanking her and saying she appreciated her speaking out on the situation.
Democratic Leader Nancy Pelosi said Sunday morning on "State of the Union" that she was not aware of the comment and pointing out that she was not at the dinner. Host Jake Tapper called the joke "sexist" and "disgusting."

"You all are criticizing Cedric for something he said in the course of the evening, and he maybe should be criticized for that. I just don't know the particulars," Pelosi said. "But I do, every day, marvel at the fact that somebody who said the gross and crude things that President Trump said — wouldn't even be allowed in a frat house, and he's in the White House."

The White House did not immediately return a request for comment.