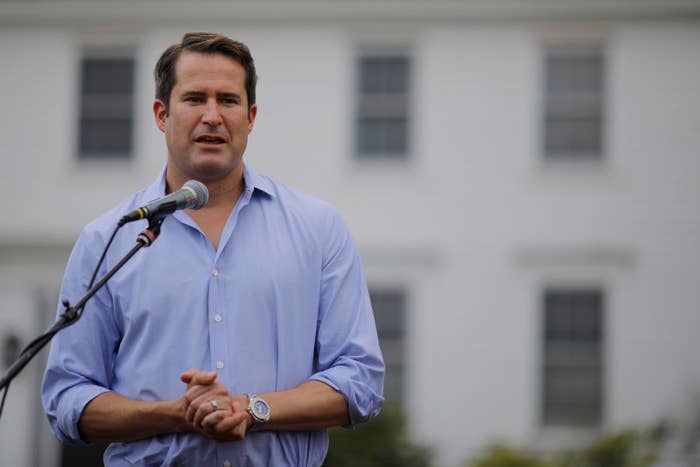 At a gun safety town hall Tuesday night in Aurora, Colorado, where a 2012 shooting in a theater left 12 people dead and dozens of others injured, Democrats made it clear that members of their party need to embrace real gun control reforms or step aside.
The crowd cheered when Massachusetts Rep. Seth Moulton and Jason Crow, the Democrat running against Republican Rep. Mike Coffman to represent Aurora in Congress, said that if congressional leadership is unwilling to pass gun control measures, they need to be replaced.
"One of the things we don't like to talk about is that when Democrats were last in charge, we didn't pass any of these measures either. And so I think it's time for a new generation of leadership across the Congress," Moulton, who is a frequent Democratic leadership critic, said, receiving applause from the room.
His comments came in response to a question from a woman asking Moulton whether he saw signs of Republicans being willing to work with Democrats on gun legislation. He answered affirmatively, pointing to bipartisan support for bump stock bans. (The Las Vegas shooter used bump stocks to kill 58 people at an outdoor concert last year.)
"Folks at the federal level have lacked any political will to actually do something about [gun safety]," Joe Neguse, who is running for Congress in Colorado, told BuzzFeed News. "The good news is I think that's about to change. Because I think we're going to change the folks that we send to Washington."

Neguse is running to replace Rep. Jared Polis, a Democrat who is now running for governor of Colorado. Moulton has endorsed both of them, as well as Crow, and was in Colorado this week to help them campaign.
Asked how big of a role he thought gun safety would play in the midterms, Neguse said, "A huge role because it is a huge issue."
"It will play, I think, a defining role in the general election in 2018. Because, I can speak with respect to folks that I meet on the campaign trail in the district that I'm seeking to represent, people are deeply concerned about it," he said. "At the end of the day, I think people are clamoring for change. And they want policymakers to finally take this issue seriously."
Dozens of people turned out for the event focusing on gun violence, many of them women wearing red Moms Demand Action shirts, after several shootings in the United States and repeated failures by Congress to take up gun control legislation. But there is a sense that 2018 could be different, following nationwide demonstrations that proved that the electorate is hungry for change.
But the issue is particularly personal in a state that has been rocked by gun violence, from the Aurora shooting to the 1999 Columbine High School massacre in Littleton, Colorado, that left 13 people dead.
The answers from the panelists, which included Moulton, Crow, Neguse, and other local candidates and activists, were filled with haunting firsthand experiences. There was Tom Sullivan, the man running for a Colorado state House seat whose son, Alex, died at the Aurora theater shooting.
Then there was Jane Dougherty, an activist whose sister was a psychologist at Sandy Hook Elementary School who died in the 2012 shooting. (She called the idea of arming teachers with guns, a proposal that has been floated by President Donald Trump and other Republicans, "a Hollywood fantasy.")
The former president of Never Again Colorado, Tay Anderson, spoke of the importance of including communities of color and young people in the conversation on gun legislation. "It hurts the movement when you leave out a crucial part of the movement," Anderson said while wearing a Black Lives Matter shirt.
More than an hour into the event, people were still lining up to ask questions when the panelists moved to end the event.
"We have common sense proposals here. This isn't for lack of ideas. We have great ideas, we have great policy proposals. We just lack the will, and we lack the votes, to make them happen, and the courage to make it happen, right, and that goes back to the votes. So if the people who are in leadership now don't have the courage, then you just kick them out. That's the bottom line," Crow said, also to applause.
One woman who attended the town hall said how candidates approach gun legislation is a major issue of her support as a voter.
"I think it needs to be more at the forefront of their talking points and that sort of thing when they're running for office," Hope Francis, a resident of Thornton, Colorado, told BuzzFeed News. She added she was excited about Crow as a candidate, who is emphasizing it in his platform. "That really stands out to me that that's what he's running on."
As he closed the event, Crow looked at his phone to a countdown to the midterm elections. "We have 90 days, 22 hours, and 58 minutes before the polls close on this election," he said. "And in that time either we're going to have a new set of leadership who's willing to take action … and we're going to make change and we're going to save thousands of lives every year in this country, or we're not."