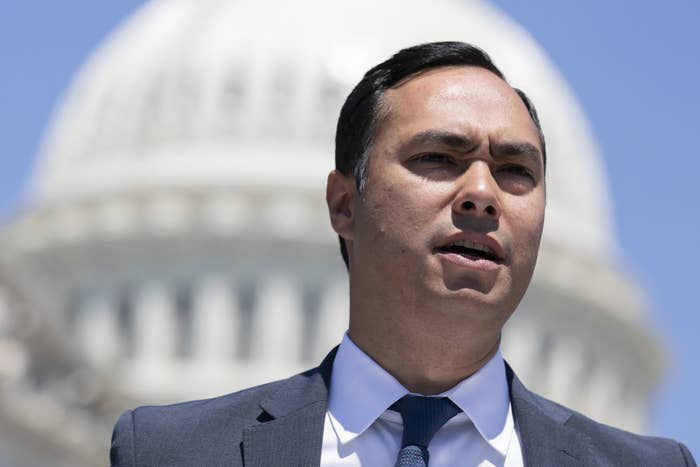 A Democratic member of the House Intelligence and Foreign Affairs committees suggested Friday that Jared Kushner may have delivered a "hit list" to the crown prince of Saudi Arabia that resulted in the likely death of Jamal Khashoggi.
Khashoggi, a Washington Post columnist, hasn't been seen since he entered the Saudi Consulate in Istanbul two weeks ago. He is believed to have been killed by Saudi agents — an allegation the nation has denied. Turkish officials reportedly have audio recordings of Khashoggi being tortured before his death.
"Let me get to the point that I think is most disturbing right now. The reporting that Jared Kushner may have, with US intelligence, delivered a hit list, an enemies list to the crown prince, to MBS in Saudi Arabia, and that the prince then may have acted on that, and one of the people that he took action against is Mr. Khashoggi," Rep. Joaquin Castro, a Texas Democrat, said on CNN on Friday.
Castro was interrupted by the CNN host, Poppy Harlow, who said that she did not have that reporting and questioned where the lawmaker had seen that information.
"There has been reporting to that effect. I've seen reporting to that effect," Castro responded, without identifying where that reporting came from.
Kushner, who is the president's son-in-law and a White House adviser, has close ties to the Saudi crown prince, Mohammed bin Salman, the country's de facto ruler, and has reportedly intentionally flown under the radar following Khashoggi's disappearance. But despite this relationship, no one has previously accused Kushner of having a role in the incident.
Castro later said in a Twitter thread that he "did not intend to accuse [Kushner] of orchestrating anything," then linked to a number of stories raising questions about the close relationship between the president's son-in-law and the Saudi crown prince.
Among them was a March story from the Intercept that cites sources saying Mohammed bin Salman had told associates that Kushner had shared the names of "disloyal" Saudis with him. The story suggested that if Kushner had done so without Trump's authorization, he may have violated federal laws on classified intelligence sharing. Kushner's spokesperson called the story "false" at the time.
In a statement to BuzzFeed News, Castro said based on press reports, "the close relationship between Kushner and Mohammed bin Salman is a source of concern for the US intelligence community and those of us who want a transparent American foreign policy."
"This is especially problematic given the President and his family's business enterprises and the possibility that they profit from these foreign entities."
Castro, in both his statement and Twitter thread, went on to call for a congressional investigation into whether Kushner or other White House officials shared US intelligence "with the Saudis that led to any political persecution, including the killing of Jamal Khashoggi."
Castro's comments on CNN came in response to a question about Senate Foreign Relations Committee chair Bob Corker's concerns that the Trump administration isn't sharing key intelligence about Khashoggi's presumed death with senators.

"The long and short of it is that that needs to be investigated," Castro told CNN. "The entire timeline of what happened, of any sharing of American intelligence with the Saudis and how they may have used that intelligence, needs to be investigated by the Intelligence Committee in the House and in the Senate."
As Harlow pointed out in the CNN exchange, both the Senate and House are in recess ahead of the midterms, and Castro nodded when she mentioned that she knew he wouldn't have had a chance to review the available intelligence while outside Washington.
Emily Tamkin and Vera Bergengruen contributed reporting.
UPDATE
This story has been updated with Castro's comments in a Twitter thread and in a statement clarifying his comments on CNN.