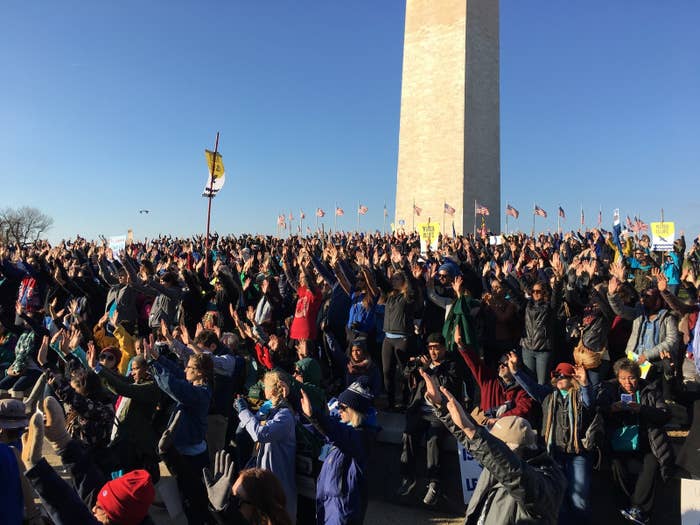 WASHINGTON — Protesters opposed to the construction of the Dakota Access Pipeline sounded their message in the nation's capital on Sunday with a huge march through the streets of Washington, DC.
Hundreds of demonstrators began rallying outside the Department of Justice, which Sen. Cory Booker has urged to investigate the police tactics used against protesters at the Standing Rock site in North Dakota, where the pipeline is being built.
The marchers then followed a route that took them by the Trump International Hotel, the White House, and on to the National Mall, near the base of the Washington Monument.
"We decided to bring the fight to Washington, DC, because they don't want to take the time out of their day to come to us," said Laundi Keepseagle, one of the event coordinators, in an interview with BuzzFeed News.
Keepseagle, who said the rally was organized in about two weeks, expressed surprise at the number of people who had turned out for the event.
The controversial Dakota Access Pipeline would stretch 1,172 miles and carry crude oil through underground pipes on sacred Native American land.
On Friday, officials said they would soon be closing the area in North Dakota where protesters have been camping, opening instead a "free-speech zone" nearby.

While Sunday was a clear day, the weather in DC was in the 40s. Demonstrators held signs and broke into chants throughout the rally, including chants of "Water is life."
Many well-known activists gathered to help spread the message, from Dolores Huerta, prominent labor and civil rights leader, to Shailene Woodley, star of the Divergent series.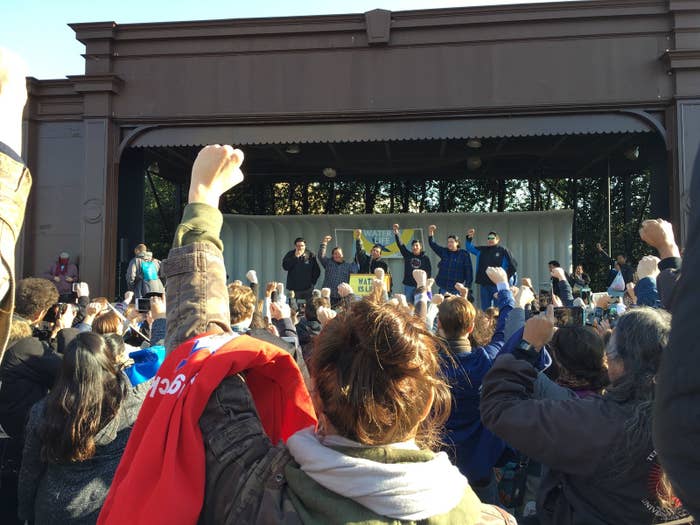 "This is not an uncommon theme, where we see indigenous people at the front lines of most climate change and most fossil fuel fights," Woodley said in a Facebook Live interview with BuzzFeed News. "It's because they recognize that when one part of any community suffers, all parts of that community suffer, and when we talk about community, we're talking about the world."
Woodley was joined on stage at the rally by Ezra Miller, actor in Fantastic Beasts and Where to Find Them, and Dave Matthews of the Dave Matthews Band. The rock group was set to perform a benefit concert for the cause at DAR Constitution Hall on Sunday evening.
"People are standing up for the environment, people are taking a look at what we're doing to our Mother Earth, and we can't let big corporations dictate how we are going to live on this planet, because there is no planet B that we can move to," said Courtney Yellow Fat, a 41-year-old Standing Rock resident. "This is what we have, and we have to start taking care of it."