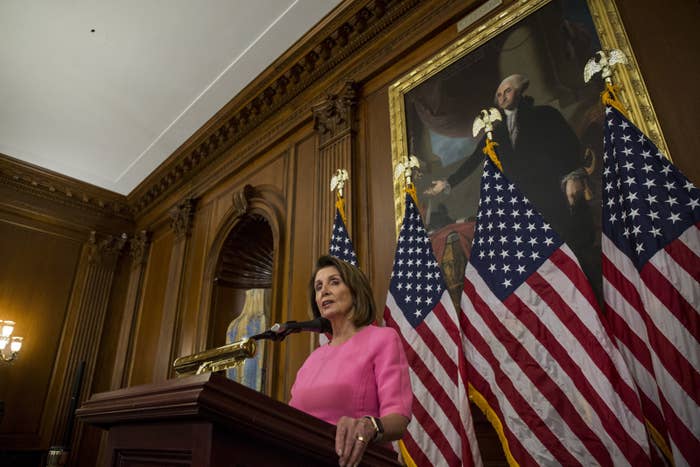 WASHINGTON — A small group of House Democrats spoke by phone to discuss how to "be a support system" for incoming Democratic members who have pledged not to support Nancy Pelosi as the next speaker of the House.
The call, which lasted more than an hour and included 10 lawmakers on Wednesday night, according to Democratic aides, came just a day after Democrats won control of the House for the new Congress and as Pelosi is projecting confidence that she will be the speaker. On Wednesday night she officially announced she would run for the spot.
Pelosi, who has been the top Democrat in the House since 2003, has enjoyed wide support from the caucus — but in recent years a faction of the caucus has begun calling for new leadership, as frustration has boiled with a leadership team that has seen little change and allowed for little upward mobility.
At least eight incoming Democratic members have also distanced themselves from her on the campaign trail, or expressed a desire for change.
"The big takeaway is that they were strategizing about how to be a support system for incoming freshmen who have pledged to be hard 'no's on the floor," said a Democratic aide.
Colorado Rep. Ed Perlmutter has been running point on organizing.
The group of incoming lawmakers who didn't embrace Pelosi this year includes Abigail Spanberger of Virginia, Anthony Brindisi of New York, Max Rose of New York, Jason Crow of Colorado, Haley Stevens of Michigan, Dean Phillips of Minnesota, Mikie Sherrill of New Jersey, and Jeff Van Drew of New Jersey. Conor Lamb, who originally won a special election earlier this year, also notably distanced himself from Pelosi.
The worry is these members will likely have to choose between going against a campaign pledge or going up against a powerful leadership structure and "face the consequences of that," the aide said. Thus, the idea of a "support system."
Another aide said that the group is reaching out to new members with a focus on "education," like helping them understand caucus rules, and noted that there will be "increased scrutiny" because of where they stand on Pelosi.
"Certainly as a new member you're thinking, 'God, am I going to be out there by myself on this?'" said the Democratic aide.
While several races have yet to be called, a thin majority leaves a complicated "math problem" for Pelosi to overcome. In general, Democrats have said that the more seats Democrats pick up, the safer Pelosi is in her bid to become speaker. Democrats have also widely pointed out there is no obvious replacement for her.
Reached for comment on Thursday, Drew Hammill, Pelosi's spokesperson, said "this whole thing is a red herring, a false argument" that Pelosi is a drag on candidates. He pointed BuzzFeed News to a Morning Consult poll that showed President Donald Trump, rather than Pelosi, was at the top of voters' minds.
The Democrats on the call also decided to continue pushing a caucus rule change that would require the speaker nominee to have the backing of 218 members from the caucus, rather than the simple majority their rules currently require, according to the Democratic aides.
While the caucus votes on leadership positions in a private ballot, a separate vote is still taken on the floor at the beginning of each new Congress where the speaker of the House has to win a majority (218) of votes.
In the scenario that Pelosi would not have enough Democratic votes in a floor vote, Pelosi could ask Republicans to not show up to vote to lower her threshold, or to provide her with a couple of votes from across the aisle. Hammill reiterated Pelosi is confident of her support among members and members-elect when asked whether she would work with Republicans to lock in votes.
She has been a popular target for Republicans in campaigns, and Trump even tweeted Wednesday that she "deserves" to be speaker.
But "does Nancy Pelosi really want to become speaker by having Republicans hand her the gavel?" one of the aides said.