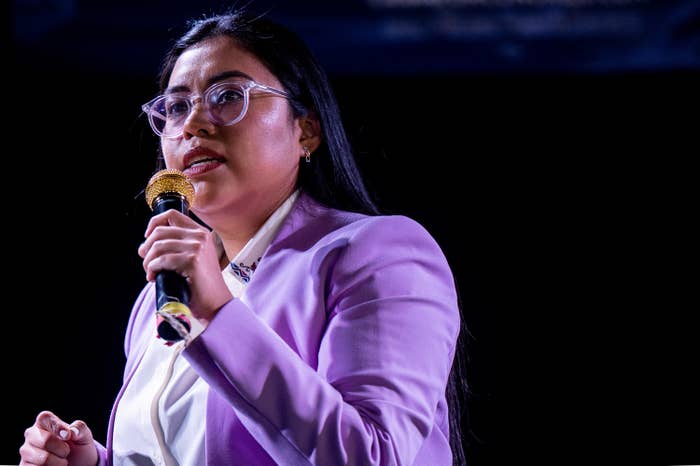 The most high-profile race of the Texas primaries — a rematch between a progressive Democrat and an establishment incumbent — is not over yet. Nine-term US Rep. Henry Cuellar and Jessica Cisneros, the progressive immigration attorney from Laredo making her second attempt at Texas's 28th District, are heading to a May 24 runoff after both candidates failed to break the majority needed to win the primary outright.
A third candidate, Tannya Benavides, siphoned enough votes away to create Tuesday's unsatisfactory outcome. The district had been redrawn since Cuellar and Cisneros both appeared on the ballot against each other for the first time in 2020, when Cisneros lost to Cuellar by less than 4 points. Cuellar ended Tuesday night with a similarly narrow lead.
"While we are still waiting for our results, we know that our victory will come, whether it be today, tomorrow, or in May, we are going to win," Cisneros told supporters in Spanish, just before midnight local time on Tuesday. She then switched to English: "Tonight we are showing that our dreams are powerful enough to take on a machine. ... We are showing that our dreams can compete neck-and-neck, and we're going to show that we are going to come out on top."
Appearing Wednesday morning in Laredo, Cisneros said she was exhausted but excited, arguing that because Cuellar had failed to break a majority to win outright, it followed that a majority wanted new leadership. Toggling easily between English and Spanish, she noted that the day of the runoff would be her 29th birthday. Cisneros said that they were still reviewing information from the primary, but that she didn't think her campaign would seek a recount and would instead focus on the future. Cisneros said she was prepared to work with whoever wanted to team up with her campaign, including Benavides. She added they had not spoken yet. In Spanish, Cisneros talked about how the runoff would come down to reminding voters to turn out once again, which she argued gave her the upper hand since she'd been more visible in the community compared to Cuellar as the primary approached.
The race had been competitive anyway, but it grew even more heated weeks out from the start of early voting, when mysterious FBI activity began around Cuellar's home and campaign office. "There is an ongoing investigation that will show that there was no wrongdoing on my part," Cuellar said in a video he released in January. Cisneros responded by building an argument that Cuellar is surrounded by corruption.
Cuellar was mostly quiet on election day, but on Wednesday afternoon he expressed confidence in his ability to hang on to his seat. "After winning the most votes and showing the largest amount of support, we will now move to a runoff election on May 24th and we are confident we will win," the lawmaker said in a statement sent out by his chief of staff. "I look forward to once again winning the majority of voters and come May 24th, be re-elected as the Democratic Nominee for Congress."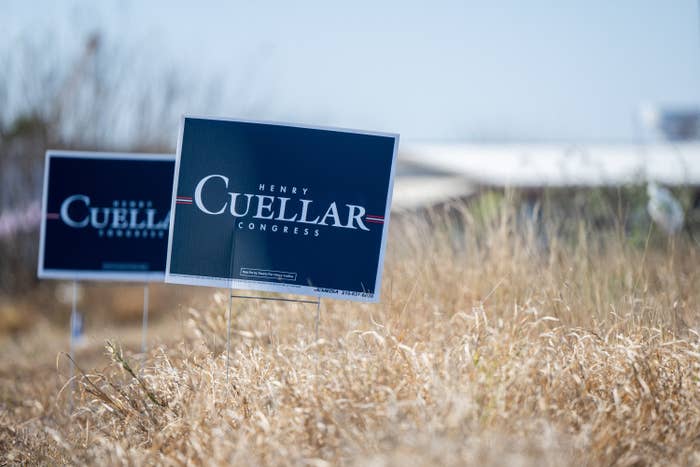 The contest was the marquee race of the Texas primaries, which are held before any other state in the country and in which voters saw problems casting their ballots leading up to March 1, thanks to new legislation pushed by state Republicans that effectively restricted voting rights. And it's now set to be the flashpoint on the Democratic side of May's runoffs. Ahead of March 1, Rep. Alexandria Ocasio-Cortez, an original member of the Squad, and Sen. Elizabeth Warren traveled in to support Cisneros in the border-area district, which extends from Laredo, where Cisneros and Cuellar are both from, to San Antonio. Meanwhile, establishment Democrats like Speaker Nancy Pelosi stayed away, unlike last cycle, and Cuellar reportedly made little by way of public appearances after the FBI debacle.
"I think this time around there is heightened interest by the candidates, at least two of them, to be much more visible in the public eye," Webb County Democratic Party Chair Sylvia Bruni told BuzzFeed News less than two weeks before the primary, referring to Cisneros and Cuellar, noting their heavy television presences. Bruni and the county Democratic Party did not endorse in the contest.
Cisneros was backed by Justice Democrats, the group that propelled progressives like Ocasio-Cortez into office. If elected, Cisneros would be among the third class of candidates growing the ranks of progressives in Congress since the Squad cemented its place in American politics. Cuellar is a proud Blue Dog Democrat, often touting his support of border security and law enforcement. Over time, he has grown increasingly conservative relative to the rest of his party, perhaps most noticeably in his vote against a House bill aimed at protecting access to abortion — he was the only member of the Democratic caucus to vote no, and it came as abortion access was under particular threat in his home state.

Other dynamics also changed since their first race as opponents. Besides the redistricting, FBI investigation, and increased name ID for Cisneros between her first and second campaigns, this is a nonpresidential election year, meaning the electorate that voted in the primary was much smaller than the last time they were both on the ballot. There is also now a Democratic president.
Cisneros was not the only high-profile progressive running — other candidates carried that mantle elsewhere in the state, including Greg Casar in Texas's 35th Congressional District. Casar kept a substantive lead throughout the night, pulling in more than 60% of the vote and soundly defeating the rest of the field, with the closest competitor more than 40 points behind. The lack of resolution in the 28th District on Tuesday kept progressives from being able to claim early momentum outright, or for their critics to claim that voters rebuked their candidates.
"There's this ongoing debate in the Democratic Party dating back to the most recent presidential primary about, what should be the path forward?" Mike Siegel, former progressive congressional candidate and political director of Ground Game Texas, told BuzzFeed News. "Each one of these primaries in a safe Democratic seat, where there's a clear choice between a progressive Democrat and a conservative Democrat, it's kind of a proxy for this larger struggle about what's the best way to build a strong Democratic Party."
Though ostensibly a reliable Democratic stronghold, the party has been on edge about South Texas, including the 28th Congressional District, since the 2020 presidential general election, where they saw a concerning shift toward Donald Trump. Trump's name will not appear on the ballot this cycle, but nonetheless, Democrats have been on guard and urging the party, including national Democrats in DC, to make investments in the area and not take those voters for granted.
"Democrats have to run as though it's not a safe district. Especially after redistricting, you never know, and so I wouldn't assume that it's a safe district," former San Antonio mayor and presidential candidate Julián Castro told BuzzFeed News. "2020 should have been a wake-up call for Democrats across the state and especially in Washington, DC, to invest more time, energy, and resources into places like South Texas, and not assume that just because people have been voting Democratic for a long time, that they'll continue to do that."