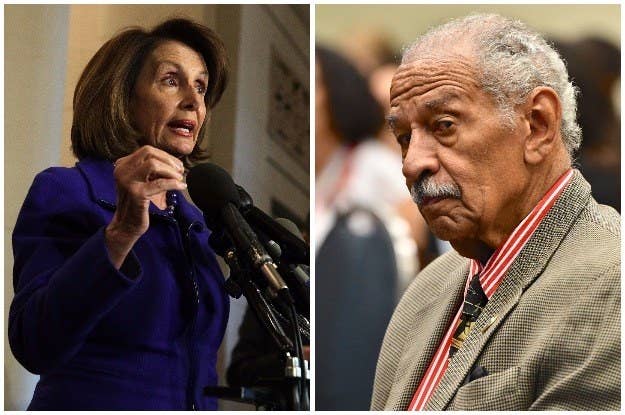 Rep. Nancy Pelosi, the top Democrat in the House of Representatives, said Thursday that Rep. John Conyers should resign amid accusations of sexual harassment.
"The allegations against Conyers, we have learned more since Sunday, are serious, disappointing, and very credible," Pelosi said, adding, "the brave women who came forward are owed justice. … Congressman Conyers should resign."

BuzzFeed News has asked Pelosi's office repeatedly if she thought he should resign, with no answer. On Sunday, she wavered on the question during a television appearance.

Conyers' lawyer, Arnold Reed, responded soon after, saying, "It is not up to Nancy Pelosi, Nancy Pelosi did not elect the Congressman and she sure as hell won't tell the Congressman to leave." He said the representative has a right to due process.
"The decision," he added, "will be made by Congressman Conyers about what his next course will be, that'd won't be today." He also asked what the difference was between accusations against Conyers and Sen. Al Franken.
"Franken has got five accusers, right? More than the congressman. She hasn't called for his resignation, so she's going to have to explain what the discernible difference … is between Al Franken with five of these complaints and Congressmen Conyers. The fact of the matter is Nancy Pelosi has not done enough for sexual harassment victims, in general but in particular," he said.
"For her to use this as an opportunity for a rebound situation when she did absolutely terrible and got creamed on Meet the Press is shameful."
Pelosi joins a growing group of members of Congress, so far, who have called for Conyers' resignation. Michigan Rep. Bill Huizenga, a Republican, called on Conyers to step down shortly after BuzzFeed News published the first allegations of harassment against him. Since then, Democratic Reps. Kathleen Rice, Pramila Jayapal, and Earl Blumenauer have joined that call. On Thursday afternoon Rhode Island Rep. David Cicilline also called for Conyers' resignation, along with Democratic Caucus Chair Joe Crowley of New York.
Following Pelosi's press conference Thursday, House Speaker Paul Ryan also said that Conyers should "resign immediately," telling reporters that he had "been briefed on the torrent of allegations" against Conyers.
And Rep. Jim Clyburn also called on Conyers to resign, Politico reported. Clyburn is the highest-ranking African-American Democrat in Congress. "I am hopeful that he will do the same thing for his constituents, because this is at the point where he needs to do for his constituents what he did for his colleagues," Clyburn later told McClatchy, referencing how Conyers stepped aside as the top Democrat on the House Judiciary Committee.
Conyers was in the hospital on Thursday in Detroit, his office confirmed to BuzzFeed News. A spokesperson told a local station it was due to a "stress-related illness." Conyer's lawyer told reporters Thursday that he was hospitalized late Wednesday night. The lawyer earlier clarified that one of the reasons for the congressman's visit to Detroit was for a doctor's appointment.
Earlier Thursday, Marion Brown, a former Conyers employee, spoke out for the first time Thursday about her allegations against the congressman, explaining: "It was sexual harassment."
Speaking on NBC's Today show, Brown recounted an incident in a Chicago hotel room in 2005: She says Conyers invited her to his room, where he was dressed only in underwear, and harassed her.
"He asked me to satisfy him sexually. He pointed to genital areas of his body and asked me to, you know, touch it," said Brown.
As BuzzFeed News first reported, Conyers settled a wrongful dismissal complaint in 2015 with Brown, who alleged she was fired because she would not "succumb to [his] sexual advances."

On Thursday, Brown told the Today show that the Michigan congressman's denial of the events made her come forward.
"Congressman Conyers came out and called me a liar, basically. So I'm here to say that I'm not a liar," said Brown, who worked for the congressman for 11 years.

"It was sexual harassment, violating — violating my body, propositioning me, inviting me to hotels with the guise of discussing business and then propositioning me for sex. And he's just violated my body. He has touched me in different ways. It was very uncomfortable and very unprofessional," she recounted.
Brown said that around 2010 the harassment increased.
"It got worse. I would get phone calls, asking for me to come to hotels. You know, different things like that. So this continued on throughout the years," said Brown, noting that she told her direct supervisor and they said they spoke with Conyers about his behavior.
When asked why Brown stayed working with the congressman for over a decade, Brown spoke of not wanting to risk her own career because of Conyers' behavior.

"The congressman is a civil rights icon," said Brown, noting that in his office she worked on the issue of prisoner reentry, something she cared deeply about.
"A single mother of four kids, I had to raise my kids. I got gratification in the job, servicing the people. It was something that I enjoyed. You know, I needed income. So I, you know, I endured it," explained Brown.

Reed, the attorney for Conyers, told reporters on Thursday that he won't sue Brown because it will give Brown a chance to explain "why it is she took the money and she stayed on with the congressman for 11 years."
The settlement agreement BuzzFeed News reported includes a nondisclosure agreement, which Brown chose to break, because she said she was inspired by her own female relatives, including her granddaughter.

"I want to stand up. I felt it was worth the risk to stand up for all the women in the workforce that are voiceless," Brown told the Today show.
Conyers' Democratic colleague, Rep. Pramila Jayapal, who has called for Conyers to step aside over the allegations, said Congress needs to act quickly to change its system of reporting sexual harassment and misconduct — and to hold people accountable for their actions.

"If we are going to change the culture that exists, we need to send a message to women everywhere that they can come forward, we will believe them, and we will act," said Jayapal on BuzzFeed News' morning show AM to DM.
She paid tribute to Conyers' civil rights work, and noted that he is highly regarded, but that he needed to resign because of these allegations.
"If he were to step down now, I think that good will will be preserved. But if he drags this out and takes the women though a whole process and tries to fight back against these charges, I think it's going to be very difficult," said Jayapal.

"Really good men who have done really good things in their careers, who have benefitted all of us, can also do terrible things," said Jayapal.
Jayapal noted that the current process for handling sexual misconduct cases needs to be restructured, because the system is "stacked against the victim."
The congresswoman from Washington also pointed out Democrats shouldn't support men accused of sexual misconduct just because they aren't Republicans.
"People call this a watershed moment. … It is only is if we as Democrats are willing to be bold and act expeditiously," she said.
"I don't think we get to say we're only going to call for that [people to step aside] when it's people we don't like," she added.

This is a developing story. Check back for updates and follow BuzzFeed News on Twitter.
CORRECTION
Rep. John Conyers stepped aside as ranking Democrat on the US House Judiciary Committee. A previous version misstated the name of the representative.