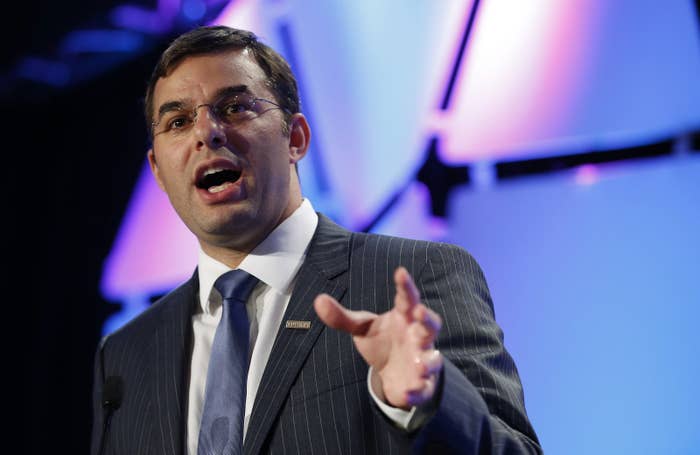 Rep. Justin Amash, a member of the conservative Freedom Caucus, has joined legislation calling for a nonpartisan, independent commission to investigate Russian interference in the 2016 election.
Amash is the second House Republican to sign on to the bill and made the decision in the aftermath of former FBI Director James Comey's firing this week. Amash tweeted after Comey was fired Tuesday night that he was reviewing legislation for an independent investigation, calling the second paragraph in President Donald Trump's dismissal letter to Comey — in which he thanked the FBI director for informing him three times that he was not under investigation — was "bizarre."
The legislation Amash has signed on to was introduced by Democratic Reps. Eric Swalwell and Elijah Cummings in December. It was reintroduced in the House and introduced in the Senate at the start of the new Congress in January. But it has stalled without significant Republican support.
The only House Republican to sign on to the legislation before Amash was North Carolina Rep. Walter Jones.
"We need to have an independent commission to have the ability to find out whether the Trump organization had relationships or they didn't have relationships. This is too political," Jones told BuzzFeed News in March. "The fact is that this is a national security issue, possibly, and we should not make it political. And right now it is political."
Swalwell told BuzzFeed News that he contacted Amash via a direct message on Twitter, telling him: "I appreciate you considering this."
"I'm very grateful that Justin has joined this effort, and I hope he is able to persuade others to get on board as well," Swalwell said. "And the most important thing we can do is band together right now, and his joining is a courageous step toward the truth."
Swalwell added that he has reached out to other Republicans in the aftermath of Comey's firing. "I'm going to keep talking to my colleagues," he said. "There's been ongoing conversations."
Although Amash's signature lends some GOP credence to the the bill, it is still a long way from passage. It would require both House Speaker Paul Ryan and Senate Majority Leader Mitch McConnell, who have both said they oppose an independent investigation, to agree to bring it up for a vote. If it passes, the bill will either need Trump's signature or enough support in the House and Senate to override a veto, a bar it is currently nowhere near passing.